24 April 2017
K-food Trend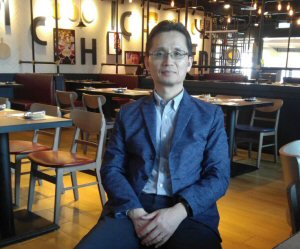 Hong Kongers can sate their appetite for authentic Korean fried chicken at Dodam Chicken, which recently opened its first overseas outlet in the main shopping and entertainment area of Causeway Bay.

The Hong Kong establishment features menu items from its two Seoul restaurants, Dodam Chicken and Hwaggudak. Established in 2011, Hwaggudak was the first restaurant in South Korea to serve chicken baked in a pizza oven. Dodam Chicken, which also uses the same cooking method, opened its first outlet in Seoul last May before the Hong Kong addition launched last December.

Tapping the popularity of Korean culture, entrepreneur BM Koo, a longtime Hong Kong resident, decided to start a franchise in the city.

Why was Hong Kong chosen as Dodam Chicken's first overseas outpost?
I've lived in Hong Kong for more than 20 years and I know it like my hometown, so I decided to set up here first. Over the years, I've closely observed the trend of Korean chicken here. [US fried chicken chain] KFC is very popular with locals and this is something that shows no sign of slowing down. I have confidence that this trend will last for five or 10 years more at least, and has the potential to grow further.
How does the Hong Kong restaurant market differ from the Korean restaurant market?
The Hong Kong market is more competitive than Korea, and we've had to put a lot of effort and money into the marketing, both online and offline. In addition, there are many good restaurants in Hong Kong in terms of food, service, marketing and so on. We are forced to be good in every aspect, otherwise we won't survive.

Is the restaurant similar in terms of design and menu items offered at the Korean outlets?
Our shop is two to three times bigger than the Dodam Chicken outlet in Korea, and the design is more luxurious. I chose a big space and upgraded the design, as Hong Kong people tend to drink less and want to enjoy their meal in a comfortable environment – so it's more like a family restaurant.

Usually, the chicken restaurants in Korea are small with simple design because Korean people prefer to get the dishes delivered to their home and enjoy chicken with beer.

Our menu is 60 per cent the same as the Korean menu. We have modified some dishes to suit the taste of Hong Kong people. As many Hong Kongers don't like spicy food, for example, we've added a few non-spicy dishes such as salad, non-spicy chicken, fish cake soup and barbecue pork ribs to cater to local palates. Our best-selling dishes are the baked Dodam Original Chicken and the fried Crunch Chicken, both in Korea and Hong Kong.

How has the popularity of K-pop culture in Hong Kong and elsewhere in the region helped the Dodam Chicken brand?
It has helped us a lot. Hong Kongers are not only fans of K-pop, but also enjoy Korean drama shows, and they have the chance to watch Korean shows at our restaurant while eating authentic Korean food.

What are the advantages of being based in Hong Kong?
Hong Kongers are big fans of fried chicken. Before Korean chicken came to the city, KFC had been dominating the Hong Kong market. Compared to Korea, the number of chicken restaurants in Hong Kong per population is far fewer, even though Hong Kong people like to eat fried chicken more than Koreans. With that in mind, I'm sure that the Korean fried chicken restaurant market has room to expand further in Hong Kong.

What are your expansion plans in Hong Kong or Asia?
I plan to open at least one more outlet in Mong Kok or Tsim Sha Tsui early next year and two to three more outlets in other parts of Hong Kong by 2019, and have five outlets here by 2020. I'd also like to open Dodam Chicken outlets in Vietnam and Indonesia.

Quite simply, we want to be the best Korean chicken restaurant in Hong Kong.
Related Link
Dodam Chicken