19 May 2017
Dim Sum and then Some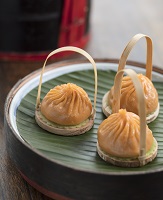 With exquisitely presented dishes and elegant interiors, some chefs in Hong Kong are incorporating luxury ingredients into classic Chinese dishes to win over new audiences and encouraging guests to pair their meal with tea-infused cocktails.
At Dim Sum Library, xiaolongbao steamed buns are individually presented on bamboo platters in a setting reminiscent of an upscale tea room. A more casual and modern space than the average dim sum restaurant, this eatery at Pacific Place in Hong Kong's Admiralty district also boasts a discreetly concealed mahjong parlour in the back. Contemporary twists are also found on the menu, with luxury ingredients cooked into the traditional bite-sized dishes, according to David Yeo, founder of the Aqua Group of restaurants.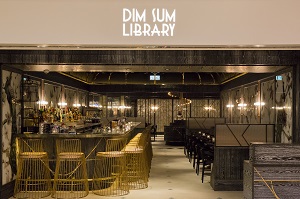 "The evolution of this great Chinese culinary tradition is led by our young Hong Kong chefs who use local ingredients," says Mr Yeo. "We use local specialty prawn paste from Tai O, produced in one of Hong Kong's last stilted fishing villages, in our prawn paste stone pot lettuce dish – as well as combinations of luxury ingredients such as black truffle, 24-hour slow-cooked Wagyu, foie gras and Iberico ham for a modern take on our guests' dim sum experience," he says.
In recognition of a trend for Sino-inspired cocktails, the restaurant also has a Chinoiserie-style cocktail bar. That is where mixologist Simone Rossi has curated a menu with tea infusions, such as Blackened Rose Buds, an infusion of Ketel One Vodka and jasmine tea, a dash of lemon and homemade rose cordial, which complement the restaurant's signature dim sum dishes.
Paradise Found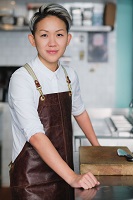 Recently voted 2017's Best Female Chef by Asia's 50 Best Restaurants, May Chow's latest venture is Happy Paradise, a contemporary take on Chinese cuisine with innovative presentations of dishes, including Tea Smoked Pigeon, Yellow Wine Chicken, Pomelo Pith and Cucumber Daikon Salad. These dishes have been most popular since the restaurant opened in Central last month. "We modernise by plating, elevating flavour and technique," says Ms Chow. "The idea is avoiding fusion and we try not to implement flavours from other cuisines, and to do the original concept justice."
Ms Chow is best known for adapting the traditional steamed bao into burger buns. Her latest dining concept is about refined neo-Cantonese food, cocktail mastery and loose vibes, Ms Chow elaborates. "Traditional Chinese restaurants have always been quite stiff in nature and we wanted to create a super fun relaxed vibe around it that can run late in the night."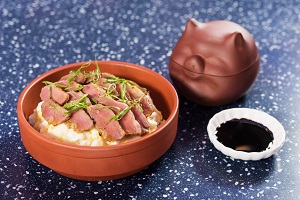 Being a late-night place, cocktails are important, and Ms Chow singles out two mixes worth sampling. "We have a Drunken Plum, which is like a dry Chinese dirty martini; it's on the savoury side and pairs really well with seafood. We also have an Unbeatable Conman [bitter Italian liqueur] Amaro cynar mixed with grapefruit and local honey that pairs well with fattier meats," she says.
In addition to the American Chinese diner Little Bao – where the bao into Western buns adaptation emerged – Ms Chow also introduced gastro pub Second Draft to Hong Kong. She says her recent award helped raise her profile and consequently showcased her latest restaurant to a much larger audience. "It has really empowered me to take risks as Happy Paradise is quite progressive and not as easy to understand. It's exploring traditional Chinese food in the traditional sense. I think people still love the "fusion" style of food we cook from our other restaurants. But this project is my attempt to look at Cantonese food and see how we can progress it authentically without losing its original character," she says.
Michelin-quality Fare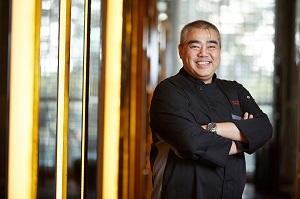 Helmed by Chef Tsang Chiu King – who helped the hotel Langham Mongkok secure two Michelin stars for its flagship Chinese restaurant Ming Court – Dynasty Garden features authentic Cantonese delicacies in a luxurious dining environment. The menu at the Kowloon Bay eatery celebrates Hong Kong's culinary heritage with classic dishes but additionally embraces contemporary plating techniques that bear the hallmarks of international fine dining, he says.
Mr Tsang was struck by the different attitudes towards food presentation and plating between East and the West during his time working at a Chinese restaurant in Switzerland 30 years ago. "I noticed one of the carrot garnishes on my plate had been left after serving it to a foreign customer, and realised that for Western customers, any garnishing on the plate should be edible and enhance the flavours of the dish. But when I participated in a culinary competition more than 10 years ago, I noticed many of the chefs still used vegetables only as decoration, carving carrots into flowers and birds alongside the rest of the food on the plate. I started to enhance the plating of my dishes by showcasing ingredients in different textures, or using different methods to cook the same ingredients."
To gain greater international recognition, Mr Tsang says Chinese chefs need to pay more attention to the presentation of their dishes while preserving the authenticity of Chinese cuisine.
Some of Mr Tsang's most innovative dishes include the Scrambled Egg White, Shrimps and Perilla Leaf Crisp – which requires a high level of technique to handle the colours, composition, display and cooking of this dish, according to the chef. Popular items on the menu include Flame-broiled Ibérico Pork Belly with Black Peppercorn and Wild Mushrooms in a Red Wine Sauce and Pan-fried Chicken and Pumpkin in a Black Truffle Sauce. In addition, Mr Tsang says he works closely with sommeliers to select the right vintages to serve with his dishes.
Embracing the gastro bar concept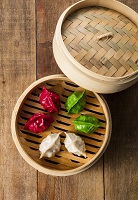 Run by the Maxim's Group, The Pond at the Elements in Kowloon brings together the gastro bar concept and traditional Chinese restaurant. Specialising in Beijing and Huaiyang-style cuisine, some of the most popular items on the menu are barbecued Peking duck served with raw lettuce leaves, black peppered prawns and Sichuan simmered garoupa, while snack menu favourites include Mapo French fries, diced chicken with dried chilli and deep-fried fish balls."
Diners can sample fusion fish dishes and Peking duck in the dining area and order drinks and snacks from the bar. Alternatively, they can dine in the outdoor bar area, and order signature Chinese cocktails that incorporate ingredients such as Xiao Mei tea, hibiscus and red date puree," says Senior Marketing Manager Mabel Leung.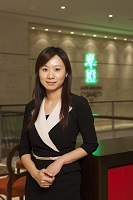 The restaurant's à la carte menu includes modern-styled provincial cuisines that are slightly different from its traditional Chinese cuisine outlets.

While Ms Leung says ornate presentation of Chinese cuisine is not a new concept, until now, such presentations had been limited to upmarket, event-style dining occasions. "Our dining service team works organically with chefs, designers and interior design specialists so that customers can redefine their perception of what Chinese cuisine dining can be."
Related Links
Dim Sun Library
Dynasty Garden
Happy Paradise
The Pond