23 May 2017
Creative Hong Kong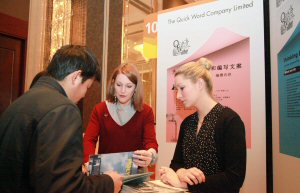 Since setting up in Hong Kong three years ago, the Quick Word Company has written for more than 180 brands across a wide range of industries. Recently, the company decided it was time to expand its clientele beyond Hong Kong. To do that, founders Ellie-Kate Macalister and Cruzanne Macalligan decided to sign up to join the Hong Kong Creativity in Business (HKCIB) mission and seminar held last March in the Chinese mainland city of Wuhan.

"As Wuhan has a population of around 10 million, there's a huge local domestic market," said Ms Macalister. "Companies are looking to better engage with a mainland Chinese audience, in terms of brand communication and design, as customers become more discerning on the mainland."
Connecting Creativity with Business
Sponsored by Create HK, the HKCIB series of events are organised by the Hong Kong Trade Development Council (HKTDC) to connect Hong Kong's branding, design and marketing companies with enterprises on the mainland.

Since 2009, the annual event has been held in more than 20 cities, including the most recent one in Wuhan on 20-22 March, when 25 participating companies familiarised themselves with the central Chinese city via market briefings, factory visits and networking events.
Creative Copywriting
For The Quick Word Company, one of the highlights of the three-day trip was a visit to Kengee bakery, where it received a tour of the business and a briefing about the company's expansion plans.

"The Chairman of the bakery was quite inspiring, and it was interesting to see how differently businesses are run on the mainland [compared] to Hong Kong. The bakery is 11 years old and sees itself as a very young company, so there's a shift in perception from Hong Kong, where everything moves faster," said Ms Macalister.

The company also visited a baijiu factory that is in the middle of regional expansion. The visits have prompted The Quick Word Company to consider tailoring a different kind of service for its mainland clients. Having previously worked with a Chinese copywriter on press release translations, it is now looking for a local partner who can translate its creative campaign ideas and make them relevant for the mainland market. "It's about applying expertise and trend creation rather than translation. We want to work with people who can take an idea and localise it for Wuhan," she said.
Architectural Breakthrough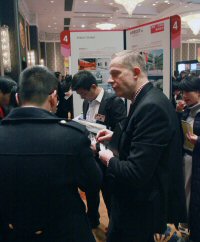 Multi-disciplinary design firm Arboit joined the Wuhan event to gain deeper insight about the local market. Providing landscape design, product design, architecture and multimedia design among other services, the firm attended HKCIB Wuhan to better understand the demand for professional services in the city.

"We thought it would be good to get to know the city more, as we understood it's an extremely lively place because of the hi-tech industry and the famous Optic Valley industrial district," said Alberto Puchetti, Director of Arboit.

While factory visits enabled Mr Puchetti to understand the production process and the identity of the brands, he noted that the networking meetings organised before the seminars were especially beneficial. "We had the opportunity to meet with many of the local businesses interested in the design services we could provide, and at the moment we are dealing with four potential clients.

"Most of the companies asking for product design or interior design were focusing on how design could be used as added value to elevate the brand profile of the company."

Mr Puchetti said second-tier cities like Wuhan, Chengdu and Chongqing, which have experienced strong economic growth, but may still lack the design sensibility of Beijing or Shanghai, offer the strongest business potential for firms such as his.

"I think Chinese companies are generally in the process of figuring out what the concept of 'brand identity' means and the most progressive way to approach these types of projects," he said.
Maximising Brand Identity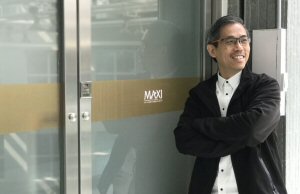 While brand consultancy firm Maxi Communications has been doing business on the mainland for 18 years, its Creative Director
Charles Ng said that taking part in HKCIB events over the years has helped further build the company's mainland clientele.

Forums that allow speakers to share success stories about doing business on the mainland, he said, are particularly effective. Participants visit Hong Kong company booths after the forum, offering speakers an opportunity to meet with potential clients. He added that HKCIB company visits, where attendees can meet the management of mainland enterprises, are another highlight. "These businesses will first do a presentation, which are often very helpful in explaining their needs and ideas for brand designs.

"I want to understand their branding strategies, especially how Hong Kong's creative design can be applied to their brands." After each event, the consultancy firm drafts a detailed report for colleagues and invites mainland companies for follow-up meetings.
"I think Chinese companies are generally in the process of figuring out what the concept of 'brand identity' means and the most progressive way to approach these types of projects."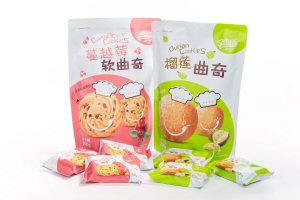 With the HKTDC's support, Maxi Communications to date has provided brand consulting service for mainland enterprises in Zhongshan, Guangzhou and Jinan.

Faced with the challenge of transforming and upgrading, many mainland OEM manufacturers are developing their own brand, bringing plenty of business opportunities for Hong Kong's branding and design firms. Mr Ng said his company's strength lies in providing services that cover brand evaluation, brand script determination, branding strategy planning, logo redesign, packaging system design, marketing tool design as well as promotion strategy guidance.

Such opportunities were highlighted to other HKCIB participants like The Word Company, which is keen to follow up on its leads, according to Ms Macalister. "We've got lots of ideas following the trip, and the ball is in our court now. It's up to us make the most of those connections."

The next Hong Kong Creativity in Business will be held in Nanjing in July and Xian in September.
Related Links
Arboit
Avoid Obvious Architects
Maxi Communications
The Quick Word Company