25 May 2017
Opportunities in Local Storytelling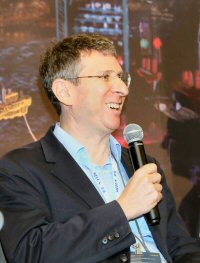 Emerald Media is an investment fund set up by leading global private-equity firm KKR that focuses on the media industry by providing growth capital to fuel expansion for traditional and digital media companies in the Asia-Pacific region.

The company's Managing Director, Paul Aiello, spoke recently at Melon Hong Kong, a new science fiction conference held last month, when creatives and industry professionals gathered to discuss emerging trends in content and technology. The media industry veteran discusses why Asia provides fertile ground for potentially lucrative creative enterprises.

Why does your company focus on the Asia-Pacific?
There are massive opportunities in this part of the world. I think we're one of a few platforms that really look at growth-stage investing in media from a content and entertainment angle rather than a technology platform angle in this part of the world on a pan-regional basis. It's good to think from an Asia perspective first, rather than a Silicon Valley perspective first.

In Asia, everything is different. You have to think mindset, about what resonates for content. We're the biggest maker of TV shows in India and we can tell you more about the Indian household and family dynamics than anyone else in the world. We have a hip, cool television station in Indonesia that we've invested in that knows more about contemporary Indonesia than anyone else. Those insights are really important. It's asking what connects with people, what are people thinking about, what is relevant in people's lives? What do they care about, who are their heroes, who are there heroines? What are their worries? These are all old-fashioned types of things that don't go away when you are making content.
"Local storytelling, coupled with new modes of direct and targeted distribution to consumers enabled by technology, is the intersection we look closely at for opportunities."
Where are some of the opportunities in the region?
I think the opportunity is in local storytelling – something that resonates with a local audience. There's so much richness here in Asia with relevant storytelling in the traditions that exist here. I think there is so much undeveloped potential. In Asia, we have some of the world's most sophisticated gaming and smartphone cultures and I think there are some really cool models, particularly on mobile, that I think just cannot be imagined anywhere else in the world. There's intellectual capital here and there's a mindset – people think about their smartphones, they communicate and they use things very actively in this part of the world in a uniquely local way, and I think that's an opportunity. Local storytelling, coupled with new modes of direct and targeted distribution to consumers enabled by technology, is the intersection we look closely at for opportunities.

One specific opportunity is domestic cinema. There is a lot of growth, loads of investment and limits on the number of Hollywood films that can be shown, so I think there is tremendous opportunity for local and regional film that focuses on local content.

What should we look out for?
Some of the trends with content include the fact that you have a bifurcation. You have content that's very premium – think of Netflix or HBO or big Hollywood franchises. On the other side there's a lot of idle time, or downtime content where people don't want to think much. They might be on the metro or they're looking at their phone late at night, and they usually consume content that is not very expensive but rather easy and bite-size. For content that's in the middle, it's become harder and harder to make money right now. You're almost better off being on one of either end of the spectrum right now.

In science fiction, because of the nature of the storytelling and special effects, it's traditionally been a very expensive and premium video product. I do think that there's an opportunity in this part of the world to develop sci-fi that can survive economically. If you can't recreate Star Wars, how can you create something compelling that will succeed at the local cinema or on the local over-the-top Internet company? I think accessibility and relevance supersedes quality – if something's really cool and interesting, if there's a character that gravitates, there's some storyline that's really good, you don't need a US$100 million special-effects budget to make that work. This should be viewed as a great opportunity for filmmakers and short filmmakers and other creative people in this part of the world. The rise of user-generated novels and comics platforms also provides an avenue for written or drawn sci-fi works to gain traction and be discovered prior to being made into video products.

What are some of the challenges?
There's a lot of capital in the world that wants to invest in the next, big, exciting thing and that's often in media and new media. Because of that, some of the valuations of emerging companies are – at this stage of their development – too high, and finding realistic valuations to invest in is a challenge. The second thing is there are very big companies or very little companies – you can find start-ups or big companies like Netflix, but the universe of companies in Asia in between isn't as big as you think.

One of your investments is in YuppTV, an over-the-top (OTT) player that caters to the global Indian diaspora. How helpful is the audience and viewership data from OTT players?
Having the data is great. For a long time, free-to-air broadcasters broadcast through a tower. There were some Nielsen boxes, so there would be estimates. But with OTT players, you know every minute of every day what people are doing and that's obviously transformational. There are technologies that are making traditional media more effective in being able to identify trends. But just because you can read audiences and what they do on your platform doesn't mean you have all the answers, and that doesn't mean you necessarily know what to programme going forward. It certainly helps and I'd rather have the data than not, but it's not a guarantee.

What is your advice for creatives eager to attract funding from Asia?
I appreciate that it's really hard. Never say no, but try to find ways that are sustainable so you don't get money to start something that you can't see through. In this environment, it's very easy to take money that will stop mid-project. It's a very basic point, but I think one of the challenges in this part of the world – and actually it's the truth in North America and Europe as well – is that there's a lot of venture money and people who are excited about media and new media, but that money can go as quickly as it arrives. When people raise capital, it's really important they raise capital that they know they have and that it covers what they want to cover.
Related Links
Emerald Media
Melon Hong Kong
YuppTV