24 May 2017
Smart Rehab
The Rehacare and Orthopedic China (Guangzhou) event, held 31 March to 2 April, showcased a variety of rehabilitation equipment, ranging from large medical devices to small household items. Ease of use was the mantra for many of the assistive devices on offer, while the integration of hardware and software was a strong trend among many products debuting at the event.

The fair took place barely six months after China's State Council issued new guidelines relating to the sector. A key element was official support for the wider application of artificial intelligence, brain-computer interfaces, virtual reality and other cutting-edge technologies within the rehabilitative sector. The Shanghai-based research group China Investment Consulting forecasts that the Chinese mainland's rehabilitation sector will be worth more than Rmb70 billion (US$10.2 billion) by 2020, indicating a likely compound annual growth rate of about 20 per cent.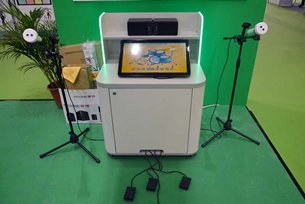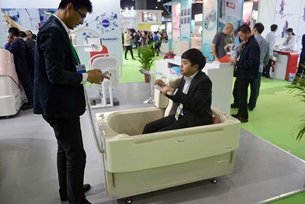 Many of the exhibitors at the event believe that supply still falls well short of demand, with that gap only likely to widen. The fact that intelligent rehabilitation equipment has now been officially endorsed by many hospitals and rehabilitation institutions, as well as by consumers themselves, only added to their confidence.

One company particularly bullish about business prospects was Shenzhen Children Laugh Recreation Equipment, a specialist in the autism and cerebral palsy sectors. Bai Junda, the company's Sales Manager, says the company's equipment can assist children suffering from conditions related to vestibular balance, while helping to develop visual and auditory senses. At present, the company primarily sells to hospitals and disabled support groups on the mainland.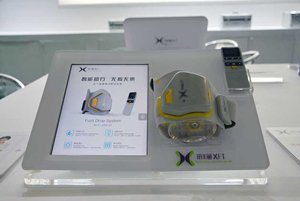 Among other key trends to emerge at the expo was a notable expansion in the number of compact rehabilitation devices available for home use, with demand also surging for intelligent devices. Ticking both of these boxes was Shenzhen XFT Electronics, which showcased its electrical foot stimulator at the show.

They system comprises one primary bracing unit, two electrodes, one remote control and a charging device. It was designed to counter a loss of lower-limb mobility caused by strokes, spinal-cord injuries, traumatic brain injuries, hemiplegia or multiple sclerosis.
Hardware-Software Integration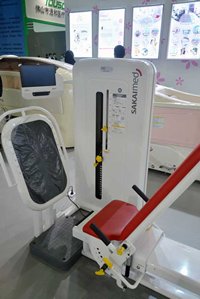 Looking to take a lead in the provision of hardware-software integrated rehabilitation devices was Guangzhou-based Huasin Science Co, which this year promoted its new horizontal leg press. According Li Pixun, the company's Rehabilitation Products Manager, the equipment can help improve lower-limb movement, allowing the elderly and infirm to stand up and sit down more easily.

In addition to exercise equipment, the company also distributes an imported Japanese slide-in bathtub. Again embracing the hardware-software integration model, each unit features a single-button touch-screen monitor and a bathing timer display. The bathtub is said to be particularly suitable for patients suffering from paralysis-related problems. The computer-controlled water temperature is kept constant at between 38°C and 45°C.
Safe and Easy to Use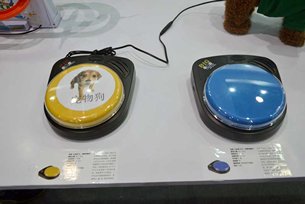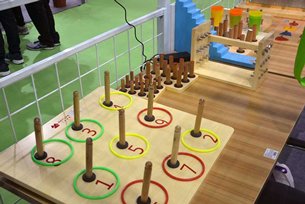 Safety and ease-of-use were the prime design concerns for the equipment on show from Shenzhen's Honeycomb Technologies. This year, the company offered a range of facilitated speech communication training devices, computer-aided assistive devices and several interactive switches.

According to Shi Zhengnan, the company's Senior Occupational Therapist, Honeycomb's products are primarily targeted at those with speech, writing, orientation, sight, hearing, learning and walking difficulties. Among the options on offer was the Big Mark (Damake), a facilitated speech communications training device featuring an outsized keyboard and an audible typing response. A similar system, the Quaker 7 (Kuike 7), comes with a graphic card interface, which can prompt users trying to overcome learning or speech impediments.
According to Mr Bai, Children Laugh's most popular product is an interactive training system designed to boost a patient's sight, hearing, touch and sense of smell. The system operates a water column accompanied by piano music allowing patients – including autistic children – to interact with the unit via a series of buttons.
Rehabilitation Round-up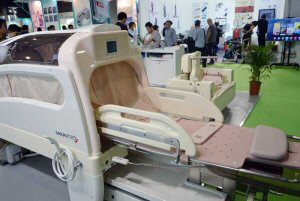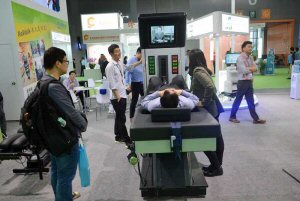 Hong Kong's Regal Prosthesis promoted a range of silicone cosmetic prostheses. Produced by using 3D technology to scan the actual skin of the patient, the resulting prosthetics match the patient's original colour and texture skin tones.

Vermeiren (Suzhou) Medical Equipment, meanwhile, was in Guangzhou to promote its Forest 3 SU electric wheelchair. Apart from allowing users to move around, the chair also helps them stand, sit and lie down, while its adjustable contact point can be used to maximise comfort and minimise stress.

For more China market opportunities, please visit: http://research.hktdc.com