12 June 2017
Beyond the Semi-conductor Industry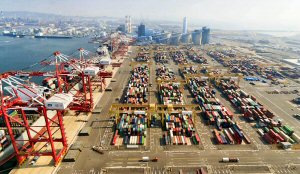 Taiwan's global reputation as a "sci-tech island" is largely based on the success of its electronic-information industry and, in particular, the pioneering work of its semi-conductor sector. This high-tech pre-eminence, however, has often eclipsed other Taiwanese industries – most notably its machinery sector.

In fact, machinery products of Taiwanese origin are sold around the world, accounting for the bulk of the island's exports. This year, the output value of such products is tipped to exceed NT$1 trillion (US$33 billion), underlining the sector's role as a key economic growth driver.
Industry Evolution
Taiwan's machinery sector began flourishing in the immediate aftermath of World War II. Throughout the 1940s and 1950s, consumer goods and light industrial production were staples of the sector, with food processing and textile-production equipment predominating – notably oil presses, rice mills, textile systems and sewing machines.

This changed in the 1960s and 1970s, partly in response to the global energy crisis and on account of the transformation of Taiwan's industrial base, which shifted its output to machine tools, production machinery and transportation.

A more managed approach to the sector came about in the 1980s, as the Taiwan government mandated a six-year infrastructure-development programme, as well as moves to nurture 10 emerging industry sectors, including a focus on electronic information. In line with this, the machinery industry output was geared more towards the production of high-tech products, including precision machine tools and semi-conductor equipment, as well as a number of other key components and parts.
Intelligent Industry
More recently, along with other major industrial producers around the world, Taiwan's focus has been on computerisation, digitalisation and intelligentisation. Following the 2016 election of Tsai Ing-wen as the island's leader, her administration has made intelligent machinery a priority. The move is very much in keeping with Industry 4.0, the global drive for the development of smart factories.

At present, the machinery sector is Taiwan's third-largest industry in terms of output value, trailing only semi-conductors and petrochemicals. In total, the island is home to 13,000 machinery plants, together employing some 300,000 people.

In 2016, according to the Taiwan Association of Machinery Industry (TAMI), the output value of the local machinery industry was some NT$990 billion, a 3.6 per cent year-on-year rise. In total, exports accounted for NT$681.8 billion of that figure, a 0.1 per cent increase on 2015.
Economic Boost
This year, signs of a global economic recovery have boosted the machinery sector, with exports up by 11.2 per cent to NT$170 billion. However, since the local currency appreciated six per cent against the US dollar over this period, the actual year-on-year growth rate was only 4.9 per cent.

According to TAMI Chairman Alex Ko, the Taipei International Machine Tool Show, held last March, resulted in a flood of orders for local businesses. A similar windfall is also expected from several events on the Chinese mainland and in Europe. As a consequence, Mr Ko expects overall output and export value to grow by five per cent to 10 per cent this year, with total output likely to be valued in excess of NT$1 trillion.

In line with this, Taiwan's machinery industry is seen as a truly global player. Overall, it ranks second in the world for the export of shoe-making machinery, fourth for the export of machine tools, fifth for textile machinery and sixth for plastics and rubber machinery. While many of Taiwan's traditional industries, such as shoe-making, textiles, plastics and rubber, have relocated to the mainland or Southeast Asia in the past 20 years, many of these businesses still rely on Taiwanese manufacturers for machinery and equipment.

In terms of the Taiwan's machine-tools sector, Fair Friend is the market leader. In recent years, the Taipei-headquartered business has been a major player on the mergers and acquisitions circuit. This has seen DMC from South Korea, Pfiffner of Switzerland and two German companies – MAG and Wohlenberg – become part of the Fair Friend empire. The company became the world's third-largest machine-tool manufacturer, trailing only Germany's DMG and Japan's Mazak.

Fair Friend is also the world's top manufacturer of both vertical machining centres and automotive machine tools, while ranking second for aerospace machine tools, third for nuclear-power generation and new-energy machine tools and fifth for rail transport. Chairman Jimmy Chu says all the machine-tool technology the company has accessed through mergers and acquisitions in Europe, North America, Japan and South Korea in recent years, will ultimately be transferred back to Taiwan.
Smart-machine Industrial Park
In terms of the future development of the wider industry, a government-backed smart machinery industry park is set to be established as part the second phase of the Shengang Fengzhou Technology Park in central Taiwan. Scheduled to be completed in 2018, some NT$70 billion has been invested in the park, which will provide facilities for about 50 companies.

Despite government backing and several success stories, the biggest challenge facing Taiwan's machinery industry is overseas competition, most notably from Japan and Germany, which are developing their own innovative technology. In two of the key sectors – artificial intelligence and automation/robotics – Taiwan still lags considerably behind the market leaders, with the technology level of most of the island's factories still at the medium to low end of the spectrum.

To make up for the shortfall, plans are now in place to enhance Taiwan's ability to compete in several key technological areas through collaborations between the state and Taiwan's academic sector on several smart machinery-related R&D projects.

For more China market opportunities, please visit: http://research.hktdc.com