9 June 2017
Move Over, Meat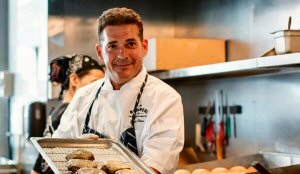 Not any more, now that the greener eating movement in Hong Kong has a meat alternative so appealing it's even on the menu of a proudly beef-focused restaurant brand, The Butchers Club.

Its founder, Jonathan Glover, has built a thriving business around burgers made from premium meat. He says, until recently "we haven't found many compelling vegetarian alternatives."

Now, the brand's signature Michelin-listed, dry-aged beef and bacon cheeseburger comes as a vegan option. It's all thanks to a plant protein patty – developed in a food tech lab in Silicon Valley, and just launched in Hong Kong.

Seven years in the making by Beyond Meat, a California-based plant protein research and development company, the Beyond Burger is "a remarkable scientific feat," says Mr Glover. The patty "looks and tastes just like premium ground beef," he said, adding that it "even boasts a higher protein content than typical beef mince." So diners can expect the burger-eating experience they love, with minimal environmental impact.
Growing Trend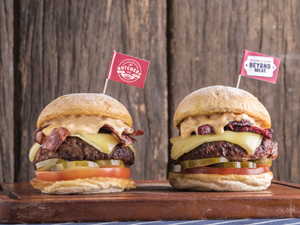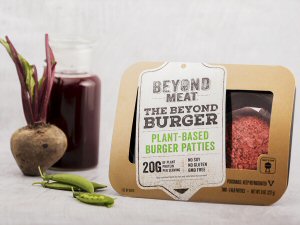 The Beyond Burger's inclusion on The Butchers Club menu highlights the global trend towards less meat consumption.

While meat-free dishes traditionally have targeted vegetarians, Mr Glover says that the Beyond Classic burger is specifically marketed at carnivores.

"For those eating red meat or making indulgent food choices several times a week, it makes the perfect choice," he says. "It's true that meat substitutes are historically unappealing, but that's not the case with our Beyond Classic – the patty sizzles, smells and tastes like meat. Even the most committed carnivores have been surprised and impressed."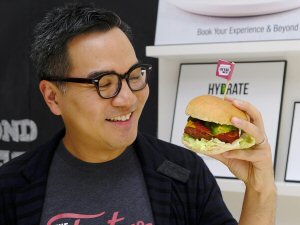 The Beyond Burger is also available for cooking at home. It's the latest addition to the Beyond Meat range available at Green Common, the plant-based green concept store established by local environmental advocate David Yeung. Mr Yeung is also the founder of Green Monday, an innovative social venture started in Hong Kong to encourage less meat consumption, which has now spread to a worldwide platform.

"Hong Kong, shockingly, has [one of] the highest meat consumptions per capita in the world," he says. "The launch of The Beyond Burger, along with all Beyond Meat products, not only will pleasantly surprise consumers with amazing taste and nutrition profile, but will also mark the official beginning of the food, health and sustainability revolution in Asia.

"I wouldn't compare the Beyond Burger with other plant or meat burgers; I would compare it to the iPhone or Tesla, because it is, simply, a game-changer."
World First
For the product's creator, Beyond Meat, the launch of its product in Hong Kong is also a global first.

"We've resisted offering the Beyond Burger internationally as we remain in the early stages of distribution here in the United States," says Ethan Brown, CEO of Beyond Meat. "However, reflecting recent increases in capacity, this special opportunity in Hong Kong, and our long-standing relationship with David, we are thrilled to announce this partnership."

Seeing US consumers embrace the Beyond Burger has been gratifying, he adds, "and we hope with this first step into Asia, we can bring greater awareness of the shifting protein paradigm to this vitally important economy."

Until being replaced by Uruguay and Argentina in the 2016 World Beef Consumption ranking, Hong Kong had the highest per-capita beef consumption of any city. Hong Kong's drop down the ranking suggests these habits are changing – a trend confirmed by Mr Yeung.

Since Green Monday was established in 2012, he says, people have found more and more ways to eat "greener" and healthier.

"We have seen that the number of 'flexitarians' has gone up from five per cent before Green Monday to 22 per cent now, which is encouraging to see in Hong Kong's landscape," Mr Yeung says.

"We have done a lot of work in spreading the word on why it is important to go green and the awareness is gaining a lot of traction. It is now the best time to provide the solutions on how people can go green."
More Vegan Choices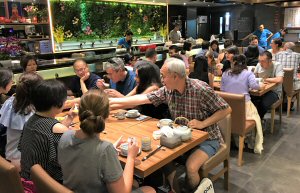 The number of vegetarian restaurants around town is also growing. According to Stevie Go, organiser of the social group Meat Free Hong Kong, numbers of the even stricter vegan category of restaurants have doubled in recent years.

"We're even seeing non-vegetarians opening vegan restaurants, which is indicative of the consumer trend," says Mr Go.

Meat Free Hong Kong was established almost eight years ago by Shara Ng, an activist on the local vegan scene. Mr Go, a retired IT service manager originally from Scotland, took over the reins three years ago to ease the time pressure on Ms Ng.

The group has about 4,700 members, who are invited to join dinner outings held almost every week at meat-free restaurants across the city. A set menu of share plates has usually been pre-arranged, often at a discounted price. "We do deals with restaurants to eat at times when they are not so busy," explains Mr Go.

All food served at these outings is 100 per cent vegan. "Our group comprises all types," Mr Go says. "We have omnivores, lacto-vegetarians, vegans and pescatarians, so we don't want to exclude anybody."

Typically, about 30 members will attend each of the dinners, held on rotation at the group's 15 restaurant partners, and publicised through the online platform Meetup Hong Kong.

Other social events are also organised for members from time to time, according to Mr Go. For instance, Ms Ng arranged a talk by author Will Tuttle, author of The World Peace Diet, during his November visit to Hong Kong.
Related Links
Green Common
Meat Free Hong Kong
The Butchers Club