29 June 2017
Hong Kong's Canada Connection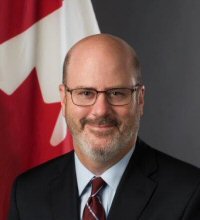 Hong Kong has the largest expatriate Canadian community in any city outside Canada, with more than 300,000 Canadian citizens living in Hong Kong. The vast majority are people of Hong Kong origin who became Canadian citizens and returned to Hong Kong.

Canada's top diplomat in the city, Jeff Nankivell, has been Canada's Consul General in Hong Kong since August 2016. Joining the Foreign Service in 1988, Mr Nankivell was posted to the Canadian Embassy in Beijing three times, most recently from 2008 to 2011, where he was Minister and Deputy Head of Mission. Mr Nankivell explains the strong links between Hong Kong and Canada.

How would you describe the economic ties between Hong Kong and Canada?
Hong Kong is a very important market for Canadian goods and services and Canada is a very important destination for investment from Hong Kong. The figures can vary from year to year, but Hong Kong is consistently in the top- 10 export destinations for Canada. We have seen a great expansion of food product exports to Hong Kong – it's the second-largest market for Canadian beef and beef products, the fourth-largest market for our fish and seafood products, and the number one destination for North American Ginseng.

We have some very important projects in Hong Kong in technology. For example, 95 per cent of the signalling for the MTR rail system is provided by the Canadian-based arm of the multinational Thales. We have Canadian companies active in financial services, which have been present for many years with tens of thousands of clients in Hong Kong.

Where are the new opportunities for growth?
We have 15 people in our trade and investment section at the Canadian consulate general, whose full-time job is to promote investment ties between Canada and Hong Kong and to help Canadian businesses expand their global operations through Hong Kong.

There's great potential in a few areas, particularly in information and communication technology. In Fintech, with Hong Kong being a global financial hub, we see opportunities for emerging companies to expand their businesses, to find customers and partners in areas including cybersecurity and data analytics. Clean technology is another important area and it's an area of strength in Canadian tech. With its density and sophistication, Hong Kong is a really good testing ground for technologies before they go global.

Hong Kong is a leading market in transportation technologies and with the expansion of the airport, with the continued expansion of the rail network, and with Hong Kong as a centre for deal-making connected with the Belt and Road Initiative, we see opportunities for Canadian engineering technology.

What are the common interests that Hong Kong and Canada share?
When we talk about the relationship and the cultural and business connections, values are one important area. We place great importance in the integrity of the one country, two systems framework and it's something we believe is of fundamental importance to people doing business in Hong Kong and to its success and prosperity as a global business centre. Hong Kong is a great place to do business and to live. It's a place that has really good governance and governance institutions that are based on values that people in Hong Kong and Canada share. Important among those are the common law tradition and the rule of law.

As Canada celebrates its 150th anniversary as a modern nation, how are cultural ties being promoted in Hong Kong?
We are taking the opportunity in centres around the world to celebrate Canada's history and achievements, but also to bring attention to Canada at 150 – the Canada of today. In Hong Kong, we are trying to get people to look at Canada and three important qualities for business: it is innovative, competitive and it is welcoming. We've been working to help support a series of events running throughout the year. We've had cultural activities – authors and films – and in business terms, speakers from leading Canadian companies. We have a promotion in Lan Kwai Fong called Taste of Canada, where some of the restaurants and bars are featuring new Canadian ingredients and products in their menus.

On 30 June, Hong Kong Airlines will be offering its first service between Hong Kong and Vancouver, so passengers on that flight will arrive in time to celebrate Canada Day in Canada.

I would encourage people to look at our Canadian Consulate General Facebook page where you can find out about the different things going on. In the autumn, one of the world's top jazz pianists, David Braid, will be performing at the Hong Kong International Jazz Festival and one of our great authors, Madeleine Thien, will be coming for the literary festival.

There's a very active ice hockey community in Hong Kong. I myself play in one of the hockey leagues that play at Elements [shopping mall] on Sunday nights and there are some great Canadians who are here working with hundreds of children in minor hockey programmes with some support from Canadian companies in Hong Kong. There's a growing interest in winter sports in Greater China, generally, with the Winter Olympics coming to Beijing in a few years, and we have seen growing interest in ice hockey in Hong Kong. It's not an exclusively Canadian sport but it's a sport, that Canadians really take as their own.
Related Links
https://www.facebook.com/CanadainHKandMacao
http://www.twitter.com/CanCGHongKong
Government of Canada
Jeff N in HK & Macao