11 July 2017
Connecting Asia through IoT
"Making $ense in a Connected World" was the mission statement of this year's IoT Asia, held in Singapore in March. According to a recent report by Bain, the Massachusetts-headquartered management-consultancy group, the annual global revenue from the sale of hardware, software and business solutions related to the Internet of Things (IoT) will be about US$470 billion by 2020. Similarly optimistic is a new study from IHS Markit, a London-based data analyst, which sees IoT penetration growing from its 2015 level of 15.4 billion devices to 30.7 billion by 2020, and expanding to 75.4 billion by 2025. A March 2017 survey from Aruba, Hewlett Packard's dedicated networking subsidiary, indicates that 86 per cent of organisations based in the Asia-Pacific region will have some IoT commitment by 2019.

"While 39 per cent of executives polled expect their IoT strategies to yield huge business efficiency improvements, actual results show that more than half (51%) of those who had already embraced IoT enjoyed considerable gains in business efficiency," said Chris Kozup, Aruba's Vice-President for Marketing.

"With the business benefits accruing from IoT surpassing expectations, it's no surprise that the commercial world will have moved towards mass adoption by 2019. With many executives unsure of how to apply IoT to their business, however, those who succeed in implementing the required protocols will undoubtedly gain a considerable competitive advantage," Mr Kozup added.

Implementation, however, will face several key challenges, particularly with regard to networking. "Many of the existing networks lack the capacity to handle the connectivity demands of IoT devices," said Charles Reed Anderson, a Singapore-based specialist IoT consultant. "As a consequence, this will be the year that low-power wide-area networks (LPWANs) start to come into their own.

"Essentially, LPWANs are able to operate with greater power efficiency over a longer range while requiring less expenditure than traditional networks," said Mr Anderson. "This is particularly important with IoT devices that are located in remote or inaccessible areas. In such cases, battery life needs to be measured in years rather than in weeks or months. Used properly, LPWANs can also deliver potential cost savings of around 90 per cent."

Mr Reed also saw a need for greater collaboration between the different players in the IoT sector. "We need to move from an infrastructure-centric focus to more of a citizen-centric approach. In time, we will see the emergence of dedicated IoT OTT (Over-the-top) service providers offering audio, video and other media content delivered over the Internet without the involvement of a multiple-system operator.

"These providers will be able to aggregate the information from multiple building-management systems as the vast majority of them all run on the same protocol. They can turn information overload into actionable intelligence. Vendors and suppliers need to collaborate and the use of LPWANs will make this possible."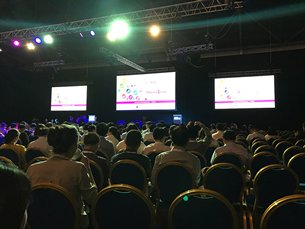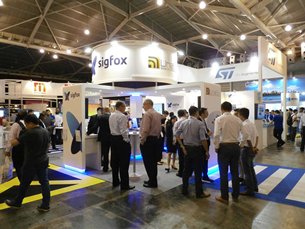 Several conference delegates provided insights on how IoT had transformed their own operations. "For us, IoT means far more than just relying on GPS to track our fleet," said Kumaraguru Nadaysen, Director of Finance for PT Serasi Autoraya, a Jakarta-based transport-management business. "In fact, it has enabled us to optimise cost efficiencies, enhance safety and security, and increase vehicle and driver productivity. Beyond that, it has seen us become more reliable and allowed us to create a range of new products and services," he added.

On the industrial side, Keith O'Byrne, Head of Solutions for Asavie, a Dublin-based specialist in connectivity software, outlined the impact his company's IoT systems had made within the factory environment. "With smartphones and similar devices, it doesn't really matter if they can't run the new iOS or Android operating system, as they are only designed to be used for two to three years. Industrial machinery and robotics, however, have a work life that runs to decades.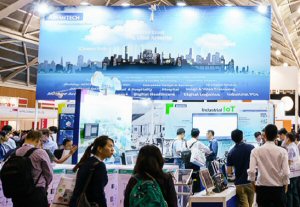 "In the case of industrial devices, though, they often don't need direct access to the central network, which actually solves a number of security issues. Instead of using the Internet, then, we use private IPs, which ensure greater security. In reality, industrial devices should connect only in line with user requirements and scheduling, rather than all of the time."

Taking a national perspective, Dr Vivian Balakrishnan, Singapore's Minister of Foreign Affairs and head of the country's Smart Nation initiative, said: "The impact of IoT is – and will continue to be – immense. Jobs will be disrupted and middle-class white-collar workers and wages will be affected. And this will all happen very quickly.
"The people, companies and nations that are the first to master this technology will have enormous reach across a global market. For us, the challenge is to democratise these new technologies, ultimately empowering all of our citizens to harvest these opportunities in as broad a fashion as possible."

For more market opportunities, please visit: http://research.hktdc.com/.