31 July 2017
The Future of Fashion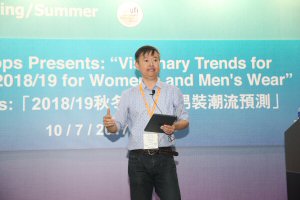 Fashion is a reflection of the times, as highlighted by online fashion forecasting service, Fashion Snoops.

Michael Leow, Head of Marketing and Client Services in the Asia-Pacific region for Fashion Snoops, spoke at a seminar during the HKTDC Hong Kong Fashion Week for Spring/Summer, 10-13 July. He offered his assessment on what will be "hot" in the coming seasons, and the industrial impact of athleisure wear.
What are the key trends you have identified for Autumn/Winter 2018/19?
The key fashion themes for Autumn/Winter 2018/19 we've called "Earth Alchemy," "The Space Between," "Time Traveller," and "Engineered Identity." The thrust of all of these themes is that we are living in a time of great change and these themes reflect that sort of an almost epochal, changing moment where we seem to be.

Obviously, one of the themes is very much driven by the sense of disjointment politically in the world today, and that is an "engineered identity." What we hope out of this theme is that creative people and designers will band together to create a new identity for all of us. In times of trouble, minimalism always is very important because people want to have that security of a minimalist lifestyle, and that's what "The Space Between" is about. The theme called "Time Traveller" is a take on the technology we have at our disposal today. We've never had these opportunities before to almost have virtual reality, to re-live times gone by – but in a modern way – and that's what time travel is all about.
How has the athleisure trend impacted the industry?
Athleisure clearly has been the most important, dominant macro trend for the last four or five years. I don't really think it's really going away anytime soon, but I do think that it's evolving. When athleisure first caught on in the global consciousness, it was basically people who walked out of their gyms and straight into their offices, and at that time, it was really dominated by the sportswear brands, the Nike and Adidas of this world. But what we've seen in the past several seasons now is the major brands, from Chanel, the couture brands, the high-street brands, they've all recognised this trend, they've all jumped on board. So what we're seeing over the last three or four seasons is almost – if I can create a new word – a "fashionising" of athleisure – where these high-end brands, couture houses, even the high-street brands are bringing in a lot of new fashion elements into athleisure.

What is Hong Kong's role in the global fashion industry?
Hong Kong plays a very critical role in the fashion industry. It really is a hub, a hub obviously for trade, but also for ideas. And where Hong Kong continues to have that important place in the fashion industry is by taking the needs, wants and trends of the Western buyer, and translating that to the supply chain, to the manufacturers in China. But not just China. It is translating that in Vietnam, in Cambodia, and throughout the Belt and Road. So Hong Kong plays a very crucial role of being that hub for the fashion industry in terms of passing information both from the buyer to the supplier, and also the other way now.

How is the fashion industry tapping into opportunities arising from China's Belt and Road Initiative?
I don't see it as much from my perspective at the design level, but I do believe that it's happening at the sourcing level. I think that you are seeing people not just sourcing in Guangzhou or Fujian any more. They are spreading further along the Belt and Road, moving into Vietnam, Cambodia, Southeast Asia and into Central Asia. So from the sourcing side, buyers are always looking for new factories and new bases where they can produce, so I think it's happening at that level. From the point of view of fashion trends or fashion information, I still believe that the centre for that, for Asia, remains Hong Kong, and that's where Hong Kong adds value.
Related Links
Fashion Snoops
HK Fashion Week