7 Aug 2017
Beyond Bread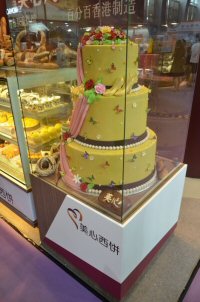 Smart food processors and "fast fashion" food-service equipment are the new bright spots in the Chinese mainland's bakery industry. According to exhibitors at the China Bakery Exhibition, held in Guangzhou last May, bakeries will develop mixed operations and sell coffee and drinks in addition to bread and pastry.

The scale of the exhibition reflected the way baked food has moved into the mainstream across the mainland, becoming a staple for many families. This year, the country's bakery sector is expected to be worth Rmb401.3 billion (US$59 billion), and is predicted to rise to Rmb550 billion by 2020.

At the same time, the wide range of exhibitors at this year's event indicated how the sector is changing, with many bakery operators branching out into related products, including coffee and other beverages.

The variety of baked food on offer has notably increased over the years while the shelf life of many related products has been shortened, with an increasing number of consumers only willing to purchase fresher – and healthier – items. Another trend re-shaping the industry is the surge in demand for bakery items in many of China's third- and fourth-tier cities.
Huge Potential
"Our offices in Shenyang, Tianjin, Xinjiang and Chengdu have all reported growing demand from many of the surrounding towns and townships," said Cen Yubin, Sales Director of Shoei Foods Corporation, a Shanghai-based specialist in baking materials and a leading supplier of premium dried fruit and nuts. "Although the level of consumption in these areas is still relatively low, there is huge potential."

Mr Cen said the company principally distributes through direct sales, but is looking to work with local retailers to supply some of the more remote areas. Overall, he believes baked foods are particularly popular in the coastal areas of eastern China, although demand is also growing in the central and western regions.

Baked foods are particularly popular with younger consumers, according to Bo Xin, Channel Sales Manager of Kolb Huizhou, a Guangdong-based manufacturer of bakery equipment.

"While soft European-style bread – crispy outside, but soft inside – was once very popular in the first- and second-tier cities, it has gradually fallen out of favour as new alternatives have emerged. Such bread, however, remains hugely popular in the third- and fourth-tier cities.

"The current generation was introduced to baked food at a very young age. As they grow up, baked food will remain a staple, a development that only has positive implications for the bakery market."
Bakery Cafes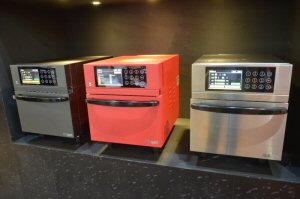 With stiff competition in the mainland bakery market, many establishments have diversified beyond selling solely bread and pastries. Many exhibitors at this year's event were keen to showcase the wide range of options on offer, including coffee and other beverages, as well as ice cream and traditional Chinese-style pastries. To facilitate the sale of such items, several exhibitors promoted smart baking equipment, as well as a range of fashionable beverage systems.
One option that caught plenty of attention was Kolb Huizhou's range of Atollspeed ovens.
According to Mr Bo, speed of food preparation is the true USP of the range, with each of the ovens capable of storing up to 100 baking programmes, which can then be selected at the push of a button. As well as using very little electricity, the units are also said to be ideal for installation in malls or cinemas as they do not require access to ventilation fans.
Customisable, Healthy Ingredients
Many mainlanders are becoming increasingly conscious of nutritional value and food-safety issues. To address such concerns, numerous bakery companies are keen to promote the quality of their products. Shoei, for instance, claims to use only baking ingredients that are free from additives, preservatives, colouring and flavouring essences.

According to Mr Cen, some 50 per cent of all of Shoei's baking materials are sourced from abroad, including all of its dried fruit and nut content. At the same time, as consumers inevitably want to try new food items, the company has to constantly update its range with novel and lesser-known items from around the world.
Chinese Pastries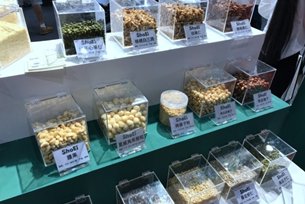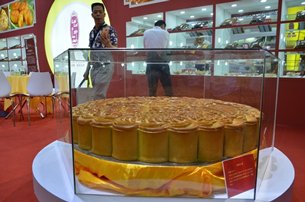 A substantial number of companies specialising in Chinese pastries – both the traditional variety and those featuring a contemporary twist – were also in attendance at this year's event, including Zhuhai-based Lailai.

This year, the company's items most in demand included lotus-seed paste rice dumplings, osmanthus rice cake, pumpkin and red bean cake and Chaozhou-style mooncakes. According to Li Yongchang, a salesman on the company's stand, Chinese-style pastries are every bit as popular as their Western counterparts.

"As many bakery products have a relatively short life-cycle, we constantly have to launch new pastry items," said Mr Li. "We have also reduced the sugar content of our range, without compromising the taste. This has proved particularly successful in the case of our newly launched low-sugar mooncakes."
For more China market opportunities, please visit: http://research.hktdc.com