4 Aug 2017
Fit for New Purpose
Saving and revitalising properties that might otherwise be destined for demolition is a direction encouraged by government policy, and according to the Hong Kong office of the Royal Institution of Chartered Surveyors (RICS), it's an area ripe for public-private partnerships.

Professor Daniel Ho, Associate Dean of the Faculty of Design and Environment at THEi (the Technological and Higher Education Institute of Hong Kong) and organising committee Chairman of RICS International Heritage Conservation Conference, said that the challenge in Hong Kong is to build community consensus and support for commercial use of revitalised buildings within the widely agreed principle of re-using built heritage. A collaborative approach involving public and private sector partnerships is seen as a solution in an insight paper published by RICS last year, entitled "Adaptive reuse of built heritage in Hong Kong."

The paper describes a "quadripartite relationship" involving professional institutions, the government and NGOs, underpinned by broad-based stakeholder engagement: the formula is seen as a model for best practices and standards for heritage conservation that enjoy public trust.

Clement Lau, Chair of RICS Hong Kong Board, added that the private sector "can contribute significantly to heritage conservation" as it's more flexible and innovative in terms of design and future use, including financial arrangements for operating the completed project.
Leading by Example
One Hong Kong-based developer favouring reuse over the wrecking ball is the Ovolo Group, which owns and manages a portfolio of hotels in Hong Kong and Australia. Tim Alpe, Chief Operating Officer, explained that when acquiring assets, Ovolo typically seeks out under-performing or "ugly duckling" properties to which it can add value.

Viewing the property itself as the primary asset – rather than calculating its value in terms of its performance as a hotel, as other operators might do – differentiates the Ovolo business model, Mr Alpe explained. "Prime examples are our properties in Hong Kong and Australia."

In Hong Kong, Ovolo Central and Ovolo Noho were both former office buildings repurposed by Ovolo originally as serviced apartments, and later as hotels. Ovolo Southside, in Wong Chuk Hang on Hong Kong Island, was a former warehouse converted into a New York industrial chic-style hotel. "Even our Aberdeen Harbour property, when we acquired it, was a serviced apartment building converted from offices," he noted.

Ovolo Aberdeen Harbour closes in early August to undergo a 90-day refit; it will then reopen in November to debut the Mojo Nomad brand, Ovolo's first foray into the co-living and co-workspace concept. In addition to having 65 rooms and more than 250 beds, the property will include a community bar and café, lounge and co-working space, with a communal kitchen and laundry facilities for residents' use.
Investment in Design
While it might bargain-shop to acquire property, Ovolo invests in high-end design, with Hong Kong architectural firms KplusK Associates, and HASSELL Studio in Australia, assigned to the conversions in their respective locations.

Re-purposing is usually preferred environmentally to demolition and rebuilding, and allows for the retention of some quirky characteristics from the building's original purpose.
Glass Office
The Hong Kong office of Dutch architecture firm, MVRDV, has also demonstrated the benefits of adaptive reuse with its transformation of an old industrial building in East Kowloon into a cutting-edge office. The 18,000 square-metre project, located on the Kwun Tong waterfront in Kowloon, is part of a larger urban development scheme that aims to turn the post-industrial district of East Kowloon into Hong Kong's new central business district.

Marta Pozo, Director at MVRDV Asia, said that 133 Wai Yip Street – named The Glass Office for its extensive use of transparent materials – takes a new approach to development in Hong Kong, refitting the existing building and reinforcing the area's original character rather than wiping the slate clean with solely new builds. It has also become more user-friendly.

"The previously dark and labyrinth-like insides have been completely stripped out to allow light to flow through the building," Ms Pozo said. Communal areas, services and vertical circulation have been moved towards the rear of the building. "The floor plan now allows for each floor to either be occupied by one tenant, or for them to be separated into as much as four separate work spaces through the addition of light, glazed infill." MVRDV undertook the conversion on behalf of developer GAW Capital.
Heritage Preserved
Similarly, the owners of the new Camlux Hotel, which opened in Kowloon Bay last May, wanted to preserve elements of the vacuum flask factory for which the property was originally built in 1985.

Raymond Leung, Managing Director, said the manufacturing business had been retained – but moved to a nearby location – after the owners saw greater potential for the property's use as a business hotel.

"With so many new build Grade A office developments springing up in and around Kowloon Bay, the company anticipates a strong corporate presence nearby and increasing demands for associated short- to medium-term accommodation needs," he explained. "To capitalise on this growth, [parent company] Camlux Hospitality Ltd started planning for the conversion of the industrial building [formerly New Camel House] into the first hotel in Kowloon Bay, in 2012.
Branding Opportunity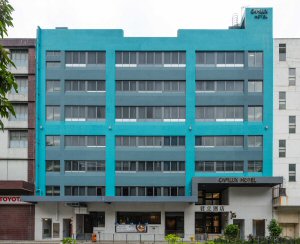 The decision coincided with the timely initiation of the government's Revitalization of Industrial Buildings in Hong Kong scheme. At the same time, the conversion also represented a branding opportunity.

"We looked to tell our own story by celebrating the building's history, distinguishing our brand and property from others by delivering our guests with an additional layer of interest when staying at Camlux," Mr Leung said. "Since the hotel opening, we have enjoyed much media coverage and received encouraging comments on our genuine and sensitive design execution from old to new. This has helped to attract new clients and consolidate repeat guests."