17 Aug 2017
Trading Scheme Connects with Investors
Bond Connect, a cross-border trading scheme providing access to China's US$9 trillion bond market via the Hong Kong Exchanges and Clearing (HKEX), saw more than Rmb7 billion (US$1 billion) worth of Chinese mainland bonds traded by international investors on its July launch.

Although trading volumes are yet to be released, The Asset reported data from the China Central Depository and Clearing Co – the official bond-clearing house – indicating that overseas investors increased their holdings of mainland bonds by 4.5 per cent in July to Rmb841.5 billion.

In its recap of the first month of trading, Bloomberg reported that Bond Connect has also been acting as a channel to bring offshore mainland money back home, from local investors taking advantage of opportunities in domestic credit products.

Citing data from the Shanghai Clearing House, Bloomberg stated that since the Bond Connect kicked off on 3 July, "offshore institutions have taken nearly 1.5 billion yuan (US$222 million) of short-term corporate debt with a tenor of no more than one year in the primary market, and another 2 billion yuan plus of secondary transactions."
Milestone Initiative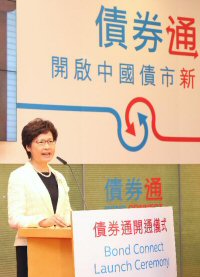 The initiative had been highly anticipated by foreign markets since it was announced in March by Chinese Premier Li Keqiang. Months of detailed preparation by the Central People's Government, the Hong Kong Special Administrative Region (SAR) Government, and the relevant institutions led to its realisation.

At the launch ceremony held at the HKEX, Hong Kong Chief Executive Carrie Lam said Bond Connect marks a new chapter in the development of mutual capital markets access between the mainland and Hong Kong. "It will enable eligible overseas investors to access, for the first time, the mainland interbank bond market through infrastructural connection established between the mainland and overseas bond markets," Mrs Lam said.

Bond Connect follows the introduction of the Shanghai-Hong Kong Stock Connect in 2014 and Shenzhen-Hong Kong Stock Connect, in 2016, and the mainland-Hong Kong mutual recognition of funds arrangement, launched in 2015. The Chief Executive noted that "these developments exemplify the combined advantages of 'one country' and 'two systems' enjoyed by the Hong Kong Special Administrative Region."
Important Step for Hong Kong
Norman Chan, Chief Executive of the Hong Kong Monetary Authority (HKMA), said that the launch is an important measure of Hong Kong's development as an international financial centre.

"Bond Connect is a new financial infrastructure established through the connection between HKMA's Central Moneymarkets Unit and the relevant central securities depositories on the mainland," Mr Chan said. "We believe that with the convenience and flexibility provided by Bond Connect, overseas investors' participation in the mainland bond market would be enhanced."

According to Hong Kong Financial Secretary Paul Chan, Bond Connect would be implemented in phases: northbound trading first, followed by southbound trading "in due course." As China's international financial centre, Hong Kong continues to play a unique and significant role in the opening up of the mainland's financial markets to the rest of the world, Mr Chan noted.
Banks on Board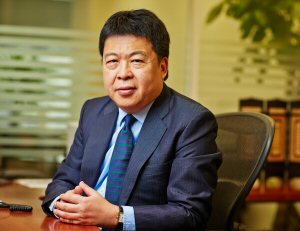 BNP Paribas, among the first banks to execute transactions through Bond Connect, expects its development, alongside other related reforms, to boost foreign holdings of mainland bonds, from the current two per cent, closer to the international norm of about 10 per cent.

"Over the last year, China has been normalising policy and we've seen the currency stabilise and bond yields start to become more attractive," said BNP Paribas Head of Global Markets for Greater China, CG Lai. "But the MSCI (Morgan Stanley Composite Index)'s decision to include Chinese A shares has prompted heightened expectations – like we've never seen before – and really demonstrates that the world needs to recognise and embrace the Chinese market. It's only a matter of time before we see bonds also included in international indices."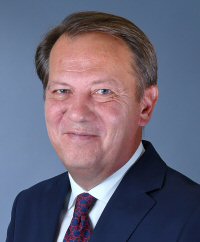 Philippe Benoit, Head of Asia Pacific, BNP Paribas Securities Services, expects Bond Connect to be more cost and time-effective for investors, compared to other access channels, with simplified application procedures, less documentation requirements and shorter turnaround times.

"We are seeing growing interest from offshore institutions keen to take a foothold in this market," said Mr Benoit.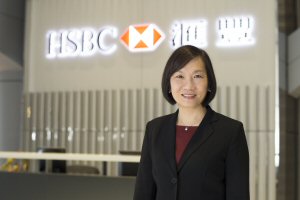 Meanwhile, Helen Wong, HSBC Chief Executive, Greater China, believes Bond Connect will reinforce Hong Kong's role in linking the mainland with global financial markets. "Increased investment in the CIBM (China Interbank Bond Market scheme) made through Hong Kong will also help the city grow its custodian and clearing businesses, enhancing its status as an international financial centre."

HSBC, Standard Chartered, Citigroup and Deutsche Bank have also completed their first deals as market makers in the new system.
Elevating the Yuan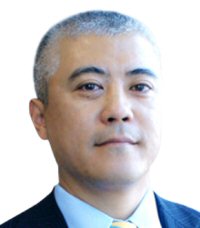 Law firm King & Wood Mallesons assisted with the successful launch of Bond Connect via its teams in Hong Kong and Shanghai.

Jack Wang, co-head of the Finance & Capital Markets group and Managing Partner of KWM Yangtze River Delta offices, noted the significance of the timing, and the wider implication for the internationalisation of the Chinese currency.

"On the occasion of the 20th anniversary of the reunification of Hong Kong, the milestone launch of Bond Connect is meaningful as another major achievement in the opening-up of China's interbank bond market," Mr Wang said. "We are honoured to have participated and contributed our professional services, and Bond Connect is undoubtedly conducive to further enhancing Hong Kong's role as an international financial centre and as a gateway to broaden foreign investment channels in the promotion of the continued opening-up of China's financial market.

"Furthermore, we could see that Bond Connect will further promote market demand for the renminbi as an international reserve currency, and speed up the internationalisation of the renminbi."