8 Sept 2017
A Cultural District Arises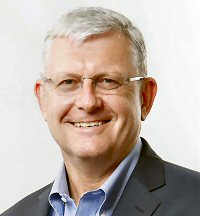 The aim of the US$2.7 billion West Kowloon Cultural District (WKCD) boils down to an extremely focused message, according to WKCD Authority CEO Duncan Pescod.

"The philosophy is summed up by a very simple sentence – 'we want to be the best.' We want to be challenging ourselves so that Hong Kong can develop as a real centre for art and culture in the region and the world."

Over the coming year, the 40 hectares of reclaimed land on the Kowloon Peninsula is to morph from a construction site into an operating cultural district with the expected opening of the Xiqu Centre – aimed as a world-class arts venue – and public-friendly Art Park in phases, joining the ambitious and adventurous M+ Pavilion, which is already open. The opening of Freespace, along with the Blackbox Theatre and an outdoor stage, in 2019, will allow the public to further engage with art and culture.
By 2021 there will be the permanent, architecturally inspiring M+ Museum, as well as the Lyric Theatre Complex – comprising two theatres of 1,450 and 600 seats, as well as a 270-seat studio theatre – the Hong Kong Palace Museum and numerous other venues.

"We have to encourage both local talent as well as international talent to see Hong Kong as a natural destination – and that means building the audiences, building the interest in all forms of art and culture," said Mr Pescod. "You've got to bear in mind this isn't just about the physical building, 17 or 18 different facilities; it's about building the content; it's about building a whole new awareness of the importance of culture and art to an economy."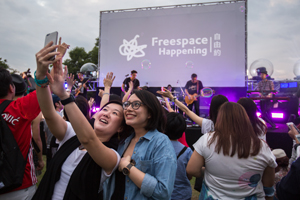 Outreach Programmes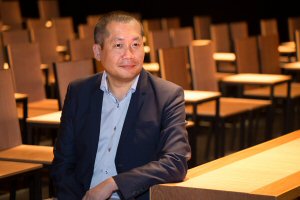 The process is already underway, according to Louis Yu, Executive Director for Performing Arts. "We have been reaching out to the public and doing a lot of audience-oriented programmes," said Mr Yu, who cited outdoor festivals, as well as a project started six years ago when WKCD built an all-wood Bamboo Theatre at the place where the Xiqu Centre will stand next year. "The [Bamboo] Theatre accommodated 1,000 people and we had three weeks of performances for about 100,000 people. Apart from Cantonese opera performances, we arranged contemporary dance and music performances, which were very popular. We have also been engaging with artists who will be the heart and soul of the cultural district, with cultural exchanges regionally and internationally."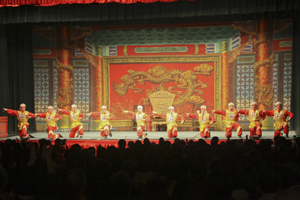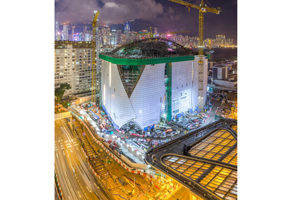 Visual Culture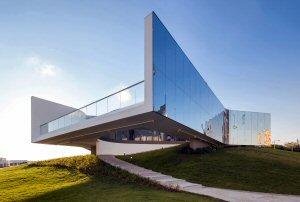 As for the visual arts, the M+ Pavilion was the first permanent WKCD venue to open in 2016, and is already attracting increasing numbers of visitors, both locally and from overseas. "The collections have been under development now over the past five years, collections of visual culture," said Suhanya Raffel, Executive Director of M+. "This is visual culture in the broadest sense because in this day and age, we live in such a highly-developed visual space. This is a global museum with a pre-eminent collection of 20th and 21st century visual culture that has been shaped by its Asian context, with a very diverse voice."

The M+ Pavilion's most recent collection is entitled "Canton Express," which runs until 10 September. "This is a set of works that was shown in the Venice Biennale 2003. It was looking at the making of the Pearl River Delta region and how artists were responding to very rapid urbanisation and modernisation; it also introduced to an international audience a different point of view in terms of contemporary Chinese art," said Ms Raffel. "These are wonderful young artists who have grown to be important, when looking back from 2017. It's about the international context, the cosmopolitan character of Hong Kong that we want to reflect."

The incoming exhibition, from 13 October, entitled "The Weight of Lightness: Ink Art at M+," will feature painting, calligraphy, installation, photography and moving images.
Cultural Hub
The overall outlook will position the WKCD at the centre of opportunities afforded by the Belt and Road Initiative, according to Mr Pescod. "The work that we've been doing over the last 10 to 15 years has been focused on us being a regional hub. By adding the Belt and Road Initiative on top of that extends the reach."

Mr Pescod said the WKCD has been invited by the China Arts and Entertainment Group to join the Silk Road International League of Theaters as its first Hong Kong member. The initiative aims to develop cultural exchange with more than 40 international members. "I think it is going to give us opportunities for networking, to work with different theatre groups around the world – in China, but also Malaysia, Indonesia and further afield, such as Poland and Hungary.
"Any arts and cultural district worth its weight in gold has to be able to develop beyond what is already there."
"I think the Belt and Road Initiative is a driver – it will pull together countries that wouldn't naturally be seen as part of this cultural and artistic development."

Mr Pescod expected the operational WKCD to blend original and creative ideas with traditional art forms. "We will have Cantonese opera and Western opera, we will have the Hong Kong Philharmonic Orchestra – but on top of that, we'll have jazz, hip-hop, we'll have creative new forms. Any arts and cultural district worth its weight in gold has to be able to develop beyond what is already there."
Belt and Road Link
Hong Kong's established connectivity with Southeast Asia is a major factor in performing arts, said Mr Yu, particularly in conjunction with Singapore, Indonesia and Malaysia. "Contemporary dance is very strong, for example, in Malaysia, and we have a very strong connection with them. We have a very solid cultural relationship with these Belt and Road countries and the new initiative will strengthen that further.

"Apart from the cultural content we are going to get, are we going to attract audiences from these countries and the touring and exporting opportunities arising from this network? We're looking forward to that. The Initiative opens a lot of new doors to explore."

Mr Pescod underlined WKCD's technological advantages as a new cultural hub, with smart bikes to allow visitors to travel easily between venues and online apps to provide maximum choice of ongoing events and locations. "We have to be continuously moving forward. That's the beauty of a cultural development, with value in diversity."

The Belt and Road Initiative will add a new dimension, he believed. "Can you imagine having access to the different cultures, the different artistic and environmental backgrounds that the Belt and Road countries bring to the table? It's a fantastic opportunity."
Related Link
West Kowloon Cultural District (WKCD)