22 Sept 2017
Sharing is Caring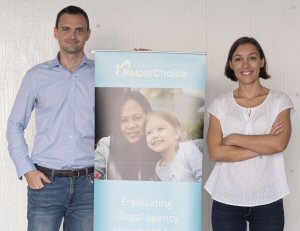 When Laurence Fauchon started looking for a nanny to help look after her newborn when she returned to work as an investment banker, little did she know she was embarking on building a social enterprise.

The common method of hiring a nanny involved going through an employment agency, which charged domestic helpers fees equivalent to several months' wages. "I was horrified with the whole experience, realising I had become part of a trafficking chain, which I did not even know existed in the first place," said the French native.

Together with husband, Florian Garivier, Ms Fauchon founded HelperChoice, a P2P platform in the domestic worker-hiring industry that aims to match helpers with employers. "By cutting out the middle-man, I think we do fit in the global trend of the sharing economy," she said. "We want to see the relationship between domestic workers and employers improved by empowering both sides when it comes to getting 'matched.'"

Three years after setting up the platform in 2012, Ms Fauchon quit the trading floor to invest proper resources into HelperChoice, renting an office, building a team, and "trying to change the rules of the game. I have never ever regretted the decision," she said.
Enrichment for All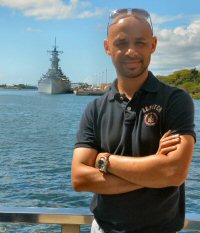 Leon Adeoye founded EnrichOthers, a social-sharing app for Hongkongers to give away their unwanted possessions. The British software engineer believes that by donating instead of discarding, people can enrich their own lives as well as those of others.

The idea stemmed from a clear-out of his family's Discovery Bay home. While decluttering to make room for a new baby, Mr Adeoye baulked at sending perfectly good items to the landfill. Donating to charity was an option, but he preferred having greater engagement with the recipient.

Leveraging his technical skills, Mr Adeoye developed EnrichOthers, last June, with improved functionality compared to other online classifieds, such as Facebook.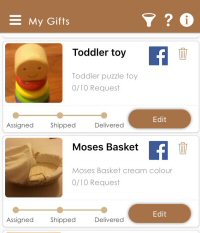 Once the app is loaded, users can post either an item they want to give away, or would like to receive. From multiple responses, the donor can decide where the gift goes, and all posts are anonymous. "Your details are private and secure. Unlike Facebook, no one can contact you directly," he said.

A user homepage sorts items by interest, while GPS sensibility calculates the distance between giver and recipient of any posted item. A feedback mechanism allows users to comment on the transaction experience.

The app is free, and Mr Adeoye insists that there's no profit motive. "I just wanted to find a way to add value to society through some measurable impact by lending my resources as a technologist to do something right," he said.

Mr Adeoye is continuing to develop the app as a multilingual platform. He hopes EnrichOthers will appeal to expat communities all over the world "who want to do their bit for recycling."
Ethical Fashion
Michelle Bang, a US-born fashion expert with an MBA from Harvard, leveraged her multi-faceted background in finance, strategy and charity to establish the eco-fashion brand, BYT.

Launched in Hong Kong this year, BYT seeks to help change wasteful practices in the fashion and textile industry, which is the world's second-largest polluter, after oil. BYT was co-founded with Christina Dean, founder and Board Chair of environmental NGO Redress, as an affordable luxury upcycled fashion brand and social impact business, which "proudly produces in Asia."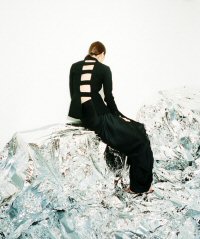 "At BYT, we believe waste [fabrics and materials] can be redirected back into fashion without compromising style," explained Ms Bang, who was formerly chief Operations Officer at Redress. "We rescue surplus luxury fabrics and turn them into beautiful, affordable clothing and accessories, using sustainable and socially responsible supply chains."

The company draws upon a heritage of garment craftsmanship and master tailors, engaging young talent (including EcoChic Design Award winners) to create the designs. BYT also partners with sustainable manufacturers and social enterprises to employ disenfranchised garment workers.
Where are They Now?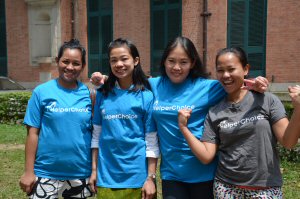 HelperChoice

Since its launch, HelperChoice has reached 35,000 employers, and 130,000 helpers. Its Facebook page has 452,000 followers. Country Manager Julie Delignon said the platform has expanded organically to countries in the Middle East, although "anyone [globally] can use it."

A milestone was the 2015 migration to a new and expanded technology platform to provide a better service to employers. Its model has evolved from being purely a matching tool, to offering deeper profiles in order to find a perfect fit between helper and employer.

In association with business partners, HelperChoice now offers employers a 50 per cent discount on helper insurance, as well as pre-employment training to upskill helpers for their new role.

Help for domestic helpers is also offered: "if anyone has an issue with their employer, we can refer them to an NGO, which can assist them," Ms Delignon said.

EnrichOthers

Since launching in June 2017, Leon Adeoye's EnrichOthers app has been downloaded over 400 times. More than 100 gifts have been posted, including sporting items, baby goods and kids' books. In September, he launched a tablet version.

The platform supports a growing list of languages, including English, Japanese, Cantonese, Hindi, German, Spanish, Indonesian and French. Mr Adeoye hopes to engage charities to further develop the platform's effectiveness, and ultimately would like to "googleise the whole thing," so that "people searching for anything at all won't have to buy it; they can get it for free."

"That creates a secondary economy that helps everyone in the world," he said. "If we all donated stuff on this app, there would be so much choice, we could eliminate waste."

BYT

BYT's inaugural upcycled fashion collection was launched in September at www.bytlife.com and department stores Lane Crawford in Asia and Barneys New York in the United States. Designed by previous EcoChic Design Award winners Kévin Germanier from the United Kingdom, and Hong Kong's Victor Chu, the garments were manufactured in Thailand by Hong Kong-based company TAL Apparel.

The newly announced 2017 EcoChic Design Award winner, British designer Kate Morris, will join a team of fashion game-changers to create the next collection for BYT, an upcycled range of knitwear for this winter.

Also this year, Michelle Bang was the Hong Kong country winner of Chivas Regal's The Venture, a global search to find and support social enterprises and "extraordinary start-ups" that are using business to create a positive change. She attended an Accelerator Week series of lectures, workshops and coaching sessions, held in London in March, and presented the BYT business model to a panel of judges in the Final Pitch held in Los Angeles in July.

"The ability to represent Hong Kong in this global competition not only spotlighted social issues that are occurring in this part of the world, but also provided BYT validity in the professional scrutiny around our business model and our vision to catalyse change in a pollutive industry," Ms Bang said.

"The competition also gave us a voice to a global audience to tell the world what we are doing at BYT. We are very grateful for the support we received through the Chivas Venture, and the level of enthusiasm for BYT that was generated."