28 Sept 2017
Homes with Heart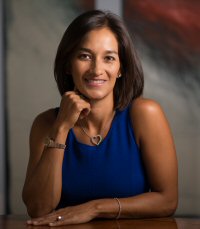 CHI International was established in 2007 as CHI Residences, one of Hong Kong's first boutique serviced-apartment brands, now with a growing regional portfolio. Today, the serviced apartment market is much more crowded, but CHI Residences continues to invest in Hong Kong. Executive Director Pilar Morais discusses the family business' growth journey and the opening of its newest property.

Tell us about your company.
My father, Philip Morais, a lifetime Hong Kong resident, has a passion for developing unique and inspiring properties. He bought his first property and established his own company in 1975.

His vision for CHI Residences was to create a luxury home away from home for chic and savvy travellers. Applying more than three decades of experience in the hospitality and property development industries, he sought to take serviced accommodation to a new level, providing all the luxury and service of a five-star hotel with inspired design and personal touches that provide CHI's guests with their own unique urban retreat.

Today, CHI Residences has five properties in Hong Kong. The latest in Wan Chai is currently in soft opening phase, and we are about to break ground on a serviced apartment property in Vietnam. CHI International has Garden Island Resort, a five-star dive resort on Taveuni Island, Fiji where we are planning the development of a residential component.

How did you get involved?
Ours has always been a family company. After growing up in Hong Kong and studying in the United States, I moved to Australia to take up a position in a boutique finance company, focusing on hospitality. When my father decided to come out of a brief retirement to establish CHI Residences, I relocated from Sydney to run it, while my two brothers returned from the US to join the company as directors. Philip Junior, who's owner of Garden Island Resort, has a focus on overseas properties, while Patrick focuses on digital marketing.

What is your brand story?
As frequent travellers ourselves, we appreciate the value of home comforts wrapped up in the luxury and service of a five-star hotel. We strive to achieve this through inspired design and personal touches that provide CHI's guests with their own unique urban retreat. As a result, each CHI Residence has individual characteristics. All are named after their street number: CHI 279, for example, is located at 279 Shanghai Street, an historic district of Yau Ma Tei, Kowloon.

What have been some of the challenges?
Not long after we opened our first building, CHI 393 in Yau Ma Tei, the Asian financial crisis hit. Almost overnight, occupancy at Hong Kong serviced apartment properties dropped to around 30 or even 20 per cent. For more than a year, we really did struggle – things didn't start picking up until 2010.

We survived by innovating. For instance, we made one of our properties (CHI 120 in Sai Ying Pun) pet-friendly, which was a first for serviced apartments in Hong Kong, and it worked. Today about half our residents at that property keep a dog, cat or rabbit.

We also began focusing on properties in West Kowloon. The International Commercial Centre tower was being built, and we expected, correctly, that this area would develop as a business hub that is cheaper and less saturated than Central. It also gave us a direct line to the garment manufacturers and other entrepreneurs coming from mainland China to set up offices in Hong Kong.

How is the industry faring?
The serviced apartment sector, like any business, is subject to market fluctuations. At peak times, we have enjoyed 90 to 95 per cent occupancy, and currently it's a healthy 75 to 80 per cent. As we have a hotel license at one of our properties (CHI 279), we are able to offer nightly as well as monthly rates, so that is an advantage.

We've also become more flexible in terms of what we offer. Not many serviced apartments offer full-service, luxury two-bedroom accommodations at monthly rentals of under HK$60,000, and there is a waiting list for ours. Corporates don't mind having two staff members stay in one unit as it brings down their costs.

How has your new property responded to market changes?
CHI 138, opposite the Wan Chai MTR station at 138 Johnston Road and within walking distance of the Hong Kong Convention and Exhibition Centre, is CHI Residences' biggest and most hi-tech luxury property to date. Its selection of contemporary studios and one and two-bedroomed serviced apartments features 13 layout options, including apartments with studies, rooftop gardens, a duplex and a penthouse.

The Hong Kong market is still profitable for us and CHI International will continue to expand both in Hong Kong and region-wide. Our competitive edge is our local intelligence. With our family company's Hong Kong heritage and long association with the hospitality industry, we expect to fruitfully continue our growth journey. At the moment, we are looking at two or three properties that could take our business forward.
Related Link
CHI International