3 Oct 2017
Mainland Notebook Sales Soar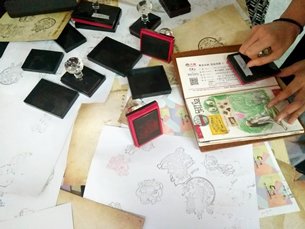 China's love of notebooks – daily journals with a surprisingly wide range of add-on features – is a fairly recent import from Japan, where such items have long commanded an ardent fan base. That phenomenon has been replicated in the Chinese mainland, with students and young female office workers among the most enthusiastic adherents.

This trend was reflected at the inaugural China (Beijing) International Stationery Exhibition in July. A dedicated notebook zone featured more than 40 brands, an area that also enjoyed one of the highest levels of footfall at the event.

Many of the leading notebook brands are also now widely available in specialist stores in major mainland cities. One high-end bookstore in Beijing, for example, carries a stock of Midori notebooks. A leading Japanese brand in the sector, its travellers' editions feature premium leather covers from Thailand and typically cost about Rmb358 (US$53). Quality is also reflected in the paper chosen for its inside pages – Midori's proprietary MD paper range, made in Japan and designed specifically for use with fountain pens.

Beyond Japan, as far afield as Europe and the United States, the established notebook market commands a huge user base. The majority of the European and Japanese brands have gravitated towards the upper end of the market, developing unique, multi-faceted designs along the way. As a consequence, such items seldom sell for less than Rmb200, while many classic limited-editions come with price tags that are 10 or even 20 times higher.
Domestic Brands
In the mainland market, many of these established brands have attracted a similarly devoted following, including the Japanese brand Hobonichi, which comes in a range of diverse styles, featuring the same refined workmanship. Of the European contenders, Italy's Moleskine is particularly prized, as is the UK's 100-year-old loose-leaf Filofax brand, along with Germany's Leuchtturm1917, which is particularly well-regarded for the quality of its ink-proof, acid-free paper.

In comparison, the mainland's own high-end notebook-manufacturing industry is still in its infancy. But production in the domestic sector is escalating every year with several local premium notebook brands.
A number of the country's leading stationery companies and bookstores have also entered the market. Kinbor, a stylish notebook brand developed by Guangbo, a Zhejiang-based stationery group, has been available in a range of editions since 2016. Beijing's Owspace Bookstore, meanwhile, has branched out by launching two distinct notebook brands – Solo and Symphony. Many of these domestic brands are putting greater emphasis on design originality, while keeping their prices below the Rmb100 range. Despite the arrival of these more affordable items, however, the average annual spend of most notebook enthusiasts is said to be rising.

In terms of market size, there are more than 120 notebook-related groups on douban.com, one of China's most popular social networks, with the largest of them said to have nearly 210,000 members. Meanwhile, Baidu's Shouzhangba (notebook bar) is also said to have more than 200,000 followers. From the posts shared by enthusiasts, it would also seem that the domestically produced brands are gradually gaining acceptance even among hardcore fans.
Creativity and Context Marketing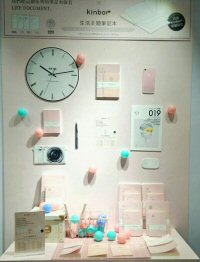 A circular issued by the Ministry of Information Industry and Technology last year called for a concerted effort to jointly develop the stationery and office-supplies sector, as well as the cultural and creative industries. The initiative is expected to raise the cultural content of such items, delivering added value to both sectors. Technological, product and marketing innovation are also being pushed across the sector to boost its competitiveness at the international level.

In an indication of the policy's success, Shanghai-based Jiukoushan has emerged as a market leader in the domestically produced notebook sector. Apart from producing its own designs, including Jiukoushan cat-themed notebooks and a range featuring a variety of lifestyle motifs, the company has also worked with several renowned illustrators, including Li Ming and the Yefengji Workshop. The success of these joint ventures has played a key role in developing the company's reputation and building its following among notebook enthusiasts.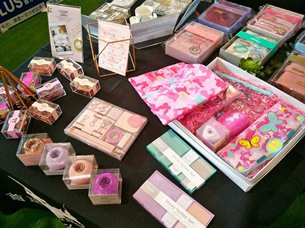 Hoping to find similar acclaim, Guangbo's Kinbor-branded stand at the event showcased the company's range of in-house designed notebooks, including its Traveller and Sweet Dreams collections. The company has also collaborated with third parties, such as with the celebrated water-ink artist Li Zhimi, and the company behind the Huangyou Camera app.

"As well as having our own in-house design, our brand is strong enough that other brand and IP owners are keen to collaborate with us," said Chen Jiaoqing, the company's Head of Brand Planning. "Overall, we believe that creative designs are key to building market share in the notebook sector."

The popularity of notebooks has had a knock-on effect on related products and accessories, including paper tapes, seals, stickers and coloured pens. Paper tapes, in particular, were featured on virtually every stand within the notebook zone, with their ubiquity even surpassing that of notebooks.
Digital Notebook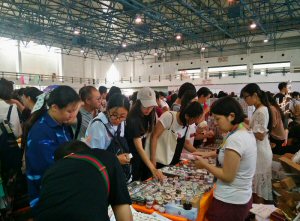 Given that on-the-go Internet access is now commonplace, the growing use of online "notebooks" is seen as an inevitable step in the sector's evolution. In Japan, several dedicated notebook apps are popular, with Lifebear, Petatto Calendar and Refills Lite proving to be stalwarts of the smartphone sector. Typically, such apps come with a range of features, including task management, health monitoring, mother and baby care, even the facility for running a personal gourmet diary.

Across the mainland, there are also signs that the notebook sector is beginning its digital migration. While several smartphone notebook apps are already available – including Color Duocai Shouzhang (colourful journal) and Fenfen Riji (pink diary) – their categories, features and style, to date, are said to have room for improvement.

More success, however, has been found with the traditional notebook+app model, which is expected to have considerable potential for market expansion. According to the head of one notebook brand, her company is already looking to incorporate digital technology into its products, believing this to be the next trend.

For more China market opportunities, please visit: http://research.hktdc.com