4 Oct 2017
Serving up Hong Kong's Finest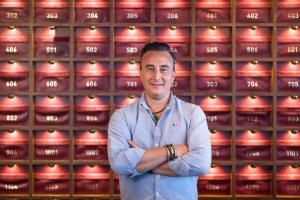 Leveraging his hospitality experience at The Grand Hyatt, Hong Kong, JIA Hong Kong and HIP Hotels Media Group, Jason Cohen teamed up with childhood friend, John Hui, to relaunch The Fleming, in Wan Chai, as a "made in Hong Kong" boutique hotel, by embracing the city's iconic heritage.

Tell us the story behind the hotel's relaunch.
The Fleming had been open and running successfully since 2007, but through John's and my own extensive travels, we identified a gap in the market for a boutique-hotel experience with world-class food and beverage at affordable prices. We realised that a niche existed to give people an urban Hong Kong experience with a focus on something that was timeless, modern and hip. Essentially with a major renovation, repositioning and style, we look to provide travellers with affordable luxury.

What is your brand strategy?
We work with the best partners we can find, predominantly in and from Hong Kong. For all things design and style-related, we work with A Work of Substance, a boutique design firm founded in Hong Kong. For food and beverage, we are working with the Black Sheep Restaurants, which we feel are the best at what they do in Hong Kong. Osteria Marzia at The Fleming is its 16th restaurant in Hong Kong, which is testament to the brand loyalty and following it has achieved.

Through my travels, one thing I've noticed among successful boutique hotels – whether in New York City, London, Los Angeles, Tokyo or anywhere really – is that the ones that stand out have a similar type of guest persona. They have effectively built a tribe of people from all over the world who would stay there not only for beautiful design and impeccable service, but also for the people staying there.

As a boutique hotel with only 66 rooms, we do not have a big budget for advertising, but do have rooms and a restaurant. We have teamed up with LUXE City Guides to build a customised guide for our guests, with our own inside tips to Hong Kong and places that John and I both like to frequent. The Fleming will be the first hotel globally to use its new itinerary system, which will allow our staff to help our guests customise itineraries while they are in Hong Kong.

How is your hotel Hong Kong-centric?
It was always important for us to do something that was Hong Kong at its core. The design of the whole property has been based on the cross-harbour ferries that John and I both grew up riding as kids. The style and theme is evident in the room designs, hallways, reception and even the exterior of the building. Hong Kong has a strong maritime history and you can see a lot of this detail throughout the hotel. It's also why we wanted to do something seafood-based with the food and beverage.

Other design themes reminiscent of Hong Kong and its culture range from the use of bamboo both inside and outside the hotel, to our modern take on the ground and first-floor facade. The massive signboard you see on the exterior is our interpretation of the neon lighting in and around Wan Chai, Causeway Bay and other famous night spots across Hong Kong. We used LED instead of neon to remain as environmentally friendly as possible.
"Hong Kong is still very much an exciting market for hotel operators and owners. Even though competition is fierce, there is still huge potential for those willing to go outside the box and take the risk to do something different."
What are some of the challenges facing the hospitality industry in Hong Kong?
I feel that Hong Kong is still very much an exciting market for hotel operators and owners. Even though competition is fierce, there is still huge potential for those willing to go outside the box and take the risk to do something different.

I do believe Hong Kong hotels need to redefine themelves. There are many big, beautiful chain hotels in Hong Kong, but they are pretty much the same wherever you go. I also worry about the lack of mainland Chinese tourists: the influx prior to 2015 fuelled a huge rise in the development of hotels and I am sure a lot of these owners are now hurting. With only 66 rooms at The Fleming and a small team, we are well-placed to weather any storm.

The core issue I see with hotels comes down to staff retention and being able to provide a consistent level of service. Once you have well-designed rooms, comfortable beds and good bathrooms, it really comes down to service. We are fortunate at The Fleming as about 50 per cent of our team have been with us since the beginning, so we already have a team that is familiar with the way John and I work, and the standards we wish to attain. Big hotel groups spend a lot of money training their staff only to have them leave. I feel that if we stay true to our roots and brand, The Fleming will be a huge success and will lead to more hotel owners reinventing their own properties and moving away from something that could be in Paris, London or New York.

Related Link
The Fleming