31 Oct 2017
Building Strong Financial Ecosystems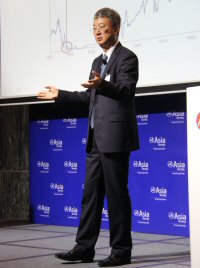 China's Belt and Road Initiative offers an economic growth solution to counter sluggish global growth, according to Dr Zhu Min, President of the National Institute of Financial Research at Tsinghua University and former Deputy Managing Director of the International Monetary Fund (IMF). At a recent presentation hosted by the Asia Society Hong Kong Center, Dr Zhu discussed how the development plan can help spur global growth, with Hong Kong playing a central role in mitigating investment risks in Belt and Road projects.

Why did China embark on the Belt and Road Initiative?
If you look at the global economic environment after the 2008 financial crisis, it is really a low-growth environment. Since 1929 up to this crisis, you usually have a drop in growth but a strong rebound back to the pre-crisis growth track. This is the first time since 1929 when the post-crisis GDP has not been able to recover. As we face a global low-growth environment, we also face another challenge: rising populism. Growing income equality makes people feel insecure and we have moved into the globalisation versus anti-globalisation debate. Putting this in context with the Belt and Road Initiative, we have a slow-growth environment, weak investments and regarding trade, another political dimension with the rise in populism and anti-globalisation sentiments worldwide. So what is China's response: the Belt and Road Initiative.
The Initiative purposely tries to push economic activities, to enhance growth in the region and support strong growth in the world. It is China's response to the populism movement to show its support for globalisation. I think this is a very important Initiative given the current global macro-economic situation.
How will the Belt and Road Initiative boost regional economic growth across such a wide-ranging area?
The new concept of the Belt and Road Initiative is a very comprehensive economic cooperation network. It is a multidimensional plan with the primary components of the plan being trade, transportation, finance, as well as policy dialogue and capacity-building. For instance, in the financial sector, it's not only about financing and investment, but about building the banking network, insurance and capital markets, including regulatory dialogues and capacity-building. So for the financial system, it is a very broad undertaking, not just a simple loan-credit situation. It is about building the financial ecosystem along the Belt and Road.

What kinds of challenges will building such an ecosystem along the Belt and Road region pose?
Across the Belt and Road, every country is unique and has its own situation regarding growth, investment, trade, political stability and government effectiveness. This means that if China wants to do a good job with the Belt and Road, there needs to be a lot of risk control. There needs to be a lot of risk assessments and professional services involved to ensure good investments are made and that they have proper returns. This is where Hong Kong comes into the picture.
What is Hong Kong's role?
It is challenging for Hong Kong to create value-and-gain returns from the Belt and Road. Hong Kong has always been a global financial centre. Hong Kong is China's financial gateway and plays an important role for the whole of Asia. Tourism, trading and logistics, professional services and financial services are the strengths of Hong Kong's services sector. These strengths fit perfectly into the context of the Belt and Road because the Initiative needs those services, especially in the financial sector. It's clear that the Belt and Road needs a lot of soft-infrastructure building and Hong Kong's services sector can really help. It's not only money, it also involves human capital, training and capacity building. In that sense, Hong Kong can play a huge role.

I would also like to note that as Hong Kong plays a role in this Initiative, especially for financial services, the city's financial institutions cannot stick to old models of service but need to embrace new innovations, like Fintech.

With its heavy reliance on government-funding for projects in some of the riskier economies in the world, how can the Initiative mitigate these risks?
The Belt and Road region needs huge infrastructure investments. There is risk because there are huge variations in the economic conditions and political stability across the region. This is why China is moving away from solely investment-driven development, but to building the ecosystem. So for example, if every project registers in Hong Kong, they will have Hong Kong law; or requiring each project's financing syndications to have a local address in Hong Kong. Hong Kong's role will boost investor confidence and put pressure on the operational side to behave. So this is another reason why I think Hong Kong has a really important role to play in the Belt and Road Initiative.
Related Link
Belt and Road Portal