15 Nov 2017
Weaving Profits amid Global Slowdown
Alongside Istanbul's Evteks and Frankfurt's Heimtextil, the Intertextile Shanghai Home Textiles is ranked one of the most important trade fairs in the domestic-fabrics sectors. According to organiser Messe Frankfurt, this year's event attracted 1,106 exhibitors from 30 territories, as well as 38,964 visitors from 99 locations around the world.

Many view the event as an opportunity for domestic and overseas suppliers to interact with Chinese mainland buyers. Among overseas suppliers looking to woo mainland purchasing agents this year was Hefel, a family-owned Austrian manufacturer with a 110-year heritage in the premium-bedding sector. "Although we originally started out as weavers, we now supply anything that can fit onto a mattress," said Stephan Hase, the company's International Sales Manager. "We pride ourselves on using only natural fibres, while all our range is still exclusively made in Austria."

Explaining the comparatively high prices of many of its products, Mr Hase emphasised that only premium-quality natural materials are used throughout its range, with no chemical binders employed in the manufacturing process. "We produce a quilt that uses a combination of stone pine flakes as its filling. Stone pine trees are only found in Austria, with their flakes known to have a soothing effect that enhances sleep. It's this kind of thing that makes our range hard to imitate," he said.
Slow Business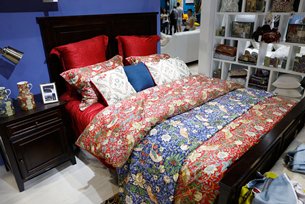 Assessing the state of the industry in the past 12 months, Aries Fan, a Sales Representative with Chinese mainland company Fornice, which specialises in sofa fabrics, said: "This year, business has been very weak. Overall, the kind of prices we've been getting have not been great."

Dongguan-based Yinhua Leather, which has 23 years' experience in producing leather upholstery, was showcasing a new leather product that changes its look when pulled or stretched.

"There are not as many visitors this year as there was in 2016," said Sales Manager Vanilla Huang. "For me, this is down to the fact that the market is struggling and there are just too many shows taking place in too short a time."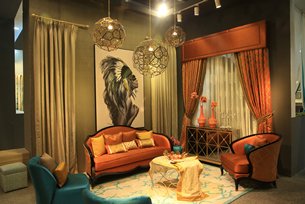 But some foreign companies were more upbeat about business based on the fair results. "We came to this expo for the first time last year, but we have had a far better experience this time round," said Sarfaraz Gilani, Sales and Marketing Manager for the Karachi-based Bari, one of Pakistan's leading textile exporters. "We already have a number of orders signed off from buyers we have met here." This year, the company promoted its range of towelling-based baby products, including a new line of hooded ponchos. It was also hoping to expand its US exports of jersey bedding sheets.

"For us, this year is better than the last," said Narayansa DH, founder of Kisahn International, an India-based exporter of silk, linen and polyester fabric. "Overall, demand for silk is growing, as is the market for different colour combinations and designs.

"We are finding that buyers are primarily interested in curtains, cushions and bed linen, with most of them based in China. Among our other markets, the US is struggling, thanks to its current political situation, while Brexit has clearly taken its toll on the UK," he said.

"In general, though, the industry is in the midst of a major structural change. This has seen a lot of textile production relocating to India, a development driven by rising labour costs in China."
Competing on Quality and Service
Undaunted by the visitor slowdown, Esra Güney, a Sales Representative with Turkish upholstery business Boyteks, said: "The majority of the buyers attending this year are Chinese, with many of the European and African buyers who were here last year apparently giving the event a miss. Despite that, we have already had twice as many enquiries as we did in 2016.

"For us, the major challenge is that we cannot really compete with many of the Asian manufacturers on cost grounds. Instead, we have to major on quality and service, two attributes that have allowed us to win a number of high-profile clients, most notably Ikea."

This year, the company was promoting its Cleanink brand. Designed to allow easy removal of ink stains, the product was said to be well-received by many of the buyers in attendance.

Swimming against the tide somewhat, Al-ņassäj was one of the few companies to have recently relocated its production to the Chinese mainland. Originally operating in Syria, it shifted its manufacturing operation to the eastern mainland province of Zhejiang in 2012.

Its initial facility consisted of just four jacquard machines, which quickly grew to 60, making it the second-largest textile factory in the region. The company currently focuses on four primary lines – embroidery, chenille, printed and plain – all of which are targetted at the sofa market.

For more China market opportunities, please visit: http://research.hktdc.com