17 Nov 2017
Run for a Healthy Life
Hong Kong's running season extends unofficially from October to April or May, with events held every weekend – from five-kilometre and 10-kilometre fun runs, to the gruelling 162-kilometre Ultra-Trail Tai Mo Shan. Additionally, countless Hong Kong people of all abilities and fitness levels are running recreationally, in line with global trends.

"There are no excuses [to avoid running]," says Stefanie Hemshall, the German-born founder of Escapade Sports, a Hong Kong retail sports chain established in 2002. "Compared with Shanghai, for example, where it is quite flat and it takes hours to get out of the city, Hong Kong is a runner's paradise. Or take Singapore: also no mountains, and hot all year-round. It seems that everyone is taking up running, and in particular we see a big increase in women participating in races."
Headline Events
Hong Kong's diverse and stunning countryside offers great trails that are easy to access . Major events such as the Standard Chartered Hong Kong Marathon, Oxfam Trailwalker, Vibram Hong Kong 100, Translantau and the Barklays Moontrekker have further boosted the profile of the sport.

"The majority of these races have a very social component," Ms Hemshall says. "There is a lot of banter between participants and many runners love to share their experiences weeks leading up to the race and afterwards on social media."

Escapade has responded via its retail offering.

"When trail-running became bigger and bigger, we started offering more high-quality trail-running items, such as specialised shoes, hydration packs, nutrition, walking poles, compression gear, apparel, head-lamps, down to the whistle and emergency blankets, which are mandatory in some of the races," she says. The company also offers in-store gait analysis to establish what type of shoe works best for the individual, and collects used shoes for local charity.
Huge International Following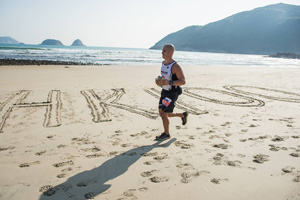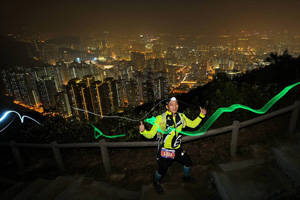 The hardest runs have a huge international following. The Vibram Hong Kong 100, for instance, attracted 6,500 applications from 63 countries for its eight edition, to be held on 27-28 January 2018.

"As the event is limited to 1,800 runners by government quota, we had to do a ballot," says Janet Ng, Race Director, Vibram Hong Kong 100.

Starting in Sai Kung, participants run 100 kilometres of scenic yet rugged terrain, along pristine beaches, through ancient forests and up steep hills – reaching Tai Mo Shan, Hong Kong's highest peak, in the final part of the course. The cumulative elevation gain of the course is 4,500 metres.

The event is the first stop on the annual Ultra-Trail World Tour, which includes such prestigious races as America's Western States 100 Mile Endurance Run, Ultra-Trail du Mont Blanc in France, and Marathon des Sables in Morocco.

The title sponsor of the event since its inception in 2011, Vibram has gained from the exposure. According to George Liu, Marketing Manager of Vibram China, "almost no-one" was wearing Vibram soles in the race in the first year – "now almost 50 per cent of runners are."
Charities Benefit
Charities are huge beneficiaries: since 1986, more than 98,000 participants in the Oxfam Trailwalker have raised more than HK$536 million to support Oxfam's various poverty-alleviation and emergency relief projects in Africa and Asia, including Hong Kong and the Chinese mainland.

The high-profile Standard Chartered Hong Kong Marathon – a Hong Kong road racing institution since 1997 – attracted more than 116,000 applicants for the 74,000 available places available for the upcoming 21 January 2018 event.

Over the past two decades, the marathon has raised more than HK$65 million for the three official charity partners. This year, a one-kilometre Family Run and a 400-metre Love From Past Life Run have been added – along with an after-party – to make the event more inclusive.
Brand Mileage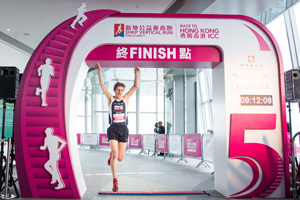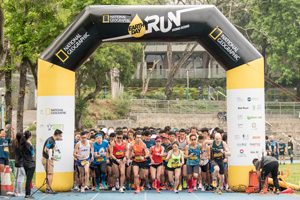 According to David Shin, Director of sports marketing agency Sporting Republic, corporates keenly compete for naming rights to the big-ticket runs. The brand mileage can be "massive," he says.

"They're vying for visibility," explains Mr Shin, who brokers sponsorships for events around the region. "Many companies want to be a part of the Standard Chartered Hong Kong Marathon, for instance – but Standard Chartered, which has been a major sponsor since 1997, has a foothold.

"There are running events held every weekend in Hong Kong, and when runners cross the finish line, there is that direct, emotional connection of completing the challenge with the sponsor's brand."

For financial services companies, sponsoring endurance events taps into their key demographic of middle-class professionals in the predominantly 30 to 45 age group, Mr Shin continued. Brands, in general, like to be associated with activities perceived to be positive, healthy and community-driven, and there are ample opportunities.

Apart from the title sponsor, a major running event may have as many as 10 sub-sponsors.
Sponsorship Vital
William Sargent, Event Director of the Barclays MoonTrekker, which this year raised HK$2.5 million for the environmental group The Nature Conservancy, says hosting an event of this scale would not be possible without corporate sponsorship. Barclays has been the title sponsor for the past six years, and has just signed for another three. Sub-sponsors include "half a dozen or so Fortune 500 companies," such as Intel and Prudential.
In its 10th edition next year, Barclays MoonTrekker "focuses on the experience," rather than speed. Participants hike or run a 30-kilometre and 43-kilometre course, which starts in the evening and goes through the night, finishing up with a party at the end where beer, Champagne and good food flows.
"[The party] is our signature, which makes our event very popular – we sold out in about four minutes this year," Mr Sargent says.

An overnight event was chosen for the novelty factor. "In Hong Kong it's quite a popular local tradition to go up Lantau Peak and see the sunrise at least once in your life," he explains. "So the idea is to get there before the sun rises."

Hone Kong is a very eager place, Mr Sargent adds. "If you present a good idea or something interesting, people are willing to give it a go."