23 Nov 2017
Life of Leisure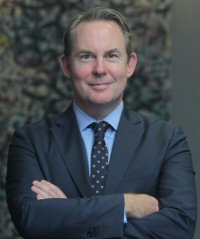 Niseko is known around the globe as Asia's winter wonderland. If holidaymakers aren't blown away by the powder snow and the Michelin-starred restaurants, they're hooked by the spectacular scenery around the ancient volcano, Mount Yotei. A rise in real estate demand in the area led Australian Benjamin Pedley to set up Hokkaido Asset Management in early 2017 to capitalise on growing demand for leisure and holidays. The company leverages on Mr Pedley's background in financial services and Hong Kong's global connectivity.

How did the idea for Hokkaido Asset Management come about?
Just like many Hongkongers, I was taken with Niseko after a series of skiing holidays there in the early 2000s. It's such a spectacular environment, it's hard not to enjoy your time there. Back then, there was a lot of buzz about luxury real estate development. It seemed an interesting market but the environment for investing was difficult, and properties in and around Hirafu, the village closest to the best-developed ski fields, have seen some ups and downs. Today's outlook is much more secure for investors, and we are looking to simplify and demystify the process by using our experience and network in the area.
"The new leisure market is being driven not by consumerism but a desire to enjoy experiences."
Why is that?
In the intervening years, there has been a tremendous surge in the number and volume of investors from mainland China and Southeast Asia, and that's at least partially driven by demand for leisure activities. It's actually an extension of a multi-decade story of outbound travel. In Hong Kong, we've seen some of the effects of tourism flows, but the new leisure market is being driven not by consumerism but a desire to enjoy experiences. There's a genuine thirst among the more affluent segments of society to experience something new. That is especially true among millennials. The research also suggests Chinese families still want to travel together and keep the comfort levels high. So it's very much a story of premiumisation that's trickling down throughout the mainland, in addition to a desire for the novel.

Does that trend apply to holidays?
Absolutely. It was once the case where a week in Hainan was what most people would aspire to. Then it was Thailand, then Paris and London and Rome. Now there's a definite trend towards a more varied and immersive holiday experience; a safari in Southern Africa or skiing in Hokkaido. In the case of what's happening around Niseko, there's also what's been called "Aspen-isation," the emergence of high-end homes and sensational entertainment that mirrors what happened in Aspen, Colorado, over the decades.

For those unfamiliar with asset management, could you help demystify the business?
In a nutshell, we're engaged to create more value from real assets. In our situation, we create or help source high-quality accommodation and offer that to investors or to someone who might be looking to buy and live for some of the year in northern Japan. If we're helping create a home for clients or maximising a return for an investor, we'll also manage the property and assist with our management team to find tenants when owners are not using them.

What advantages does Hong Kong afford a business such as yours?
There are the natural cultural and financial connections that Hong Kong, where I'm a permanent resident after more than a decade in the city, enjoys with the mainland. Those ties help us connect with potential customers. Our target clients also tend to be international citizens and I've found that if they aren't in Hong Kong, because of the city's air connections, we can easily travel to them. At the moment, we're working hard to build our Australian client base and Hong Kong is very conveniently located for those prospects.

You've put a career in finance on hold to establish your business. Where do you hope to take the company?
I'm using the professional ties and business acumen that I've accumulated while working in banking and finance to indulge a little bit of my creative side with this company. It's a great thrill to make something that's your own and I'm exercising a different part of my brain in building the company. At the moment, I'm spending a lot of time between Sapporo and the area around Niseko, Hong Kong and clients throughout the Asia-Pacific region. It has been a lot of fun and a tremendous challenge.
Related Link
Hokkaido Asset Management