12 Dec 2017
Digital Hong Kong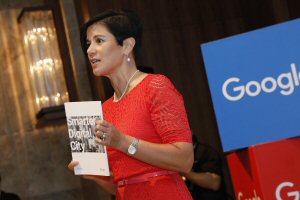 Aiming to help Hong Kong transition to a smarter digital city, Google Hong Kong commissioned a Nielsen survey on company and consumer perception of their digital readiness and their actual practice. Leonie Valentine, Managing Director, Sales and Operations, Google Hong Kong, discusses the surprising results.

Why did Google commission this research?
In Hong Kong, we see a lot of technology in the market – in terms of smartphone ownership, mobile network coverage, high Internet penetration – so you would think this is a very tech-centric place. But when we looked at Google's data, digital wasn't accelerating in Hong Kong as fast as I would expect it to, nor indeed as fast as its near neighbours. We wanted to understand why that was: what is holding Hong Kong back from digital integration in consumers' everyday lives?

In partnership with Nielsen, we talked to 1,000 smartphone users, 101 business and government entities, as well as around 10 thought leaders. That data was coalesced into our Smarter Digital City Whitepaper. It identifies some of the most pressing issues holding back Hong Kong's digitalisation, while also exploring the city's areas of opportunity.

Overall, what did you discover?
Hong Kong companies today are faced with a dilemma. On the one hand, they almost completely agree that digital is critical to success, yet, just over half are, at best, gradually embracing technology.

What surprised us most is that 81 per cent of Hongkongers we surveyed say they are digitally savvy. Yet when we asked them what they are using digital for – buying things, messaging friends or using apps – we found that only half (42 per cent) were at even a moderate level of digital integration. And when we looked at truly everyday digital integration, only four per cent are highly engaged, using those devices in the way they were intended and living their lives on digital platforms.

Why is that?
All the corporates surveyed agreed that digital is one of their biggest priorities; and 95 per cent considered digital to be critical to their business success. However, when asked about their experience of those platforms, only one in five consumers was currently satisfied. So it's a combination of poor experience, and a lot of the corporates, retailers and banks not moving quickly enough to build the kinds of applications/website tools that Hongkongers actually want to use. They skip that "everyday useful" test. This led to one of our recommendations: that the corporate dissonance between recognition and execution must be corrected immediately if digital transformation is to be successful.
"The opportunity here is: what else can we do with relatively cheap portable devices to make that living experience more pleasant and more connected?"
What areas were studied?
Analysis was conducted on four key business verticals: retail, travel, living and finance – again, with some very interesting results. For instance, the concept of smarter personal finance through peer-to-peer (P2P) lending (the practice of transferring money to individuals electronically) is very popular in mainland China. However, among 1,000 Hong Kong smartphone consumers, 30 per cent did not know what that technology was. Even their use of mobile banking is relatively limited, used by only 53 per cent of respondents.

Hongkongers' adoption of technologies around travel was actually much higher, and we saw even more opportunities for further integration from both the hotel and airlines' perspective, but also from the consumer perspective (with apps like Google Trips).

Smarter retail looks at the online-to-offline experience. We found from a corporate perspective there wasn't as much embrace of this concept, even though 89 per cent of consumers research online prior to their purchase. The opportunity for corporates is to leverage data at both online and offline touch points, to create a better customer experience, and more loyalty for their brands and products.

Smarter living is a broad category, and we are at the very early stage. We expect to see a lot more integration over time in the smart home devices and wearables context because of the way Hongkongers live in high-rise apartments, and the fact that we have all this infrastructure. The opportunity here is: what else can we do with relatively cheap portable devices to make that living experience more pleasant and more connected?

What's the way forward for Hong Kong?
The report makes a series of recommendations to organisations and policymakers. On the policy front, the government can do more to develop and attract digital talent in Hong Kong and support open data initiatives to encourage innovative problem-solving. The government can also accelerate its digitalisation process to improve services for citizens.

At Google, we're committed to accelerating the digitalisation of Hong Kong through developing talent, supporting businesses and government to succeed online, and helping Hongkongers maximise their digital engagement. Our Google for Hong Kong website (forhongkong.withgoogle.com) describes these initiatives in more detail. With the help of our partners, and a thriving digital ecosystem, we can give the city's digital economy a major boost.

What are some of your new SME initiatives?
Early in the new year (2018) we're bringing our training programme, Google Digital Garage to Hong Kong, where we will train SMEs how to grow on digital. A wide range of topics will be covered in our free online toolkit, such as optimising your website, getting noticed through social media, be noticed with search ads, building your online shop, and expanding internationally – even how to get your pin on the Google Maps so that people discover you.
Related Link
Google