21 Dec 2017
Advantage Hong Kong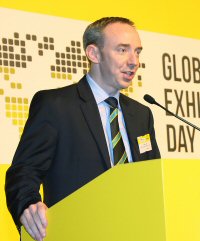 New research commissioned by the Hong Kong Exhibition & Convention Industry Association (HKECIA) shows the exhibition industry remains a key pillar of Hong Kong's economy. Carried out biennially since 2004, the seventh report, published in November, is part of the HKECIA Economic Impact Study series, conducted by independent research consultancy KPMG Advisory (Hong Kong) Ltd. HKECIA Chairman Stuart Bailey interprets the findings.

First, what were the main findings?
This latest study, covering the calendar year 2016, reveals that the exhibition industry contributed HK$52.9 billion (US$6.8 billion) to the local economy in 2016, equivalent to 2.1 per cent of Hong Kong's total GDP for the period. The study also reaffirms the significant economic benefits of the exhibition industry to the city, with international exhibitors spending, on average, 75 per cent more than general overnight tourists in 2016. At the same time, the exhibition industry generated the equivalent of 77,000 full-time jobs for people in Hong Kong.

Were there any surprises?
Data gathered by HKECIA shows that, despite the challenging global economic times of 2016, the overall number of trade fair visitors to Hong Kong last year exceeded 2.2 million for the first time. At the same time, the number of exhibiting companies rose by just over two per cent compared to the previous year. A breakdown of this figure indicates that the rise was driven by a very strong showing from Chinese mainland-based companies, with an almost 12 per cent rise.

While some decline in overall spending might have been expected, it was also pleasing to note from KPMG's research that total expenditure generated by the exhibition industry remained at the same level as that of 2014. The research also shows that international exhibitors and exhibition visitors are high-value groups compared with general overnight tourists.

Where are they spending?
Retail, international transport, hotel and F&B sectors were the largest recipients of direct visitor expenditure, accounting for 86.2 per cent (or HK$15.3 billion) of the total. Business-related expenditure (by exhibition organisers and exhibitors) amounted to HK$11.1 billion (US$1.4 billion) in 2016.

And the spin-offs go further. Hong Kong is a wine hub, a jewellery hub, and the place people come to buy fine art. Would those industries be thriving if not for the fact that Asia's biggest trade shows for these sectors happen in Hong Kong? I suspect not.

How is the industry facing up to regional competition?
I find it especially interesting to see the rise in both exhibiting companies and mainland visitors, in an era when many cities in China are actively developing exhibition facilities of their own. This shows that we continue to hold many advantages over our regional competitors.

Hong Kong is a brilliant place for many reasons – the infrastructure, the rule of law, it's the financial headquarters of many large institutions – so people do want to come here to run meetings, events and exhibitions. Another edge that Hong Kong will always have is its China gateway location.

Hong Kong remains the international face of China – within Greater China, Hong Kong is regarded as the place for business. Last year, we saw a 12 per cent increase in the number of mainland companies coming to Hong Kong to exhibit. This tells us that Hong Kong is not just a stepping stone for international companies moving into China, as it has always been, but increasingly it's also the other way – for Chinese companies that want to go international. This is a really important role that Hong Kong plays.

What is the takeaway from this study?
The latest data comes as a timely reminder of the importance of the exhibition industry to Hong Kong. The findings clearly show the massive benefits delivered at the levels of cash spending, employment opportunities, and spin-off effects for related businesses and supporting industries, and for government income. We must do our best to secure international exhibitors and exhibition visitors who are proven high spenders, and to ensure that Hong Kong continues to have the capabilities to attract and host large and significant exhibitions in the years to come.
Related Link
Hong Kong Exhibition & Convention Industry Association