8 Jan 2018
Epic Adventure Sails into Hong Kong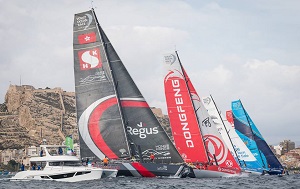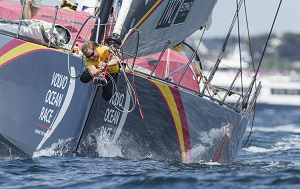 The biggest sailing event in Hong Kong's history takes place this month when yachts competing in the Volvo Ocean Race, the world's premier offshore race for professional racing, sail into Victoria Harbour.
Seven yachts will arrive from Melbourne, Australia on the fifth leg of the 45,000-mile nautical adventure, having left from Alicante, Spain, in late October. They are expected to arrive on 20 January.
Hong Kong is a stopover for the first time in the 44-year history of the event, which began in 1973 as the Whitbread Round the World Race, and was rebranded the Volvo Ocean Race in 2001-02.
Regarded as the Everest of sailing, the race is an epic voyage of about nine months, taking teams across four oceans, touching six continents and 12 landmark host-cities. After stopping over in Lisbon, Portugal; Cape Town, South Africa; Melbourne, Australia; Hong Kong, SAR; Guangzhou, China; Auckland, New Zealand; Itajaí, Brazil; Newport and Cardiff in Wales; and Gothenburg, Sweden, the race concludes in The Hague, Netherlands.
At sea, the race crews experience life at the extreme: no fresh food is taken onboard so participants live off freeze-dried fare; they will experience temperature variations from minus five to plus -40 degrees Celsius; and they will only take one change of clothes. They will trust their lives to the boat and the skipper, and experience hunger and sleep deprivation.
Free Festival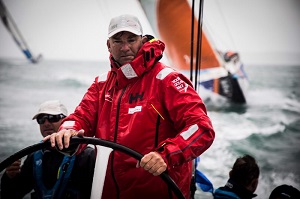 Hong Kong will provide a welcome change of pace with the Volvo Ocean Race Hong Kong Race Festival, a free event running at Kai Tak Runway Park from 17-31 January, which will include entertainment, food and drink, music, interactive exhibitions, performers, giveaways, virtual reality displays and plenty of sailing.
This year also marks Hong Kong's first-ever entry in the race, with David Witt skippering the super-maxi yacht Sun Hung Kai/Scallywag and local sailor Tiger Mok as part of the professional crew. The Australian is a 20-time veteran of the challenging Sydney to Hobart race and regarded as one of the best heavy weather sailors in the sport. "This is a fantastic opportunity for the Scallywag team to represent Hong Kong on a truly global stage," he said.
Hong Kong Port Director Grant Calder said the city would put on a spectacular welcome for the Volvo Ocean Race.
"Hong Kong will be treated to a visual delight with the 10-storey-high yachts expected to sail into Victoria Harbour to a cheering crowd welcoming them to Kai Tak Runway Park, which will act as their home base and an entertainment hub for the Volvo Ocean Race Hong Kong stopover," he said.
"With Hong Kong having its first-ever team entry in the around-the-world sailing race, we are certain the people of Hong Kong will get out to Kai Tak Runway Park to support their home team and enjoy the free festivities."
A Major Coup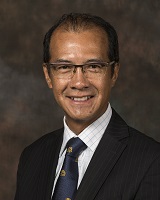 John Woo, Royal Hong Kong Yacht Club (RHKYC) Vice-Commodore, said the iconic race coming to Hong Kong was "a major coup" and "a strong acknowledgement of the city's place on the global sailing map."
"Victoria Harbour with its iconic skyline will provide the perfect backdrop to show off the Volvo Ocean Race fleet at their very best," he said. "Having a stopover here provides an ideal opportunity to increase the awareness of sailing among the entire Hong Kong community and may leave a legacy that will help build and sustain the sport for generations to come."
With its origins as a trading hub, Hong Kong, Mr Woo noted, has long had sailing as part of its history. Yacht racing has been taking place on the harbour for well over a century, including the club's own signature event, the Around the Island Race, which attracted more than 250 boats of various sizes competing in the most recent edition last November. The city also hosts offshore races that attract overseas entries.
"While we now have a very strong and active sailing community here (the RHKYC alone has about 5,000 members), the Volvo Ocean Race will take interest both in the sport and Hong Kong as a sailing centre to a whole new level," Mr Woo said.
Idyllic Location
He continued that, as a sailing location, Hong Kong "has it all" – from the iconic backdrop of the skyscrapers around Victoria Harbour to some stunning rock formations, wild coastlines and fascinating fishing villages. "The changing winds and waters can also lead to some of the challenging conditions that sailors love," he said.
"We look forward to seeing just how these professional sailors and top racing yachts in the Volvo Ocean Race fare when circumnavigating Hong Kong Island. It will be a truly great spectacle and one that all of Hong Kong's sailors will be following avidly."
During the stopover, the Royal Hong Kong Yacht Club will provide the on-water race management, including volunteers and boats, to define and marshal the racecourse safely. "In all, 80 volunteers will be required, providing a total of 300 volunteer days between them, and all the sailing clubs in Hong Kong are helping out with this," Mr Woo said. "In addition, Volvo has recruited a huge team of volunteers to help run their fabulous Race Village at the Kai Tak site and our members will certainly be involved there, too."
Charlie Manzoni, Vice President of the Hong Kong Sailing Federation, believes hosting the race will inspire a new generation of sailors to take to the waters.
"The first-ever Volvo Ocean Race Hong Kong is the culmination of significant efforts by the Hong Kong Sailing Federation and Home Affairs Bureau to attract this premier sailing yacht event to local waters," he said.
Flying Dragon
An important feature of this edition of the Volvo Ocean Race is the Ocean Summits held during the stopovers, Mr Woo added. "Our club has been advocating for the reduction of single-use plastic items such as bottles, straws and bags for some time and it is great to see that the Volvo Ocean Race is also focusing on protecting the ocean through promoting the need to drastically reduce plastic pollution in our oceans. We hope that this can be one of the legacy items from the race and that the water around Hong Kong can become plastic free."
Related links
Volvo Ocean Race Hong Kong
Royal Hong Kong Yacht Club