25 Jan 2018
Fly High in Asia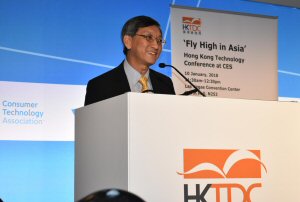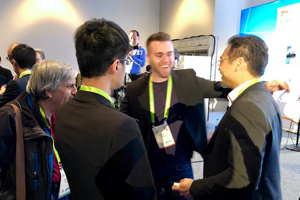 The spotlight shone on Hong Kong as a pivotal innovation hub for disruptive technologies such as AR/VR (augmented reality/virtual reality), humanlike robots, artificial intelligence, blockchain technologies and advanced manufacturing during the conference "Fly High in Asia," held at the January 2018 International Consumer Electronics Show (CES) in Las Vegas.

Technology pioneers such as cherrypicks, Hanson Robotics, Meridian Innovation Ltd and VeriFi (Hong Kong) Ltd, explained how they are leveraging Hong Kong to succeed in Asia and globally. Notably, it was shown that these entrepreneurs' success in disrupting the tech space has been achieved through strategic collaborations in Hong Kong and the Chinese mainland.

"Hong Kong has become the bridgehead for adventurers to tap new business opportunities in the region," said Ralph Chow, Regional Director, Americas of the Hong Kong Trade Development Council (HKTDC), which organised the conference. "This is due to its special relationship with the Chinese mainland and its long-standing status as Asia's innovation and technology hub," said Mr Chow.
Why Hong Kong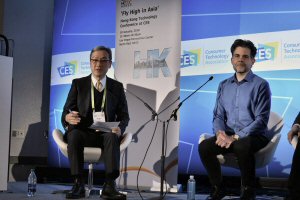 Dr David Hanson, founder and CEO of Hanson Robotics, who has an international reputation for creating the most humanlike, empathetic robots to date, explained why he moved his US-based business to Hong Kong in 2014.

"Hong Kong is exceptionally well-situated for markets all around the world – there are few places as well situated in terms of business practice, manufacturing, distribution and marketing," said Dr Hanson.

Sitting at the crossroads between China, the US and Europe, Hong Kong has a unique creativity that Hanson Robotics has leveraged, Dr Hanson continued.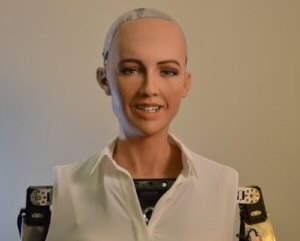 "We've converged creativity from Hong Kong, the United States and Europe, with some really brilliant researchers from Africa as well," he said. "I've found that when you bring these different cultures together and collaborate, ideas happen that couldn't happen without that cultural intersection. The freedom you have in Hong Kong, combined with the market reach in all these directions and the sourcing opportunities, puts Hong Kong at a really unique junction."

Sophia, Hanson's latest humanoid robot, is designed as a platform for artificial intelligence research and development, as well as "real uses" in medical therapy, workplace assistance and customer service.
East-Meets-West Advantage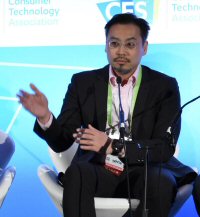 Hasan Gadjali, co-founder of Meridian Innovation Ltd, a company that develops thermal imaging sensors for commercial application, said he had been searching for the ideal location, and Hong Kong offered the East-meets-West advantages of proximity to China, with internationally-trained technical talent, Mr Gadjali said.

"Hong Kong is the key, where you have the resources and infrastructure," said the Indonesian-born, US-educated tech entrepreneur.

Jason Chiu, founder and CEO of cherrypicks, demonstrated the potential of his company's intelligent way-finding and location big data platform to advance smart cities everywhere.
"Hong Kong has a key matchmaking role in creating bankable projects along the Belt and Road routes, whether it's physical infrastructure – the ports, the roads the airports – but also the digital road infrastructure like smart cities and blockchain."
The Hong Kong company won a contract with the Hong Kong International Airport to provide mobile, turn-by-turn navigation services to more than 65 million travellers passing through each year. Via their smartphone, users can follow directional arrows imposed on a camera view to guide them to their destinations, with AR translating airport signage into their designated language. The big location intelligence data collected from users will enable better airport design and improved services.

"The market for indoor location-based services is forecast to be about US$10 billion by 2021, and for AR, about US$100 billion by 2021," said Mr Chiu. "These are huge opportunities, and the biggest market is Asia, led by China. We are the largest indoor location network operator in Hong Kong and we are here to look for partners for China and global expansion."
Business Heartland
In Hong Kong, Mr Chiu continued, companies gain access to the mainland market, via the world's freest economy that is based on the rule of law and with an international financial system.

"If you are in a business where manufacturing matters, where logistics matters, then Hong Kong is the best place to protect your IP, and at the same time is the backdoor of fast prototyping, scaling, and for credible sourcing."

Mr Chiu also highlighted the potential for smart city solutions under China's Belt and Road initiative.

"In my mind, there is no doubt that in the next five years, the biggest opportunity for regional consumer markets has got to be Belt and Road," he said. "Hong Kong has a key matchmaking role in creating bankable projects along the Belt and Road routes, whether it's physical infrastructure – the ports, the roads the airports – but also the digital road infrastructure like smart cities and blockchain."

Samuel Lo, General Manager at Nvidia AI Technology Centre, noted the high-quality infrastructure, research, talents and connections that have propelled the Hong Kong-based facility to be the AI tech centre of Asia.

"Over my last seven months in Hong Kong, I have met many key decision-makers who also want to make Hong Kong a technology R&D role model," he said.
Online Opportunities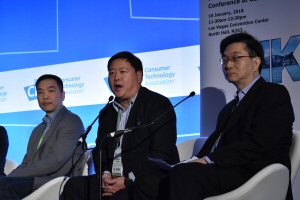 Blockchain expert Pindar Wong, Chairman of VeriFi, said Hong Kong has Asia's best fibre-optic connectivity, as well as a free and open Internet.

"What that means to you is that your businesses can use Google docs, Twitter, all the tools that you're already familiar with," he said. "That's important, because the future consumers are all online."

As the Chief Architect of the Belt and Road Blockchain consortium, Mr Wong noted the advantages of Hong Kong's soft infrastructure, citing the rule of law, a level playing field, and the city's common-law system.

"Our protection of intellectual property is now being complemented through blockchain technology, which gives certainty to your business, and an entrée to our biggest future [prospects] in the Belt and Road, the new trade route between East and West," he said.
Perfect Match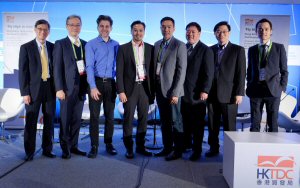 Dr HL Yiu, who moderated the conference, is Head of Advanced Manufacturing at the Hong Kong Science and Technology Parks Corporation, which operates Science Park, a 22-hectare technology ecosystem that houses some of the world's most advanced laboratories and R&D offices, as well as a seamless network of support spaces.

It was at the Science Park that Meridian Innovation's Hasan Gadjali found the "perfect match" to scale up his company cost-effectively. He cited advantages, including the government's incentive grants targetted at high-tech start-ups, IP protection and collaboration with universities to secure the best talent.

"Recruiting is a challenge, and for help from our local friends, we turn to universities," Mr Gadjali said. "They help us to hire the right people – especially the Hong Kong University of Science and Technology, which is one of the best in the world."

To offer additional opportunities for CES visitors to learn about Hong Kong innovation, the HKTDC also organised a Hong Kong pavilion featuring 34 homegrown tech companies. "It is an exciting time in technology," said Mr Chow, "Hong Kong is not only the gateway to Asia, but also serves as the springboard for innovative and disruptive technology pioneers to thrive in the global market."
Related Links
Belt and Road
cherrypicks
Hanson Robotics
Hong Kong Science and Technology Parks Corporation
Meridian Innovation Ltd
Nvidia AI Technology Centre