5 Feb 2018
Taiwan's Fourth Industrial Revolution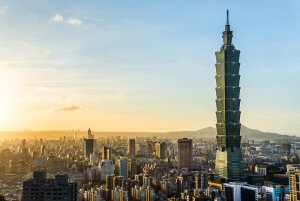 Last November, Taiwan's Legislative Yuan passed the third reading of the Industrial Innovation Act, a new legislation aimed at revitalising the domestic industrial sector. In particular, it seeks to improve the overall investment environment by promoting research and development, offering tax breaks, reclaiming unused industrial land, reinforcing IPR protection, and attracting/retaining skilled personnel.

The legislation has had a long and chequered history. Its adoption was first mooted in 2010 and has since been subject to several major amendments, the most recent of which focused on four particular areas – R&D conducted by public institutions, tax incentives for investors, retaining high-calibre personnel in Taiwan, and properly exploiting all available industrial land.
Tax Incentives
In terms of public-sector R&D, the amended Act now allows for procurement to be conducted via an agreed shortlist, rather than through open bidding, which is the norm for publicly funded bodies. In other changes, such bodies will also be entitled to hold the intellectual property rights of their own research, but will face compulsory budget reviews if they fail to meet their R&D objectives for two consecutive years.

With regard to tax incentives – an area seen as of paramount importance by investors – the Act looks to grant "pass-through entity" status to venture-capital firms investing a minimum of NT$300 million (US$10 million), providing certain conditions are met. Essentially, such a status sees businesses exempt from corporate income tax, with shareholders liable to be taxed on their own share of profits, a structure that protects such profits from double taxation. Under the terms of the amendment, qualifying businesses need to invest 50 per cent of their capital in Taiwan, as well as 30 per cent of their total paid-in capital (or a total of NT$300 million, whichever is lower) in start-ups in order to be granted pass-through status.

On tax breaks for angel investors, the amended Act stipulates that individuals who invest at least NT$1 million in a business that is less than two years old and hold company shares for at least two years may offset 50 per cent of this investment – or NT$3 million per annum, whichever is the smaller figure – against the consolidated taxable income.
Wooing Innovators
When it comes to retaining high-calibre personnel, the revised Act looks to assist in two ways. Firstly, the income tax deferral period for employee stock bonuses has been extended from a maximum of five years to cover the year in which the shares are actually transferred. At that point, tax will be assessed with regard to the transfer price of the shares, up to a maximum of NT$5 million.

As a second incentive, technological innovators looking to commercialise their inventions as a shareholder in a dedicated company may now defer the relevant income-tax payments to the year in which their shares are actually transferred. Tax will then be assessed based on the transfer value of the technology in question. A similar arrangement also applies in the case of research institutions looking to convert the value of their proprietary technology into company shares.

Regarding investors' complaint about the lack of suitable sites to build new factories or expand their production facilities, the amended Act will introduce mandatory auctions for plots of unused industrial land. Such auctions, however, will only be initiated once several other measures – including fines and consultation periods – have failed to deliver an acceptable outcome. In total, it is estimated that this process could release up to 589.2 hectares of unused industrial land.
Initiative Welcomed
Overall, the progress towards formal adoption has been widely welcomed. Legislator Yu Wan-ju, a former businesswoman, has been particularly vocal in her support, saying: "Something has to change. According to the 2015/16 Global Report published by the Global Entrepreneurship Monitor [GEM], Taiwan only scored 25.4 per cent in terms of 'perceived capabilities', the lowest among all of the 23 innovation-driven economies featured in the report."

Similarly upbeat was Clark Su, Secretary-General of the Taiwan Angel Club, a local venture-capital association. "The Act will prove very positive for start-ups and will also attract a substantial number of angel investors," said Mr Su.

"I would expect up to 100 angel investment networks to emerge over the next three years, with each having around NT$60 million of funding on offer. Overall, this will represent a total available investment of NT$6 billion. Given that the government's Business Angel Plan is also looking to inject NT$4 billion into the sector, Taiwan's cutting-edge technical industries could be looking at investments of up to NT$10 billion over the next three years."

The Industrial Innovation Act is not the only legislation set to give Taiwan's business sector a boost. Moves are also underway to revise the Company Act to ease current restrictions on capitalisation. At the same time, several proposed amendments to the Act for the Development of Small and Medium Enterprises are set to provide enhanced incentives for the start-up sector. Work on both bills is expected to be completed by the end of 2018.

For more China market opportunities, please visit: http://research.hktdc.com.