2 Feb 2018
Transition to a Smart City
What makes a smart city? Undoubtedly, the answer lies in technologies closely aligned with innovative thinking. Hong Kong's MTR Corporation is among the major local organisations that used building information modeling (BIM) to develop its new South Island Line, which opened in 2016 to link the Ocean Park tourist attraction and the southern part of Hong Kong Island by rail with the city's Central and Admiralty districts. The BIM intelligent modeling process is considered the most advanced online aid to help architects, engineers and construction professionals to create insights and tools to design, construct and manage developments.

The project is seen as a prime example of how Hong Kong is transforming to a smart city, as architects explore the possibilities offered by such innovations as BIM – as well as virtual reality (VR), augmented reality (AR) and mixed reality (MR) models to help design, build and even export ideas to economies along the Belt and Road. That's according to speakers at the City Smarts Density 2.0 symposium, presented and organised by the Hong Kong Institute of Architects Biennale Foundation last month.
Smart City Advantage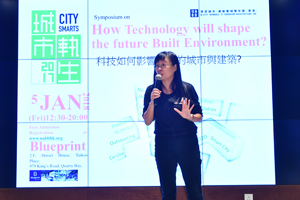 BIM is an intelligent 3D model-based process, while VR is an immersive, multimedia tool to simulate real projects in an imagined world – or imagined projects in real locations. In contrast, AR is a "live" view of a real-world environment, supplemented by computer-generated sensory input such as video or graphics data. MR provides a hybrid view, merging physical and digital objects in real time.

"I do believe Hong Kong has an advantage in smart city [adoption] given its density, advanced IT connectivity, openness, excellent infrastructure, international exposure and the experience of our architects," said Chan Lai Kiu, Chief Curator of the Biennale. "Smart buildings are like smartphones, and Hong Kong's challenging, developed infrastructure is a model beneficial for future, highly populated city development across the Belt and Road."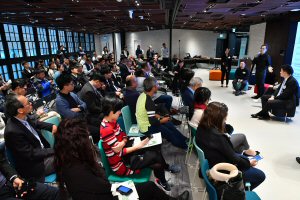 Ms Chan described the symposium as an "eye-opener" for the more than 100 participants from architecture and design companies, which are learning about Hong Kong's role as a connector to Belt and Road opportunities. "On the Chinese mainland, innovations move very fast, but Hong Kong moves safely and carefully, with access to the global environment to ensure we do it right."
An architect by training, the former development company senior executive and startup co-founder focuses on innovation in town planning, urban renewal and village development. Last year, Ms Chan organised nine visual exhibitions around Hong Kong, featuring augmented city galleries such as for hoardings, under flyovers, in office lobbies and on escalators, to show how places, streets and spaces connect to technology.
Innovation for Efficiency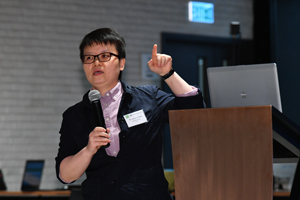 The symposium presented the latest technology impacting architecture and real estate. Illustrating the new VR, AR and MR technologies, Argoon Chuang, Digital R&D Manager with London-based professional services firm Arup, said her role was to highlight the value these new technologies could bring to clients, making design faster, cheaper and better. "For example, one of the factors we can test with VR is to avoid errors in design and planning projects, which makes everyone happier." Hong Kong is at the centre of Arup's operations in East Asia, where it strives to use innovation to reduce the time-consuming and often laborious process of architectural design.

Ms Chuang said that while Hong Kong is not averse to adopting new technologies, clients expect to see proven business value amid construction challenges specific to Hong Kong, such as building in small and confined sites just a few metres from existing, adjacent buildings. A classic example was the construction of the MTR South Island Line, where railway services on the Admiralty station could not be interrupted.

"The MTRC was an early adopter of BIM technology and in that sense was a particularly visionary client," said Ms Chuang, adding that Hong Kong was paving the way to becoming a smart city. "A good foundation is the fact that Hong Kong authorities have a huge amount of data to share about the built environment, together with its free port, professional access and transparent approach to sharing information."
Advance Analysis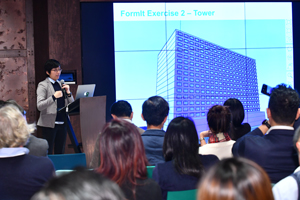 BIM technology is increasingly being adopted across Asia-Pacific as countries focus on major infrastructure projects requiring speed and efficient development, according to Carol Poon, Technical Manager at Autodesk Far East, which develops software for clients across Asia, including for the architecture and construction industries.

Specifically relevant to Hong Kong's mature development model, BIM is being used in neighbourhood renewal projects such as in Shanghai Street, Yau Ma Tei, one of Hong Kong's oldest districts, featuring Chinese shops dating back to the mid 19th century.

"Revitalising such buildings requires the retention of the façade while changing the interior, for example, into a leisure centre," said Ms Poon. Such modeling, she said, will be increasingly adopted in parts of Hong Kong to preserve the character of districts, with advance analysis of a project's expected performance: "In that sense, Hong Kong can be a smart city."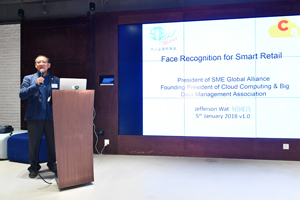 The symposium provided an innovative range of smart city technologies, such as using face-recognition technology to help architects and designers develop experiential environments. The feature was presented at the symposium by Jefferson Wat, President and IT Committee Chairman of the SME Global Alliance. He said that strides Hong Kong has made in big data management offer SMEs key advantages, including as incubatees of the Hong Kong Science and Technology Park.

Mr Wat also pointed to the Hong Kong Government's policy of encouraging innovation and to the first Hong Kong-Shenzhen SME Innovation Awards held last year. The Grand Award was won by Hong Kong's archiparti, a design and construction project-management platform with consultants and partners around the world. He said the awards' slogan was "to march in the Greater Bay Area," which links Hong Kong and Macau with nine cities in Guangdong Province, as an integrated economic and business hub. "With greater innovation, we can also move along the Belt and Road."