9 Feb 2018
Season of Scents and Blooms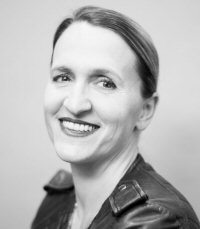 Flowers are highly representative in Chinese culture, and particularly so around the Lunar New Year, the most important festival of the year.

During this time of celebration – also known as Spring Festival – flowers (predominantly red, which symbolises happiness, and gold, symbolising wealth) adorn shops, homes, office buildings and public spaces to herald the season of renewal.

To wish others good luck, flowers are customary gifts when visiting family and friends. With the Western festival of Valentine's Day also falling around this time, it's the busiest time of year for the florists and flower markets of colourful, cosmopolitan, multicultural Hong Kong.

The city's love of flowers drew German-born Diane Nittke to establish Ellermann Flower Boutique & Event Atelier in 2011. Living in Hong Kong since 1997, and working as a creative director in the events business, Ms Nittke saw an opportunity to indulge her passion for floral design.
Pioneering Approach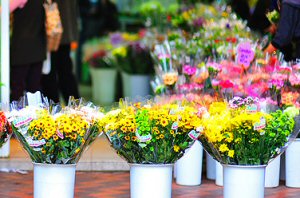 "When we started, there was no beautiful, inspiration florist in Hong Kong – mainly local shops selling manipulated flowers," Ms Nittke explained. "We took a different approach, more organic and layered, and discovered a market opportunity."

She would soon outgrow the "pioneering" first shop in Sheung Wan and in 2015, moved to a more prominent location in the upmarket The Landmark shopping mall in Central.

"Last October, we opened our second boutique in Pacific Place [Admiralty], in cooperation with the department store Lane Crawford. And we have a large studio in Wong Chuk Hang," Ms Nittke said.

Ellermann specialises in creating luxurious, customised European arrangements and sophisticated hampers, using seasonal flowers imported directly from the Netherlands, Australia, Japan and elsewhere in Asia.

"We were the first florist in Hong Kong offering custom designs to each customer's wish or recipient's personal taste," Ms Nittke said. "Our collections change all the time – beautiful seasonal collections that follow the fashion calendar, as well as the festivities." Weekly subscriptions are also available.
Workshops Prove Popular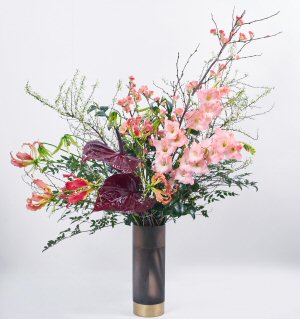 The Event Design Atelier arm of the business offers private workshops on floral arrangement and styling. These have become extremely popular over the past two years, both as a social occasion, and as corporate events for brands, including Tiffany, Bulgari, Prada, Celine, Ferragamo and Chanel.

Guest presenters are keenly anticipated. "In April, we are bringing over the most influential florists from New York, Darroch and Michael Putnam of Putnam & Putnam, for a week-long workshop," said Ms Nittke.

Meanwhile, as the business further diversified, Ms Nittke's work with interior designers on major corporate projects led to the launch in 2014 of Ellermann Interiors, an acessorising and styling agency. Together, these three ventures encapsulate Ms Nittke's creative passion.

This February, Ellermann's theme for Valentine's Day is "When Nature Blooms," based around shades of the piercingly pink "stone of love," the rhodochrosite crystal. For Lunar New Year, Ellermann rings in the Year of the Dog with "Festive Firecracker," a tall and vigorous arrangement inspired by the joy-inducing sunstone gem, featuring red, mauve and blush blooms paired with fresh green foliage.
Online Innovator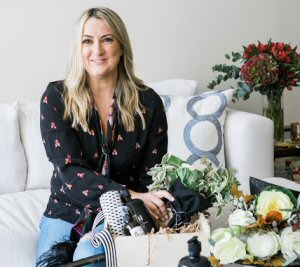 Jennifer Margolin is another of Hong Kong's floral innovators. After moving to Hong Kong from California in 2014, Ms Margolin says she had difficulties locating "beautiful flowers and thoughtful gifts that didn't break the bank, and were able to be sent on-demand."

Ms Margolin also discovered that many people in Hong Kong, like herself, love sending flowers "just because," or as a thank-you. The entrepreneur, who in the United States worked as a creative director and owned her own event-planning company serving luxury lifestyle brands, established Bydeau, an online specialist floral boutique, in February 2016.

"At the time, Uber and some of the food delivery services had just launched in Hong Kong, and I saw an opportunity in the market to offer the first on-demand flower and gift delivery service," she said.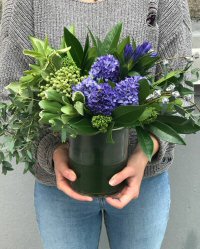 "We are online only, and plan to stay that way," said Ms Margolin, explaining her business model. "We are able to pass the savings from low overheads onto our customers."

Apart from cost savings, the convenience of mobile ordering – "being able to pick up your phone and order on the go" – resonated with customers. In only its second year, Bydeau's business grew by 500 to 600 per cent, while its team has expanded from one (Ms Margonlin) to five. The company also offers flower subscriptions for weekly, bi-monthly or scheduled gift set deliveries.
Highlighting Beauty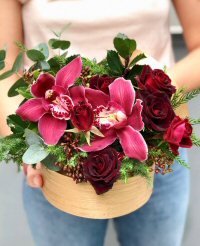 Bydeau's niche is in creating minimalist designs that elevate the beauty of a few flowers, or a single bloom. "We offer very stylised yet simplified flower arrangements. I believe less is more," Ms Margonlin said.

The season from Christmas to Valentine's Day/Lunar New Year is "extremely busy" for this successful start-up, with Bydeau's dim sum boxed flowers, The Sugar Plum, featuring burgundy cymbidium and black spray rose as centrepieces, a particular favourite.

"We also get requests for orchids, hydrangeas in red colour (for the Lunar New Year) and succulents," Ms Margonlin said. "Our custom arrangements are also popular as clients can let us know what they would like us to create for them."

Hong Kong, she adds, is a great place to be in the floral business. "People in Hong Kong love flowers and appreciate good quality and stylish designs. It's rewarding to help bring a smile to someone's face."
Related Links
Bydeau
Ellermann Flower Boutique