14 Feb 2018
Bringing Back the Sparkle in China's Gem Business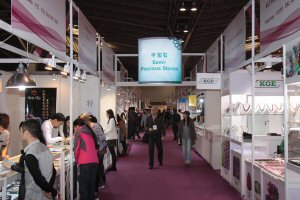 Jewellery sales across the Chinese mainland have plateaued in recent years, a trend reflected at the November China International Gold Jewellery and Gem Fair in Shanghai.

"Although Chinese tourists buy quite a lot of amber when they visit Europe, within China demand is relatively low," said Danius Miliaus, the proprietor of Lithuanian amber jewellery supplier D Miliaus Uki. "For us, the shows in Poland and Germany are much better. Many of those events are dedicated solely to amber and the attendees tend to buy much larger quantities."
Jaded Sentiment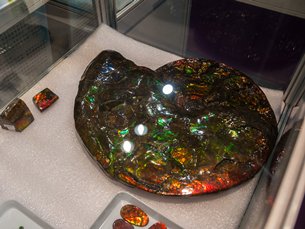 Also exhibiting at the fair was Myanmar Ali Jade, a Myanmar-based purveyor of jade, a precious stone that many Chinese consumers are said to value above gold.

Supplying jade to China for more than 20 years, the company also maintains a retail presence in Yunnan, the southwestern Chinese province bordering Myanmar. "This year, I am here to look for wholesalers," said Mr Ali, company founder. "We attend all the major jewellery shows, including the recent Beijing event [the Winter edition of the China International Jewellery Fair], which tends to be bigger and better."

Another overseas regular at the event was Ammolite World, a Canadian wholesaler of ammolite, an opal-like gemstone found mainly in North America. According to the company's Sales Representative.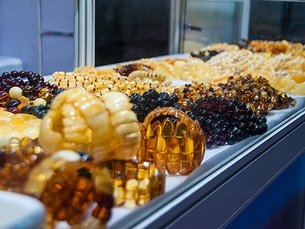 The company is one of the three largest suppliers of ammolite, the national stone of Canada. "It's relatively cheap, yet has good investment potential and, according to one Hong Kong master, it has the best feng shui in the world."

A major gemstone exporter, Sri Lanka assembled its exhibitors under one national pavilion, which included Colombo-headquartered Gem Paradise. In addition to its base in the Sri Lankan capital, the company, which has been participating in the show since 2013, also has a retail presence in Beijing. It specialises in sapphires, regularly having prime samples on offer from Sri Lanka and Madagascar.

"Looking at the broader picture, while China has traditionally been a very good market for luxury products, these days there is a lot of government pressure on people to cut down spending in the sector," said AHM Imtizam, the company's President. "As a vendor, you also have to treat each province almost as if it's a distinct country, with its own unique tastes and dynamics."
Based in the city of Yiwu, in central Zhejiang Province, Mylove Jewellery has been manufacturing silver and copper items for the fashion-jewellery market for 20 years.
Business Looking up
"We usually attend the Hong Kong event, where we tend to do better than we have here," said Sales Representative Chen Hanlin. "We primarily manufacture for the export markets, working on an OEM basis as well as trading under our own brand.

"By and large, I think things are looking up overall. We tend to focus on the high-end of the market and have reasons to believe that the sector is, once again, beginning to grow."

The newly launched Carino Jewellery from Guangzhou was looking to promote its Zodiac collection, specifically targetting overseas buyers.

"We're trying to update traditional gold and silver designs, looking to create something elegant, yet modern and fashionable," said Michael Nicastro, its Head Designer. "While we have found that this show is quite Shanghai-focused, we have still signed up a couple of distributors. A lot of the other people here, though, seem to have come just to buy individual items, with comparatively few commercial buyers in attendance."
Equipment Suppliers
In addition to vendors offering jewellery items and precious stones, the event also attracted many leading players in the jewellery manufacturing equipment sector, including Shenzhen-based Sunlin, a 10-year veteran of the event. The company, which has a 30-year history producing HAD-branded precision jewellery instruments, including scales, testers and drilling machines, is increasingly supplying production facilities outside the mainland, with much of the business once conducted in China now relocated elsewhere in Asia.

"Basically, we have customers all over the world," said Marketing Manager Stephen Chen. "Of late, Thailand and Vietnam have become key markets for us, largely because they have both benefitted from moves to shift production facilities out of China. As a result, Hong Kong is probably the best show for us as it is the most international.

"This year, we are primarily focusing on promoting our new range of 3D printers, all of which have been optimised for jewellery production. While demand for them at the moment is not great, I believe they will be huge sellers in the future."
For more China market opportunities, please visit: http://research.hktdc.com.