23 Feb 2018
Walk on the Wild Side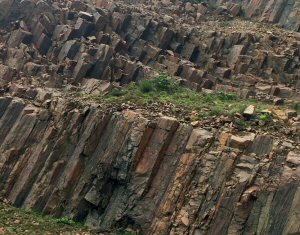 Hong Kong's natural heritage, evident throughout the UNESCO-listed Hong Kong Global Geopark, can be traced back 400 million years. That's the estimated age of the sedimentary rock region of the northeast New Territories, while around coastal Sai Kung, the spectacular hexagonal volcanic rock columns, whose size and composition make them a world rarity, began as a volcanic eruption 140 million years ago. Over time, the sun, wind and waves have added their distinctive sculpting and colour.

Relatively accessible, the geopark can be explored by boat, public transport or on foot, which is why it stands out among geoparks worldwide. Its rare landforms are close to urban areas, and since 2011, when Hong Kong joined the Global Geopark Network under the UNESCO umbrella, there have been more and more ways to visit.
Natural Wonders
Hong Kong Geopark comprises eight distinct areas, covering 50 square kilometres in total. As a starting point, the Volcano Discovery Centre, located at Sai Kung Waterfront Park, offers comprehensive information advising visitors on the best way to explore it. There, visitors can also see rock specimens collected locally and from around the world, as well as an exhibit of Sai Kung's famous hexagonal rock columns.
Gabi Baumgartner, director of tour company Walk Hong Kong, sees the geopark as one of the city's most awe-inspiring natural wonders. "To think that Hong Kong was volcanically active hundreds of millions of years ago, long before humans and animals existed," she marvels. "Flying over Hong Kong you don't see that – but it's easily discovered so close to the city." Indeed, among geoparks worldwide, Hong Kong's is known as "the geopark in the city."
Another "amazing" thing about Hong Kong, Ms Baumgartner continued, is that within its diminutive geographical area of around 1,000 square kilometres are so many different types of rock formations and landscapes.

As she says, "the ever-surprising Hong Kong has a myriad of interesting landforms."
Amazing Sights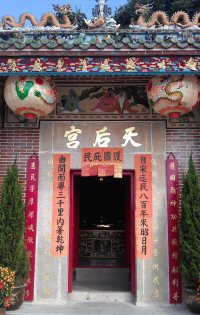 Because of its proximity to the urban areas, many visitors to Hong Kong, whether for business or leisure, book one of Walk Hong Kong's geopark guided tours.

"Our walking tour starts by the reservoir in Sai Kung East Country Park, and takes in views of the magnificent hexagonal columnar joints, one of the largest geological formations of this kind in the world," Ms Baumgartner says.

"Further on, overlooking Long Ke, we can see how wind and water have crafted unique sea caves along the Sai Kung Peninsula coastline."
Along the way, a Hakka village is nestled into the valley next to a plain that used to be village rice paddies. "The beautiful beach in front might invite one for a dip in the sea," says the German-born tour guide.
Visitors can explore more Hakka villages and a still-active fishing community, with a lunch stop at one of the local restaurants. After a stop at a culturally significant Tin Hau Temple, tour participants board a boat back to Sai Kung.
Take a Kayak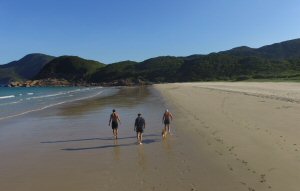 For another way to explore the geopark, adventure and eco-tour operator Wild Hong Kong offers kayaking tours. According to Rory Mackay, the company's owner and founder, participants enjoy getting out of the city and into the wilds of Hong Kong.

"We have no fixed itinerary, but can customise the day, and always try to get some nice beaches in there," he said.

If the weather is favourable, the tour can head further out to explore stunning sea caves and arches. In the more sheltered areas, coral and rock formations are closely observed.

"We use sit-on kayaks; double or single. So you don't need to be an experienced kayaker to have a safe and fun time out on the water," Mr Mackay said.

Most visitors "can't believe that any of this is even there," marvelling at the scope of the geopark, and how remote, yet accessible, it feels.

"Our geopark tour is a whole day out, and shows an amazing side of Hong Kong," he says.
Or Self-Explore
For local residents and visitors who have more time, it's also possible to self-explore, join an excursion with one of the various tour companies listed on the Hong Kong Tourism Board's website, Discover Hong Kong, or jump on one of the sampans lined up at the Sai Kung waterfront for a sightseeing journey by sea.
On a four hour-hour boat tour of the Sai Kung volcanic islands, participants don't disembark, but stay on board to appreciate the scenic beauty of the rock formations, sea caves and arches that define this spectacular waterway.

Once discovered, visitors to Hong Kong Geopark will likely plan a return. As Gabi Baumgartner notes, "it's not possible to see everything in one day."
Related Links
Walk Hong Kong
Wild Hong Kong