5 March 2018
Hong Kong Takes on London Fashion Week
Most designers can only dream of showing their work at London Fashion Week (LFW), where Britain's Queen Elizabeth attended this year's show for the first time. But such lofty aspirations became a reality for some of Hong Kong's most talented designers, who were selected by the British Fashion Council to showcase their AW2018 collections at the presentation with Fashion Hong Kong, a series of international events organised by the Hong Kong Trade Development Council (HKTDC) to promote Hong Kong fashion designers in the global fashion arena.

Four Hong Kong designers became among the first local designers to present their collections at one of the most hotly anticipated dates on the fashion calendar. In addition to staging designer showcases at Store Studios at LFW's Designer Showroom, the designers featured their work at a fashion presentation that incorporated installation art at Somerset House on the Strand.
A Perfect Mix of East and West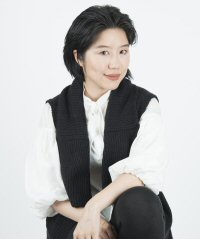 Maison Vermillion's AW 2018 collection, The Greatest of Thee, pays tribute to the love affair between Henry VIII and Anne Boleyn with pieces incorporating English rose patterns, lace applique and daring checks. Describing her work as a melting pot of Eastern and Western influences, Central Saint Martins graduate Dora Chu worked with some of the biggest British fashion houses, including Alexander McQueen and Jenny Packham, whose CEO, Mathew Anderson, was among those attending the show. At the presentation, a sequinned black evening dress delivered a dash of glamour, as did diamante details on dresses. "I wanted the pieces to shimmer so customers could get a feel for the collection," she says, adding that showing her work in London has been a sentimental journey given her UK link.

Ms Chu's latest collection also embraces her Chinese roots by incorporating into garments paper-cut patterns by artist Li Yun Xia. Using special weaving and laser-cut techniques, Ms Chu created pieces with strong cross-cultural elements – think Western lace meets Chinese traditional paper-cutting art – most spectacularly onto the back of a green bomber jacket.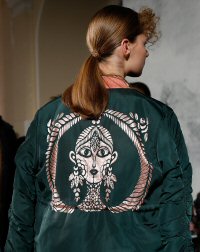 Ms Chu's work has appeared at Copenhagen Fashion Week and Shanghai Ontime Show in collaboration with Fashion Hong Kong, and she says both were very welcoming to emerging brands, adding that entering other markets such as the Chinese mainland or the UK is crucial to her brand's development.

Working for major names such as Alexander McQueen taught Ms Chu to focus on attention to detail and craftsmanship, even on modern-day street wear. Ms Chu is considering incorporating other Chinese crafts into future collections.
Architecturally Inspired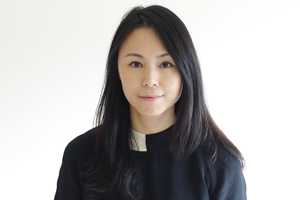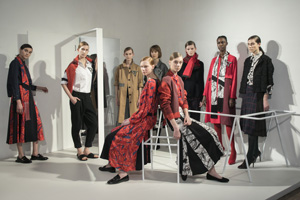 The "V" in the fashion label HOUSE OF V represents designer Vickie Au's philosophy of using simple lines to create depth. Its AW 2018 collection, Unexpected/Habitual, was inspired by a speech from Polish-American architect Daniel Libeskind, who stated that architecture is driven by optimism and a sense of wonder. Embracing the precision of architectural drawings and Mr Libeskind's idea to unite opposing ideas, Ms Au sought to make workwear more interesting by offering traditional silhouettes with abstract patterns. Driven by simple shapes and texture blocks, collar details create a talking point. "I always think about simplicity and play on the mix-and-match with colour blocking and texture mixing to ensure my pieces are easy to wear," says Ms Au.

When she started working as a designer in Hong Kong 15 years ago, high rental costs presented a challenge to many young creatives like herself looking to get a foot in the door. The fashion retail landscape has also changed considerably since then, she adds. "Until the early 2000s, we didn't have a Zara or H&M, so the [stores we find on Hong Kong's] high streets have altered a lot."

While independent designers still face high-street competition, Ms Au believes the tide is turning. "Shoppers now look for something different and they don't mind paying a bit more. My minimalistic designs fall in the middle range, so it's around HK$1,600-$2,000 for a dress, which is roughly the same as many popular fashion labels." With a focus on accessible designs, Ms Au believes HOUSE OF V has global appeal. "I don't just follow what's on trend when designing my collection; it's more about the cut and the shape." UK-based lifestyle magazine Wallpaper* featured the brand's collective presentation work as one of the Editor's Picks.
Heavenly Offerings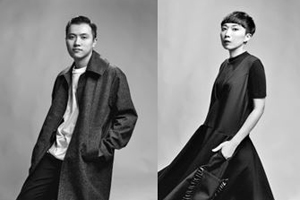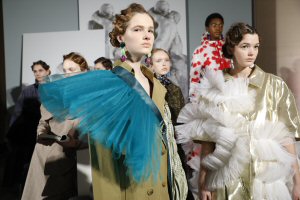 HEAVEN PLEASE+ proves that the fashion retail concept is far from dead, as its popular boutique is name-checked in the Louis Vuitton Hong Kong City Guide as one of the best shops to visit. Its second-half AW 2018 collection (following the New York collection), DăCuòLe Vol. II, is inspired by the novel of the same name from Hong Kong novelist Liu Yichang and remixes 1950s Western style with Hong Kong fashion. One piece that generated buzz at the presentation was a white knee-length dress with voluminous ruffles on the hem and sleeves while floor-length macs featuring bold red and blue patterns added a pop of colour. "London is a colourful city and prefers designs with strong expression and vivid colours, so we wanted to create something cheerful," says Lary Cheung, who founded the label along with Yi Chan.

Being in London brings back fond memories for the duo, who both studied fashion at the Hong Kong Polytechnic University. When they established HEAVEN PLEASE+ in 2011, following stints at British labels Kent & Curwen and Aquascutum for Mr Cheung and a fashion editor role at Marie Clare for Ms Chan, they visited more than 100 fashion retail and vintage stores in London and Paris to get inspiration for their boutique.

HEAVEN PLEASE+ has a showroom in Tsim Sha Tsui and a Causeway Bay boutique that aims to deliver a more unique and exclusive styling experience than ordinary fashion shops. "Here, customers can tell us about their style expectations and get to know the brand as we familiarise ourselves with their behaviour, their job and preferences. It's about developing a long-term relationship," says Ms Chan.
Check it Out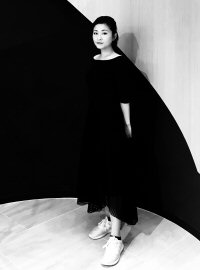 METHODOLOGY's Glori Tsui started as a graphic designer for Disney's children's wear range after studying illustration at the Art Center College of Design in Southern California. Keen to break into fashion, she completed a master's degree in fashion design at Nottingham Trent University and launched her first collection in 2012. METHODOLOGY's AW 2018 collection, entitled Plaid Block, pits the brand's signature silhouettes, such as a wide-legged trousers, against plaid patterns, solid colours and layered textures. At the presentation, models stood or sat against a plaid backdrop, the same fabric used in one of the collection's coats and skirts.

"Everything started in the UK for me, so it means a lot [to be showing at LFW]," says Ms Tsui.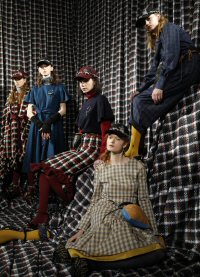 According to Ms Tsui, Hong Kong is becoming much more design-driven. "In the past, we would do a lot of OEM, but Hong Kong has more of a focus on design these days, and it's the same for the Chinese mainland. I think our designs are getting more recognised internationally."

As Hong Kong is a small city, the design community is quite tight knit, she adds. "You get to know most of the other designers – HOUSE OF V and HEAVEN PLEASE+ both have a store in the same mall as me. Hong Kong malls are supportive of local designers as customers are looking for something really different. With globalisation, so many malls look the same, so [the fact that shoppers are] looking for something different is good for us."
Related Links
Fashion Hong Kong
HEAVEN PLEASE+
HOUSE OF V
Maison Vermillion
METHODOLOGY