21 March 2018
Taiwan Looks South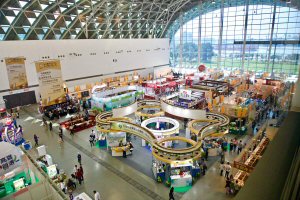 With far more Muslims in the Asia-Pacific region than in the Middle East, it's no surprise that many Asian businesses in general – and Taiwanese businesses in particular – are getting serious about the halal sector. Proof of this was the launch last October of an International Halal Expo in Kaohsiung, Taiwan's third-largest city.

One of the most high-profile individuals attending the inaugural event was Kaohsiung Mayor Chen Chu, who had a clear message: "We want Kaohsiung to be the most Muslim-friendly city in Asia."

Taiwan has started avidly wooing members of the Association of Southeast Asian Nations (ASEAN), in a bid to pivot the island's economy away from its semi-reliance on cross-Strait goodwill. Part of those efforts involves building bridges with the wider Muslim community, to increase its tourism numbers and extend its export reach.

Taiwan is already home to a 60,000-strong Muslim population, while also regularly welcoming a substantial number of predominantly Muslim migrant workers from Indonesia, Pakistan and Malaysia. In 2015, there were 245,000 such workers, with several mosques established to serve the local Muslim population.

Looking to further boost ties, the Taiwan Tourism Bureau has been working closely with the Taipei-based Chinese Muslim Association (CMA), including in 2016, when they collaborated on producing a comprehensive list of Muslim and Muslim-friendly restaurants and hotels.

"All that is required is halal food, a good environment, places to worship and signs that point to Mecca," said Salahuding Ma Chao-yen, CMA Secretary-General. "These are not big things, but if we take care of the small things, then Muslim visitors will see that we are sincere in our offer of friendship."
Halal Certification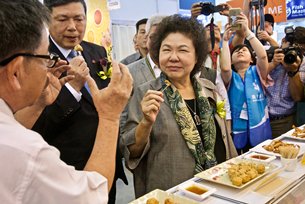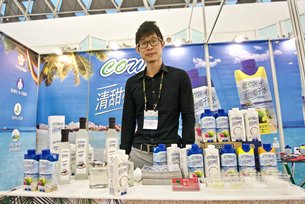 At the exhibition, officials were keen to emphasise the importance Taiwan now places on its Muslim ties. "As there are 986.5 million Muslims in the Asia-Pacific region, this is clearly a huge potential market for Taiwan and one we have only recently taken serious notice of," said Alvin Hu, Project Manager with the Taiwan External Trade Development Council (TAITRA).
"We are not alone in this. Many companies have come to ask how they can go about securing halal certification, something that is essential if they want to serve this market, which is about far more than just food. Halal also extends to cosmetics, personal-care items, fashion, medicine, logistics, financial services and tourism," he noted.

According to Tony Liu, TAITRA Senior Project Manager, the Council staged its first halal food show in Taipei in 2013, while its cooperation with the Taiwan Halal Integrity Development Association dates back to 2008. For his part, Mr Liu sees halal as transcending religion. "I personally think halal food is cleaner and healthier," he said.

Citing the establishment of the Taiwan Halal Centre as key to growing trade between the island and Southeast Asian markets, James Zhang, a member of the food-marketing team at the Bureau of Foreign Trade, said: "Since the Centre opened, we have made huge progress. Last year, such exports grew 8.4 per cent year-on-year, reaching a total of US$25.52 billion."

The latest event has even secured the blessing of the local mosque, with Iman Husein Abu-Yasim, an Executive Director of the CMA, saying: "Events like these open doors and help create understanding and friendship."

Among the first arrivals at the new expo was Faradillah Amalia Rivai, an Indonesian applied-sciences student at the nearby National Kaohsiung University. "I initially came here just to have a look around and find out more about the Taiwan halal food scene. I must admit, though, I have been quite impressed by what I've seen," he said.

Indeed, there was no shortage of things to see and, more importantly, things to sample. While local firms dominated the event, several overseas businesses also exhibited including Linaco, the Malaysian company behind the Cowa range of coconut beverages, with its staff reporting brisk business for the debut event.

Particularly well-represented was the halal fish sector, which benefitted from the host city's role as one of Taiwan's busiest ports. With every fish that has scales technically halal, it's one area where Taiwan, which maintains one of the world's largest fishing fleets, is particularly keen to make inroads.

Halal certification, however, doesn't guarantee automatic access to the massive Indonesian market, according to some food industry representatives. Indonesian authorities, they say, insist that would-be importers secure official Indonesian halal certification, which can be prohibitively expensive.

TAITRA's Mr Hu cited an example of a Taiwanese popcorn company that decided against securing Indonesian halal certification after learning the eventual cost. "They were told they would have to pay for an Indonesian cleric to fly to Taiwan and cover all the costs of his accommodation, taxes and other expenses – a sum that came to about NT$600,000 (US$20,000). Then, if they didn't pass the first-time around, they would have had to do it all over again."

For more China market opportunities, please visit: http://research.hktdc.com