29 March 2018
Chinese New Year Windfall
Hopes were high in Taiwan that the lead-up to Chinese New Year 2018 would be a bumper period for the island's retailers, among other sectors, following an economic rebound in 2017. In particular, the catering sector is likely a prime beneficiary, with feasts at the heart of Chinese New Year celebrations, including annual corporate dinners, family reunion banquets and the traditional meals designed to welcome the coming year.

Many families now opt for takeaway Chinese New Year dishes from restaurants, with caterers now seeing the provision of eat-at-home dishes an integral part of their business. The expansion of the logistics sector and the rapid rise of e-commerce has led to more people ordering New Year's dishes online. By the same token, an increasing number of restaurants are turning to e-commerce to maximise their share of the festive catering market.

Figures from ETMall, Taiwan's leading e-commerce portal, show that more than 40,000 people bought Chinese New Year dishes online this year, with consumers who had preciously bought such items via this channel tending to spend more than first-time customers. Consumers who had bought festive dishes for three consecutive years, for example, purchased 6.7 items on average this year, with each bill amounting to about NT$18,000, a figure markedly higher than that for first-time buyers.

While saving time and effort, the online purchase of Chinese New Year's dishes is not without its drawbacks. Almost all such dishes, for instance, are prepared in central kitchens and, as a result, tend to err on the bland side, while freshness is also often compromised.

In response, some catering firms have begun offering high-end products, with dishes made using solely the best ingredients. Inevitably, though, all such items come with hefty price tags. While the Ministry of Economic Affairs (MoEA) has yet to release final Spring Festival 2018 sales figures, statistics from previous years offer a clear indication of what to expect. In January-February 2017, for instance, Taiwan's catering sector recorded a turnover of NT$79.6 billion, up 2.9 per cent year-on-year.

Taking a longer historical view, Taiwan's catering sector turned over NT$55.7 billion for January-February 2007, indicating increased spending, on average, by about NT$2.39 billion per year over the intervening period. With current economic activity rising, growth over the past 12 months is expected to be equally high, if not substantially higher.
Recreational Spending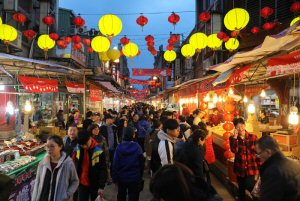 Apart from dining, recreation is another key element in the New Year mix. With this year's Taiwan Spring Festival holiday stretching across six days, there were considerable opportunities for family travel.

According to figures from the Taoyuan International Airport Corporation, passenger flow started rising from 13 February onwards, with the level of outbound passengers increasing from 110,000 a day to a new record of 141,000 on the fourth day of the Chinese New Year (19 February). In total, outbound passenger volume increased by six per cent year-on-year between 9 and 19 February, with a total of 479,300 passengers flying out between Chinese New Year's Eve and the fifth day of the Chinese New Year.

Asian destinations were most popular with Taiwan's Spring Festival tourists, largely because the 2018 holiday period was shorter than that of previous years. According to Kayak, a popular travel-booking website, Japan was the preferred destination for many Taiwanese tourists this year, with Tokyo, Osaka and Okinawa taking the top three slots, with Seoul in fourth place and Hong Kong fifth.

Despite this uptick in outbound tourism numbers, the majority of Taiwan's population opted to stay home over the holidays, typically seeing relatives, going on day trips or visiting temples. The good weather throughout the holiday period meant that many of the island's best-known tourist spots – including Anping (Tainan), Lukang (Changhua), Tahsi Old Street (Taoyuan) and Chiufen (New Taipei City) – enjoyed a surge in visitor numbers. At the same time, many of Taiwan's theme parks also recorded a dramatic rise in visitor numbers, partly due to the availability of discounted New Year's tickets and the introduction of a series of festive-themed events.
Drop in Visitor Numbers
Not every tourist attraction, however, benefitted from increased tourist footfall. In the case of the normally popular Hualien-Taitung area, the earthquake in February led to many booking cancellations. As a result, 140,000 fewer tourists visited the area this year, a 24 per cent drop over the corresponding 2017 figure.

Another casualty was Kenting National Park in southern Taiwan, where poor online reviews saw visitor numbers dip dramatically. While the local tourism office reported that 2018 had been the worst year for the attraction for more than two decades, it is believed that holiday homes in the park still maintained an 80 per cent occupancy rate over the holiday period.

By comparison, Sun Moon Lake, a rival attraction, enjoyed a record year. More than 300,000 tourists visited the site during the holiday period, a massive 64 per cent year-on-year increase.

After dining and recreation, shopping is the third-most popular activity associated with the New Year period in Taiwan. Regardless of the impact of e-commerce on Taiwan's retail sector, many department stores, shopping malls and other outlets still see Chinese New Year as a prime sales period, frequently launching various promotions aimed at luring customers.

This year, for instance, many department stores again launched give-away "lucky bags," complete with special prize-draw tickets and discount coupons. Overall, the sector is expected to have put in a good performance, with double-digit year-on-year growth widely anticipated.

Apart from increased online competition, Taiwan's retail sector has also undergone other structural changes in recent years. The introduction of several substantial US-style shopping malls and discount outlets outside of the traditional retail areas has forced many established department stores and malls to broaden their appeal by adding gourmet dining facilities and multi-screen cinemas. How successful this approach has been will be revealed when the MoEA releases the final overall sales figures for the period.

For more China market opportunities, please visit: http://research.hktdc.com.