12 April 2018
Bespoke Travel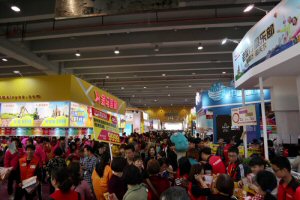 Luxury bespoke packages dominated at the March Guangzhou International Travel Fair, one of the major annual events for the Chinese mainland's burgeoning travel trade. Among other trends at the show was the continuing move away from tour-group travel, with many would-be tourists now seeking individual bookings and customised itineraries.

Many holidaymakers also look for more indulgent, leisure-centric break, rather than the persistent whirlwind of tightly scheduled sightseeing that was once the norm. Add to that the rise of the "tourism plus" model – the growing trend for vacations that combine tourism with other objectives (typically healthcare and wellness) – and it's apparent that China's tourists are becoming more sophisticated and increasingly demanding.

According to the China National Tourism Administration, domestic tourists took five billion trips within the mainland in 2017, a year-on-year increase of 12.8 per cent. In terms of overseas trips in the same period, there were 270 million such excursions, an overall year-on-year rise of 3.7 per cent. In total, the mainland tourism sector turned over Rmb5.4 trillion (US$885 billion) in 2017, representing an overall gain of 15.1 per cent.
Luxury Tours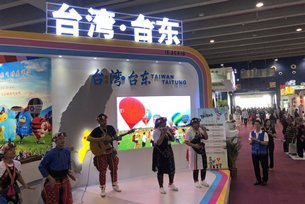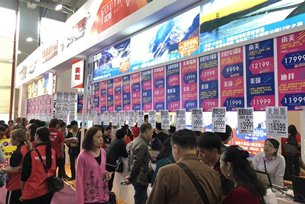 Overall, many exhibitors at this year's event focused on the more bespoke and luxury end of the market. The Guangdong Great Scenery International Travel Service, for instance, primarily promoted its range of Sri Lankan tours. Among the options on offer were child-friendly family holidays and a selection of special-interest vacations, including yoga, golf, study, photography, architecture and Buddhist pilgrimage packages.
According to Liu Jian, the Manager of the company's Sri Lanka tours, tourist expectations have changed considerably in recent years. While it was once standard practice for itineraries to cover several visits to general tourist spots each day, holidaymakers now want to specify stop-offs at particular locations or prefer to take a more themed approach.

In response, the company now offers a wider variety of packages, offering 10 themed Sri Lankan holiday experiences, including a beach tour, cultural tour, coastal leisure tour and an historic leisure tour. Mr Liu said many tourists also made individual specifications relating to itinerary, meals and accommodation. Currently, 40 per cent of the company's clients specify high-end tour options, a trend that's set to rise.
Leisure Tourism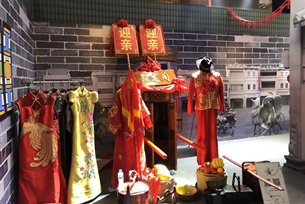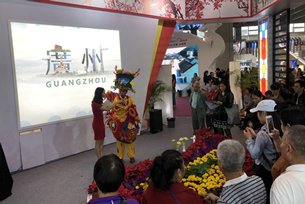 Another trending demand is leisure holiday, a phenomenon partly driven by the wider availability of self-drive holiday packages and the mainland's expanded high-speed train network. Among several companies active in the leisure-break sector is the Kunming-based Xinglin Daguanyuan hospitality group. According to Zhu Yun, the company's Sales Manager, many such tourists have travelled by high-speed train to Kunming to visit Xinglin Grand View Garden, a Chinese medicine theme park developed by the company. Visitors also can explore the nearby Black Stone Valley, take a dip in the Shihai hot spring, hike around Guoyao Expo Park, sample gourmet food prepared with Chinese medicinal herbs, and stay in well-appointed wooden villas, while enjoying the picturesque scenery of Cherry Blossom Valley.
Tourism Plus
The increasing popularity of the tourism-plus model has led many exhibitors to offer activity programmes that could be paired with sightseeing or leisure breaks. Xinglin Daguanyuan, for instance, offered a combined Chinese medicine, traditional healthcare and eco-agriculture experience.

As part of the Xinglin Grand View Garden complex, there is an animal husbandry centre, where deer, donkeys and Bama miniature pigs are reared, as well as several animals bred for medicinal testing periods, including rabbits, chickens and pigeons. There is also an on-site organic farm that employs a range of eco-friendly techniques as part of its green agriculture programme, which supplies fresh fruit and vegetables to visitors throughout the year.

In addition, the complex also features several recuperation and elderly care apartments, with plans in place to open a rehabilitatory hospital and a fully-staffed clinic. Several additional facilities, including a recreation/entertainment centre, a dispensary, a theatre and a five-star hotel, will eventually be added.
Also adapting to the tourism-plus model is the Wanlugu leisure resort in Heyuan, a city in northeastern Guangdong. According to its representatives, apart from preserving its heritage as a traditional fishing village, the resort also showcases local Hakka culture, as well as operates a range of catering, entertainment, tourism and business facilities. Resort visitors can also go rafting or boating, enjoy a range of organic foods, and stay in the site's selection of romantic villas.

A further example of the opportunities fuelled by the growth in the tourism-plus sector was the Yucheng hot spring tourist resort. Based in the southern Hunan city of Chenzhou, the resort is currently undergoing a three-phase development programme. Phase One will involve the construction of a hot spring square, a tourism service centre, a hot spring scenic area and a hot spring hotel. Phase Two will then see the addition of a water park and a commercial street, while Phase Three will involve the construction of retirement apartments and healthcare facilities.

For its part, Suzhou-based Luzhi offered three types of tour packages focused around Luzhi, the historic town from which it derives its name. Tourists are given the option of a water village tour, an ancient town cultural tour or an eco-leisure tour. Those that choose the latter option get the chance to visit the Shuibaxian Museum (Eight Immortals in Water Museum) and the 10,000 mu Shuibaxian tourism complex, where visitors can enjoy the natural scenery of a classic fishing village and its surrounding rice paddies.
The China Travel Service Gongbei Port Guangdong, meanwhile, used the event as a launch pad for several premium overseas tourism plus experiences, including Southeast Asian tours coinciding with the Songkran Festival, trips to Japan during the cherry-blossom season, mini-breaks to several Malaysian theme parks, and a Thai marine adventure.

For more China market opportunities, please visit: http://research.hktdc.com