18 April 2018
Personalising Beauty
In line with shifting consumer preferences, exhibitors at the 48th edition of the China International Beauty Expo (CIBE) Guangzhou, held in March, placed great emphasis on product personalisation, differentiation and presentation, as well as functionality. With many in the cosmetics sector primarily targetting the ever-fickle, constantly changing youth market, there was also greater awareness of the need to stay ahead of trends by constantly developing and launching new products.

The commitment demonstrated by many of the exhibitors is not surprising given the size of the sector and the potential rewards on offer. According to latest industry figures, the total value of the Chinese mainland cosmetics market is set to exceed Rmb400 billion (US$64 billion) this year, making it clearly a prize worth pursuing.

One company keen to capitalise on this lucrative market was Antao, the Shandong-based biotech business behind the A.T range of makeup and facial masks. This year, the company promoted the latest additions to its extensive line, including a heat-sensitive lipstick that changes colour with the user's body temperature.

According to Liang Meilian, the company's Sales Representative, personalisation is now a must for the post-90's millennial generation. In line with this, mid-priced cosmetic products that allow a degree of self-expression are said to be particularly sought after, with the company's heat-sensitive lipstick reportedly popular with female and male customers.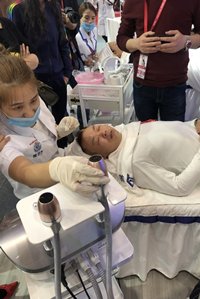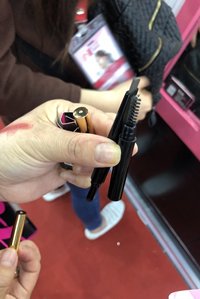 Apart from products with quirky or unique functionality, many exhibitors also relied on striking packaging and unusual designs to differentiate their product lines. Keni, a Guangzhou biotech business, for instance, adopted various distinctive packaging and fragrances to help its range of scented haircare line stand out from the competition.

According to company representatives, Keni's focus is on the big-spending post-90s and post-00s generations. To cater for rapidly changing preferences of these consumers, the company sells many of its products in small, one-use containers, allowing buyers to try a range of treatments and scents.

For those targetting a still-younger demographic, licensed cartoon characters were still the favoured promotional route. In the case of Guangzhou-based Mifei Baobei, for instance, the packaging of its mother and baby personal-care range featured Miffy, a lovable young rabbit with its own TV series and star of more than 30 books. The company also uses several licensed characters to promote its child-friendly ranges, including SpongeBob, Doraemon, and Domo-kun.
Bespoke and Multi-functional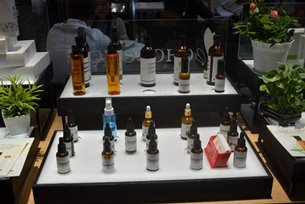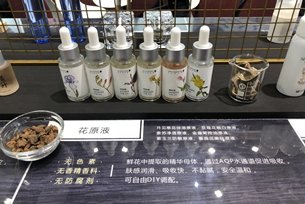 Rather than using striking packaging and licensed characters, some companies relied on the uniqueness of their products. Among those adopting this particular strategy was Yucaitang, a Guangzhou-based cosmetics manufacturer keen to showcase Runheilu, its specialist black hair shampoo.

According to Wu Hongbin, one of the company's Sale Representatives, Runheilu is specially formulated from extracts of fleeceflower root, ginseng and gingko leaf.

Multi-function cosmetics were also on offer from Zhuangdu, a Nanning-based biotech business. The company's star performer was a multi-application eyebrow system, combining the function of a pencil, brush and powder applicator into one unit. According to Sales Representative Liang Hongyu, the product's convenience has made it particularly popular among young consumers.
While many exhibitors were keen to target a wide range of consumers, others focused on profitable niches. Among them was Antao, which offered a range of products customised for different skin types, including cleansing milks, eye creams, toners, serums, lotions and creams.

"As competition in the skincare sector is intense, we have launched products with specific efficacy," said Ms Liang. "As many young people like to stay up late, for instance, we have developed a product that mitigates the harm done to the skin by such nocturnal practices."

Similarly offering a bespoke pallet of skincare treatment, Hong Kong's Asia Pacific Vanilla Dream International launched a new range of herbal emulsion-based products at the event. These offered four particular restorative treatments – whitening and pigment-correction, oil-removing and anti-acne, moisturising and wrinkle-removing, anti-allergy and irritation alleviation. All the products could also be mixed and matched to create the optimum blend for the user's individual skin condition.
Safety First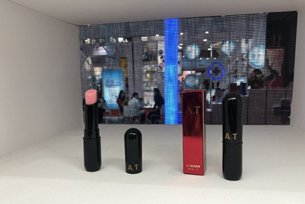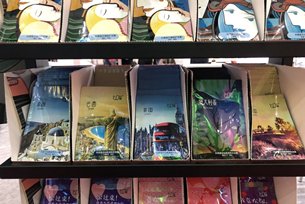 Another trend apparent this year was the demand for information on product ingredients. Many exhibitors prominently displayed the ingredients list for each of their products. Having learned their lesson in previous years, producers ensured that the majority of all such ingredients tended to be natural, with a substantial proportion of them plant-derived.

Guangzhou-based biotech company Zaomeishe was keen to emphasise the organic content of its range of cold process soaps. According to He Yuyun, a member of the company's sales team, only natural raw materials and herb extracts were used to create the soaps. Additionally, the advantage of the cold-process manufacturing technique is that, within 24 hours of coming into contact with water, the soap breaks down into an eco-friendly carbon dioxide residue, which has no harmful effects on rivers or other water sources.

For more China market opportunities, please visit: http://research.hktdc.com