26 April 2018
Global AI Aspirations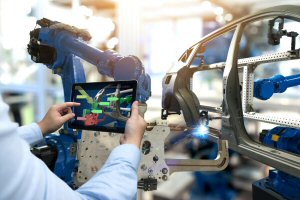 Huge leaps forward have been made in recent years in the field of artificial intelligence (AI), which is tipped by researchers to become the cornerstone of a Fourth Industrial Revolution. Not surprisingly, Taiwan has been keen to establish itself as one of the pioneers in the development of this emerging technology, designating 2017 as Year Zero in its overarching commitment to AI development. Last September, the island's Ministry of Science and Technology (MOST) unveiled its Artificial Intelligence Research and Development Strategic Plan, an initiative that prioritised five strategic approaches.

First, it advocated establishing AI research and development (R&D) infrastructural facilities, as well as setting up AI innovation research centres, developing smart robot innovation facilities, and investing in core technologies for smart device semiconductors (an initiative billed as the Semiconductor Moonshot Project). It also recommended that the island seek highly-skilled staff from around the world to contribute to its ongoing AI research, a subsidiary project referred to as the Formosa Grand Challenge.

In assessing Taiwan's potential for AI development, MOST cited the island's existing strengths in wafer original equipment manufacturing (OEM) and integrated circuit (IC) packaging and testing (for which it is ranked top globally), as well as its IC design capabilities (globally ranked number two) as benchmarks for its likely success. It also noted that its domestic academic and research base had already demonstrated considerable mastery of several related fields, including artificial neural networks (ANNs), expert systems, machine learning and Big Data forecasting/analytics.

The Ministry also highlighted several areas where Taiwan had notable shortcomings for future AI development. Chiefly, they related to its comparative paucity of related R&D activities and its lack of expertise in the field of algorithm application.

In addition, according to MOST, the island only has a relatively small number of patents related to core AI technologies. In particular, with regard to software and hardware systems integration and applications, as well as product and service provisions, Taiwan has made comparatively few breakthroughs.

To address these shortcomings, MOST announced that some NT$16 billion (US$330 million) would be earmarked over a five-year period to fund a series of AI innovation and research centres in four of the island's universities – Taiwan University, Tsing Hua University in Hsinchu, Chiao Tung University and Cheng Kung University. Between them, these four institutions will undertake 67 AI-related research projects, with 300 AI professionals set to be recruited to ensure all the objectives are met.

In addition, the island's industrial base is also expected to contribute to its bid in becoming an AI leader. Taiwan already has considerable expertise in the design and production of chips, with several local manufacturers expected to raise their game in AI development.

In the case of MediaTek, a Hsinchu City-based leader in the IC sector, it has signed up to the Open Neural Network Exchange (ONNX), a joint initiative by Amazon, Facebook and Microsoft, designed to facilitate accelerated AI development. Two other high-tech Taiwanese IC businesses – Global Unichip and Faraday – have also confirmed their commitment to developing AI capabilities.

A similar pledge has been made by Taiwan Semiconductor Manufacturing (TSMC), a Hsinchu City-based specialist in wafer OEM technology. Last November, company Chairman Morris Chang announced that the business would refocus on four AI-related sectors: mobile devices, high-speed computers, the Internet of Things (IoT) and automotive electronics. In line with this, he also revealed plans to invest heavily in each of these sectors over the next 10 years.

With four of TSMC's major clients – Qualcomm, Broadcom, Apple and Nvidia – already established as leaders in global AI development, it is inevitable that the sector's growth will provide a wealth of new opportunities for the company. The emergence of a new generation of AI start-ups is also expected to be a windfall for TSMC, which stands to benefit from a surge in demand for its wafer OEM production services.

To meet this increased output requirement, TSMC has already announced plans to train an additional 300 engineers in the machine-learning sector. The company is not the only AI-oriented Taiwanese business to invest in staff development, however, with Taiwan Mobile, one of the island's leading telecoms operators, already committed to working with Chiao Tung University to train 1,000 AI teachers, with the ultimate aim of allowing 100 local schools to develop their own AI resources.
Local businesses are not the only ones looking to build on the island's existing strengths in the AI sector. Just last month, Google launched Intelligent Taiwan, an initiative intended to provide AI training to 5,000 local residents. This is in line with the California-based Internet giant's commitment to establishing Taiwan as one of its global AI priority centres.

A similar move was made by Insilico Medicine, a Baltimore-based biotechnology business, ranked as one of the world's leading 100 AI companies. It established a dedicated AI R&D centre – Insilico Taiwan – in Taipei's Nangang Software Park, its first such facility in Asia.

This followed an earlier move by Microsoft, which launched its own AI R&D centre in Taipei in January. The company is reportedly planning to invest NT$1 billion over the next two years as it looks to build its research team. By 2023, some 200 AI specialists are expected to be employed at its Taiwan facility.

For more China market opportunities, please visit: http://research.hktdc.com