3 May 2018
Ways of Transforming Homes
Space-saving, storage capacity and smart storage seemed to be the three mantras adopted by the manufacturers participating in this year's China International Furniture Fair (CIFF) in Guangzhou. At the same time, there was a renewed focus on bespoke furniture, with stylish design clearly at a premium for many attendees.

Championing the smart-storage sector was Lailok, a Foshan-based home-products manufacturer. Over in the company's kitchen display zone, it was showcasing a fetching white cabinet and an accompanying brown rectangular dining table. Disarmingly simple at first glance, a quick press of a button transforms the functionality of the table with a concealed stove and a matching sink sliding into place, with added preparation space coming courtesy of an extendible board built into the overall unit as standard. A similar degree of ubiquity was on show in the company's dedicated bedroom display zone. Here, following another button click, a five-level bookshelf handily shifts into desk mode, all without any of the displayed volumes being dislodged.

According to Zhu Shiyuan, a member of Lailok's sales team, the success of the mainland furniture sector is almost wholly dependent on developments in the real-estate sector. With property prices continuing to rise in China's Tier One and Two cities, he said, many people had no choice but to buy smaller apartments. In line with this, many such homeowners now want furniture with high storage capacity, allowing them to optimise their restricted space.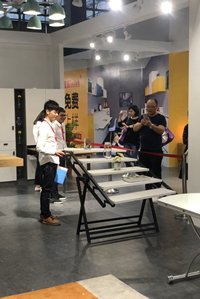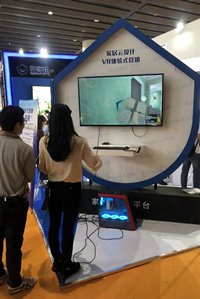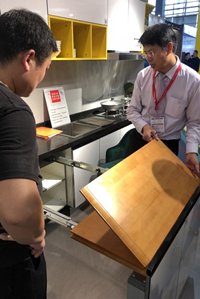 Explaining how the company has accommodated this need, he said: "Thanks to our extended number of product ranges – as well as our capacity to deliver custom-made items to order, across a variety of designs, styles and colours – we find we can meet most requirements.

"In terms of our bespoke service, this allows customers to not only express their own creativity, but also to design furniture that makes the best use of the space they have available. We can, for instance, provide a unit that acts as a multi-function cabinet by day, but easily converts into a bed for night-time use."

Another proponent of the bespoke sector was Guo Xiaodong, Regional Director of Foshan Xianaier Furniture. Assessing its significance within the overall furniture mix, he said: "Some 99 per cent of our clients are now ordering custom-made items. Based on our experience, I would say bespoke has now gone mainstream, making the future prospects of the sector look very bright indeed."
Smart and Multi-functional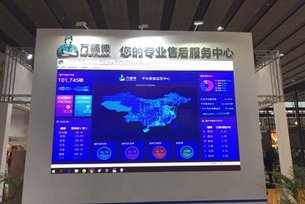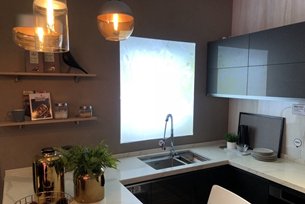 In terms of high-tech developments, many of this year's exhibitors were keen to demonstrate their virtual reality (VR) prowess, with the system allowing would-be purchasers to be shown just how different permutations of furniture would look in their own homes. Clearly keen to take a lead here was Guangzhou-based Sanweijia Information Technology.

Introducing the capabilities of his company's system, Software Sales Consultant Shi Weifeng said: "Our software allows us to provide consumers with a vast number of attractive room-design options. Our cloud-based virtual kitchen cabinet and wardrobe design facility, for example, allow us to intelligently match a selection of different cabinet/wardrobe units with the style, materials and size of a consumer's own apartment.

"As it also has the capacity to design non-standard fittings, it means we can work around any columns or beams. This allow us to make best use of the available space, while also catering to any individual requirements."

Once a home design plan has been agreed, the system can then automatically estimate the cost. This is broken down into individual design modules, allowing consumers to see exactly where their money is going at a glance.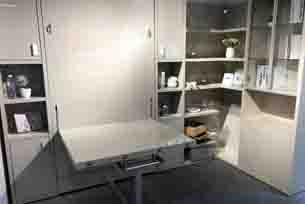 Another company keen to extol the virtues of VR technology was ExaCloud, a Hangzhou-based cloud-computing business with a particular focus on the design sector.

Emphasising the user-friendly nature of the company's system, Key Account Manager Yao Jinhui said: "Our cloud-based home-design platform can match sample rooms with different styles at the press of just one key. Using our comprehensive materials database, consumers are then free to mix and match different materials as they create a personalised home-furnishing style.

"Once the design is completed, the homeowner can then take a virtual tour and inspect every aspect of the proposed makeover. This has seen the system become hugely popular with both consumers and design companies, making us confident that smart home design is here to stay."

Employing technology to quite different ends was Shenzhen-based Sioyi, with its Wanshifu (Master Wan) platform said to contain details of 510,000 home-decoration specialists across the mainland. This allows users to specify their exact requirements and location and then, within three minutes, the system provides them with five quotations from local businesses. The user is then free to contact their preferred choice directly and arrange for the work to be completed.
Whole-house Furnishings
Companies looking to meet the needs of another relatively new phenomenon – whole-house furnishing – were also well-represented at the event. Essentially, the term "whole-house furnishing" is more or less self-explanatory and sees individuals or companies basically outsourcing all their interior-decor requirements to a specialist business, which then takes care of everything – soft furnishings, hard furnishings, custom-made furniture, electrical appliances and interior decoration.

Seeing huge potential in this particular niche, Lailok's Zhu said: "We believe that this is going to be a big growth sector across the mainland. As a one-stop shop service, it really appeals to consumers, offering a simple and efficient solution to their interior-design
needs."

A whole-house furnishing service was also on offer from Enleen, a Hebei-based furniture manufacturer. The company has already completed a number of such projects in northern China, largely on a bespoke basis. As well as an initial consultation, the company also provides measurement, design, matching and installation services, as well as having access to a wide range of proprietary interior-decor products.

Among the 4,000 exhibitors at the event, three stood out as offering particularly innovative products – one notable high-tech and the other two reassuringly low-tech. The high-tech approach came courtesy of the smart desk on offer from Shenzhen Oulin Intelligent Technology.

Introducing the unit, Zhang Wei, a manager in the company's e-commerce department, said: "Using its Bluetooth-enabled smart control system, you can raise or lower the height of the desk, giving you the option of sitting or standing while you work. You can also set the desk to rise or descend at a specified time, reminding you to take a break and stretch your legs."

On the low-tech side, Jiangsu-based Yuansheng had on display a wide variety of attractive wardrobe boards with a choice of different surface finishes, including relief, matt, wood grain and leather. Zhejiang-based Xinnuobei, meanwhile, was more focused on design, an approach highlighted in its range of proprietary shelves, TV cabinets and sofas, all available in a choice of black, white or grey.
The 2018 China International Furniture Fair (CIFF) took place in Guangzhou from 18-21 March at the China Import and Export Fair Complex, and from 28-31 March at the Poly World Trade Expo Center. The exhibition extended across 750,000 square metres and attracted 4,000 exhibitors and more than 190,000 visitors.

For more China market opportunities, please visit: http://research.hktdc.com