12 June 2018
Sound Concepts, Bright Ideas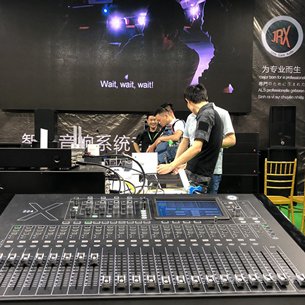 Many of the latest audio and lighting products were on show at this year's Prolight + Sound Guangzhou, China's largest trade event for the professional lighting and sound industries. While the sector remains almost synonymous with technological innovation, the growing specialisation of many within the industry has spurred increased segmentation in terms of the products and services on offer. In line with this, this year's event showcased a wide range of products particularly tailored to the needs of certain sub-sectors, including education, cinema, concert halls, theme parks and tourism.

Majoring mainly on the music and entertainment front, Shenzhen's Little Giant Acoustic was primarily attending the event to promote its 24-channel digital mixing console.

Introducing the system, Zheng Gujing, the company's General Manager, said: "One of the problems of using imported digital mixing systems is that their operational interface is always in a foreign language, whereas the Little Giant has a native Chinese operating system.
"It's a highly intelligent unit, offering four scene-switching functions and auto-adjustable sound volume. It also comes with a built-in multi-track sound effect card for use when recording, and facilitates audio debugging via tablet computers to optimise sound adjustment and on-stage monitoring. Most importantly of all, though, it's smart and easy to use."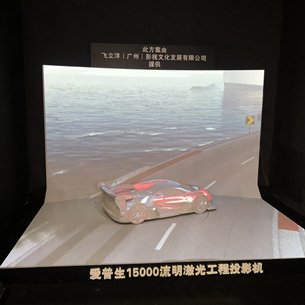 Just as Little Giant was looking to take a lead on the audio front, a fellow Shenzhen based business – Kemai Information Technology – had similar aspirations in terms of visual presentation. An accredited mainland agent for Epson, it was debuting the Japanese electronics giant's 15,000-lumen laser projector at the event, with the equipment continuously projecting a pin-sharp racing car over on the company's stand.
According to Key Account Manager Wang Longlong, the laser projector uses Epson's proprietary 3LCD technology, an innovation said to reduce visual degradation, improve luminosity and provide access to a wider colour spectrum. Highlighting the product's other benefits, he said: "As well as being energy-saving and environmentally friendly, it also delivers enhanced light output and sharper images, ensuring all audiences get the optimum experience."
Surge in Demand for Residential AV
One notable feature of this year's event was the drastic expansion of the number and type of AV products on show that targeted the home-entertainment sector. Long-tipped to be a growth sector, many exhibitors were clearly hoping to get ahead of the game, with several new innovative systems all jostling for visitor attention.

Among those that were hardest to miss were Zongson Sound Technology's 5.1 and 7.1 cinema speaker systems. Attracting the most attention, the 7.1 option comprised a range of primary, centre, left-right surround sound, rear and bass speakers.

Certain that home buyers were now ready for such a premium system, a company spokesperson said: "Across the mainland, consumers, in line with their rising incomes, are taking their leisure interests more and more seriously. As a result, the demand for top-of-the-range audio-visual home-entertainment systems has soared. Product quality is seen as increasingly important and many consumers are willing to pay a premium for an enhanced viewing and listening experience.

"With both our 5.1 and 7.1 home cinema sound systems, an immersive stereo feel is delivered, which takes the user experience to the next level. The system particularly proves its worth when watching 3D movies, musical events or live TV shows."

Zongson also had on offer its M4 high-fidelity speaker system, an audio installation ideal for private cinemas and home theatres, with a sound set-up that can be customised in line with movie genre, user preference and operational environment. Wall-mountable, it is said to deliver outstanding sound quality, which is all the more remarkable given its
stylish, narrow proportions.

Echoing the sentiments of the Zongson spokesperson, Little Giant's Mr Zheng also sees mainland buyers as now having heightened expectations of their home AV systems. In fact, he believes many of them are also unwilling to compromise in quality terms when it comes to audio performance on-the-go. With this in mind, his company has now introduced a range of high-quality mobile speaker systems which, he maintains, deliver a premium audio experience while being easily portable.

For a truly top-of-the-range interactive experience, though, he recommended the company's JRX Home Theatre KTV Audio System. Consisting of twin 6.5-inch speakers, 12-inch low frequency speakers, a microphone and an amplifier, this compact set-up is said to be easy to operate and ideal for family musical gatherings.

While professional sound and light systems are clearly essential in many business, entertainment and social environments, all too often they can be undermined by poor or inappropriate stage set-ups – a deficiency that Pinyuan Performance Equipment is only too happy to remedy. Outlining the services offered by the Guangzhou-based company, Sales Manager Gong Yuanle said: "Essentially, we provide a variety of stages, across a wide range of styles, none of which will ever let you down.

"For our part, we offer a one-stop service, covering everything from product design and stage production to training on the optimum use of AV products. We can even custom-build stages for clients whatever their exact requirements may be."

The 16th Guangzhou International Professional Light and Sound Exhibition (Prolight + Sound Guangzhou 2018) took place from 10-13 May at the China Import and Export Fair Complex. The show featured more than 1,300 mainland and overseas exhibitors.
For more China market opportunities, please visit: http://research.hktdc.com