20 June 2018
A Slice of the Cake
A love of making healthy food for the whole family has triggered a surge in the number of Chinese home bakers, with exhibitors at the China Bakery Exhibition looking to re-invent their ranges to better serve this fast-growing demographic.
Home bread makers and domestic cake divas were the toast of the recent China Bakery Exhibition, the Guangzhou-hosted event that bills itself as the mainland's first truly national showcase for ingredient producers and equipment manufacturers in the ever-burgeoning oven-cooked food sector. This year, the focus was very much on the country's growing army of home bakers.

This switch in focus to everyday consumers and away from the almost exclusively B2B promotions that typified the early days of this 22-year-old event is a reflection of the growing appetite of many mainlanders for baked products, especially homemade items that are free from any fears that food-safety protocols may have been compromised during their production. On top of that, there is the clear nostalgic allure that has led many to recreate the classic baked Chinese delicacies that were the staple fare of earlier times.
Healthy and Delicious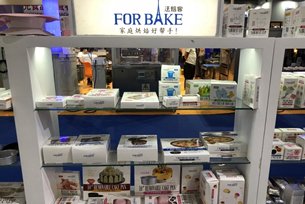 Among the many products specifically targeted at home bakers were moulds, cooking equipment, packaging / presentation materials and, most important of all, ingredients. Clearly assured of the ascendancy of the latter – although, pretty much, offering all of the above – was Dongxuan, a Guangzhou-based business.
Outlining how the company had reassessed its product portfolio in light of the growing importance of the home-baking market, Sales Representative Ouyang Lun said: "This year, for the first time, we are offering 250g ingredient packages, a volume designed to appeal to home bakers and encourage them to experiment with new flavours. This is something of a departure for us as we had previously solely targeted professional bakeries and larger food manufacturers. Now, though, we have a dedicated home-baking division and are looking to make greater inroads into this particular sector."
Giving her own take as to why home baking has suddenly become quite so popular, she said: "With many mainland parents looking to spend more time with their children, home baking has become a shared family experience. Over time, though, people have looked to develop their skills, with many going on to take accredited baking courses, a development that has created something of a cottage industry.
"While, initially, many parents just wanted to bake good-quality food for their immediate family, they are now sharing surplus items with relatives, friends and neighbours. At the same time, many of the more skilled home bakers have started posting photographs of the cakes they are most proud of on WeChat, keen to share their achievements with their online contacts. Inevitably, this has led to some getting requests to make custom cakes via their social-media network, with their one-time hobby suddenly becoming a serious business proposition."
Another company to have put the home-baking sector firmly on its radar was Wuxi Bakeware, the Jiangsu-based business behind the recently launched For Bake home-baking range. Overall, the company offers a wide selection of products for China's part-time pastry chefs and cake makers, including moulds, cookware, and toasting and pizza trays. It also manufactures a range of seasonal / novelty biscuit moulds, including Christmas trees, kittens, stars, bones and goldfish.
Sharing his view of the way the sector is evolving, Yang Yipu, Wuxi's Business Manager, said: "As mainland consumers seem increasingly fond of making their own bread and cakes, I can't help but be optimistic with regard to the future development of this sector, which seems to be far from reaching its peak."
Added Prebiotics and Fruit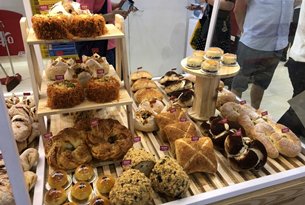 While many of the more technically-minded attendees hungrily viewed the latest manufacturing innovations, among the less high-tech-adept, there was the extensive range of premium-quality food on show that set them salivating, with even the healthier options having considerable palate appeal. Upon further investigation, it appeared that this transformation in the look and taste of the more health-conscious cuisine items was down to a growing penchant for prebiotics, fruit and coarse cereals to be baked into a wider range of commercially produced foodstuffs.

Clearly guilty of this particular crime against ever-widening waistlines was MacGarden Foodstuff, a Guangzhou-based specialist in cake ingredients and other baking supplies. This year, it was looking to showcase its Qiaoyisi, Pinzhiran and Bailichun dairy product ranges. Explaining both the appeal and the health benefits of these three lines, He Chi, the company's Regional Manager, said: "While each contains natural cream ingredients, they are made without the use of any artificial flavours or colourings. We do, however, add in prebiotic fructose, which enriches the dietary fibre content of the products. This, in turn, helps them to be properly absorbed into the digestive system, while allowing consumers to enjoy good food even as their health and nutrition gets a boost."

The 2018 China Bakery Exhibition took place from 23-26 May at the China Import and Export Fair Pazhou Complex. The event featured more than 800 domestic and overseas exhibitors.
For more China market opportunities, please visit: http://research.hktdc.com