27 June 2018
Towards a Fitter Nation
Since its launch in 2014, the China International Health Wellness and Fitness Expo (IWF) has enjoyed steady growth. While its debut outing attracted just 157 exhibitors, by 2017 this had more than doubled, with some 350 companies supporting the event. This year, though, its enlistment of exhibitors seemed to have stepped up a gear or two, with some 500 businesses in the fitness sector sharing 65,000 sq m of floor space at the Shanghai World Expo site.

Perhaps unsurprisingly, the expansion of the show correlates with the overall growth of the mainland fitness market, which was valued at US$6.3 billion last year, having grown by an average of 6% per annum since 2012. As a result, some 6.6 million mainlanders are now paid-up members of one or other of the country's 37,000 fitness clubs.
Strong growth
The expansion of the sector has, in part, been fuelled by robust backing from the mainland government, which sees a fitter population as likely to be less of a national burden over the long-term, with eliminating the problem of obesity and other debilitating 'lifestyle' diseases seen as a particular priority. This government commitment has resulted in a nationwide pledge to see the overall per capita ratio for sports venue space rise from its current level of 1.6 sq m to 1.8 by 2020, while the number of official football pitches is to increase from its current level of 50,000 to 70,000 over the same period.

Naturally, the rich pickings to be had in the mainland's burgeoning fitness market have not been lost on many of the overseas companies already active in the sector. As they zoomed in on the vagaries and idiosyncrasies that are part and parcel of accessing any mainland consumer sector, many opted out of directly entering the market, preferring instead to appoint a local distributor. All of which explains why two US wearable technology brands – New York-based Aftershokz and Kansas-based Garmin – came to be represented by Gravity Sports, a Qingdao-based sportswear distributor, at this year's event.

Launched in 2010, the company is the Chinese distributor of record for the Garmin range of wristband fitness monitors. At this particular event, though, it was focusing on promoting Aftershokz's wireless bone conduction technology headphones, which are said to be ideal for gym use or for outdoor running purposes.

Although it was making its debut at the Shanghai show, it had previously attended its sister event in Changzhou, a city in China's southern Jiangsu province. Comparing the events in the two cities, Sales Representative Xu Jialiang said: "While it's clearly more competitive here, we are confident about our sales prospects. Our product utilises far more advanced technology than anything similar currently available and we believe the fitness market in the east of China is set to enter a period of rapid expansion."
New Entrants
A newcomer to the fitness-equipment market was TR Sports, the Shanghai-based mainland distributor for TRUE Fitness, a Missouri-based fitness-equipment brand, since October 2017. Clearly pleased as to how its debut had gone, Daniel Li, the company's General Manager, said: "Although this is the first show we've attended, lots of people seem aware of us. For our part, though, we are mainly here to sign deals with gyms, sports clubs or hotels."

As well as the big international brands, many of them admittedly there by proxy, there was no shortage of domestic healthcare-equipment manufacturers. One such company was Qingdao-based Shandong Relax Health, a 23-year-old business specialising in the manufacture of strength machines and treadmills.
One of the stand-out items on its somewhat packed stand was its new PowerCrown strength machine, which can be set to exercise specific muscle groups. Outlining how the company's target market had changed over recent years, Jackie Ding, a member of the company's international trade department, said: "Originally, our customers were largely overseas-based. Over the years, though, as it has developed, the mainland market has become increasingly important to us and now accounts for 50% of our sales.

Another Shandong-based business exhibiting at the event was Aoxingde. With a 20-year heritage in the agricultural-machinery sector, two years ago the company decided to diversify into the fitness segment and introduce a range of new cardio and strength machines. Reflecting on the success of the move, Sales Manager Wendy Wang said: "We have found more success in the export sector than in the domestic market, with India and South America being particularly receptive to our range."
From OEM to Brand Building
Significantly, a fair proportion of the mainland businesses exhibiting at the show had originally been OEM producers, but had launched their own brands in response to the changing dynamics of the market. One exhibitor that seemed to have managed this transition well was Nantong-based OK Sports, a manufacturer of dumbbells, weights and bars for the exercise market.

Outlining the company's evolution, a spokesperson said: "Six years ago, we were happily making dumbbells and Olympic bars for a range of third parties. Then, in 2016, we decided to launch our own range under the OKPro brand. These days, every company needs its own brand to fall back on and, fortunately, we've had a lot of success with ours."

Nantong Torch Fitness had a similar story to tell. Five years ago, the Jiangsu-based company launched as an OEM manufacturer, introducing its proprietary IFITFUN brand of Olympic and common bars two years later. Explaining the benefits of launching its own range, a company spokesperson said: "Having our own brand allows us to produce higher-quality products and also gives us a better profit margin on many of our sales."
Yoga and Palates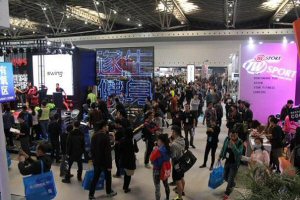 While launching a proprietary brand is clearly popular, it's nothing compared with the popularity yoga currently enjoys across the mainland, where it has almost become something of a religion. More recently, Pilates has embarked on a similar process of deification, but it still has a long way to go if it's ever to match the sheer ubiquity of yoga.

At present, the number of mainland-based yoga devotees is estimated to be about 10 million, considerably more than double the four million who had incorporated the discipline into their own fitness regime back in 2009. Now, the hope of many investors in the sector is that Pilates will follow a similar trajectory.

At present, Elina Pilates, a brand wholly owned by Zhejiang-based Yongkang Elina Sports Equipment, is seen as one of the leaders in the international Pilates market, a heritage it's hoping to build on as it turns its attention more to the domestic market. In order to help establish the brand, the company has appointed Park Cheolyong, an internationally renowned Pilates master, as its official ambassador.

Outlining the opportuneness for Pilates as he sees it, Park said: "Pilates is set to become China's newest fitness trend. We already have 6,000 clients and we are getting more and more enquiries every day."

The 2018 China International Health Wellness and Fitness Expo (IWF) took place from 14-16 March at the Shanghai World Expo site.
For more China market opportunities, please visit: http://research.hktdc.com