9 July 2018
Tailor-making the Future of China's Footwear Market
In line with many other global industrial sectors, smart manufacturing was the focus of many of the exhibitors at the recent Guangzhou-hosted International Shoes and Leather Industry Exhibition. Overall, made-to-measure footwear systems proved the breakout technology at the show, a clear hint of the growing consumer appetite for bespoke boots and shoes.

One company looking to take a lead here was Dongguan's Jianfa Shoe Material, which had made its way to Guangzhou on a mission to showcase its digital shoe making system. Somewhat oddly, given that bespoke footwear was pretty much its USP – Unique Shoe Production, in this particular instance – its display seemed to be made up of an endless array of high-heel shoes, all of which were solely differentiated by colour. According to Sales Representative Shen Hongchao, this was because the differences were very subtle indeed.
Outlining the finer points of the company's offering, she said: "Despite their apparent uniformity, each shoe is slightly different. This is because we scan the feet of all our customers, then use these precise measurements, to custom-manufacture individual shoes, all guaranteed to be a perfect fit.

"We see this as a timely innovation, given that many mainland consumers are deserting mass-produced items in favour of more personalised products. We see ordering perfectly-fitting customised footwear in a choice of styles and colours as very much the coming trend."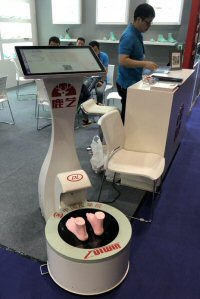 Back in 2017, Jianfa established a digital shoe-making technology centre with the aim of providing customers with a wider range of precise and specialised products, as well as an enhanced aftercare service. Using the techniques and procedures refined at the centre, the company now prides itself on producing perfect-fit footwear via a modular production process that extends across foot measurement, matching measurements to shoe last data, shoe last production, 3D-modelling and the manufacture of shoe uppers.

Similarly seeing 3D-technology as representing the future of footwear was Wenzhou-based Luyi Shoe Material, which was debuting the Deleo 3D Foot Scanner at the show. According to Chen Mi, the company's Sales Representative, within two seconds, the scanner can make highly-precise measurements of a customer's feet then, via cross-section analysis, create an optimised template guaranteeing the utmost in comfort from the subsequently-produced footwear.
Explaining the process a little more fully, she said: "Initially, the would-be customer's feet are scanned at one of our stores. These measurements can then be used to produce shoe lasts, custom-fitted shoes or bespoke insoles.
"Alternatively, once armed with the data, a customer can order shoes from our website, which are then made-to-measure. We also provide online advice as to the styles of shoes that work best with individual measurements."
Reducing Labour Costs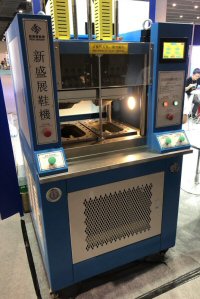 In addition to 3D-personalised production, smart technology was also hailed as delivering increased efficiency and improved quality assurance. Most significantly, it was also seen as something of a remedy to the rising labour costs that currently afflict the mainland's manufacturing sector.

At the forefront of moves to automate many of the more labour-intensive footwear-manufacturing processes was Dongguan-based Zhengrui Automatic Equipment, which was looking to promote its range of shoe and insole-optimised standalone laser-cutters at the show. Explaining their application, Sales Manager Fu Yingmei said: "The traditional method of making midsoles is both time-consuming and requires expensive tooling, with a blade-cutting machine typically used to make the necessary moulds. By contrast, our laser-cutter requires absolutely no tooling and no operator. This cuts labour costs, while also reducing the risk of injury from this potentially dangerous process.

"The laser-cutter can also generate midsole drawings, boosting efficiency while saving on materials and manpower. While the traditional approach can only get 35 pairs of insoles from a standard sheet, the laser-cutter can deliver 40 pairs, reducing materials costs by 10-15%."
The necessity for human intervention has been further reduced by Shanghai-based Chee Siang Sewing Machine, with the company keen to highlight the benefits of its smart shoe uppers, luggage and jeans sewing system. Outlining its advantages, Sales Manager Liu Bin said: "Thanks to its double-decker disc design, the machine can operate automatically on a continuous basis, with human input only required at the initial design stage.

"While there are comparable systems out there, ours is the only one that comes with an automatic bobbin-changing function as standard. Additionally, should the bobbin run out of thread, the machine will automatically shut down, reducing the risk of material damage."
Lively Leather Prospects and Eco-Concerns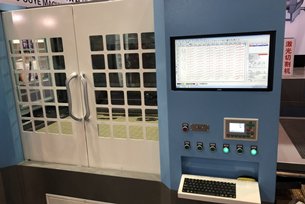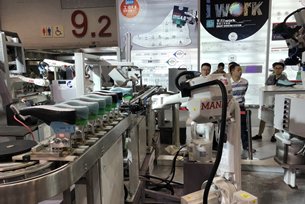 Overall, the majority of the exhibitors participating in the event were optimistic about future market prospects for the leather industry, thanks in part to a surge in demand not just from footwear manufacturers, but also from automotive and furniture companies. Acknowledging this, Fu said: "At Zhengrui, we are only too aware that the demand for leather shoes, garments, luggage and other items continues to grow every year. Thankfully, our laser-cutting equipment has applications well beyond the footwear sector and can be used wherever leather is a key production material".

For Liu, meanwhile, the sustained growth of the leather sector had led to a change of strategy for his own company. Explaining this new approach, he said: "At Chee Siang, we used to source all our products from Taiwan, but the increased demand for leather has made it viable for us to open our own mainland manufacturing plant, with a view to producing proprietary equipment."

Side-by-side with the growing consumer enthusiasm for leather products, many mainlanders have also developed a heightened eco-friendly sensibility. This has seen many manufacturers, including those in the footwear sector, put under considerable pressure to switch to a more green-friendly form of production, with their end products also expected to have a minimally adverse impact on the environment. In response to this, two companies at this year's show – Jiangxi-based Longzen Machinery Manufacturing and Foshan's Fungmoonlin Leather Machinery – were offering systems said to both cut waste and eliminate pollution.

In the case of Longzen, it has developed a more environmentally-friendly means of producing flip-flops. Given that more than three billion of these low-tech plastic / rubber sandals are sold around the world every year, with buyers in China accounting for a large proportion of them, the potential damage from the sector is immense, a problem that the company believes it can help counter.

Explaining just how, Business Manager Wen Yunlong said: "We have created a new system for bonding soles to uppers when manufacturing flip-flops, as well as other casual and sports shoes. Crucially, the hydraulic fluid used is water-soluble, toxic-free and wholly safe, an innovation that will clearly help the footwear industry improve its currently poor environmental care record."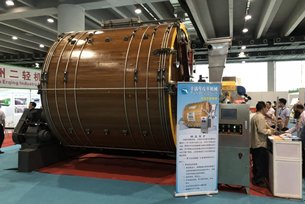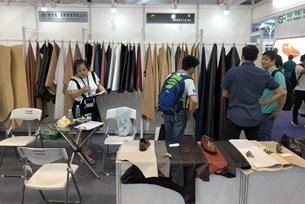 With the leather industry similarly dimly regarded in terms of its green credentials, Fungmoonlin hopes its new Y-shaped, wood-clad, automatic rotary drum will go some way to dispelling these negative associations. Suitable for use across a range of leather production stages, including tanning, re-tanning and dyeing, the drum's carbon-neutral and recyclable wooden shell provides a high level of insulation, maintaining the internal temperature and reducing energy consumption in a win-win for both manufacturers and the environment.

The 2018 International Shoes and Leather Industry Exhibition took place from 30 May-1 June at the China Import and Export Fair Complex in Guangzhou. The event featured more than 700 domestic and overseas exhibitors.
For more China market opportunities, please visit: http://research.hktdc.com