13 July 2018
Toy Market Remains Rosy Thanks to More Newborns
Toys in the Chinese market can be classified broadly into electronic, mechanical, plastic and wooden toys. In addition to traditional offerings, models, licensed toys (including movie spin-offs, cartoon characters, etc), dolls, high-tech toys, educational toys, internet-connected toys and toys for adult recreation and entertainment have continued to come onto the market.

According to data from market research company Euromonitor, the total retail sales of toys and games in China have soared from RMB111.8 billion in 2012 to RMB276.5 billion in 2017, registering an average annual growth rate of 19.9%. In 2017, retail sales of traditional toys and games increased by 7.4% year-on-year to RMB74.43 billion, representing 26.9% of total market turnover, while retail sales of electronic toys and games increased by 24.1% year-on-year to RMB202.07 billion, accounting for 73.1% of total market turnover.

As urban dwellers' incomes rise and quality of life improves, toys demands are beginning to change. There is a shift away from traditional, medium- to low-end battery-operated toys, construction sets and decorative toys, towards innovative electronic toys, intelligent toys, up-market plush toys and decorative cloth toys. Nevertheless, industry players believe that many people underestimate the spending power of China's low-income groups. With average income rising at a rate of 7-10% annually, wage earners are enjoying higher disposable incomes, which should mean an increase in demand for inexpensive toys as well.

As of 2016 there were around 236 million children under the age of 14 on the mainland, the year when China began the full implementation of the two-child policy under the 13th Five-Year Plan (2016-2020). The National Health and Family Planning Commission predicts that the number of newborns will climb to between 17.5 million and 21 million annually during the period. This, along with China's steady economic growth, should mean that toy market prospects are rosy.
Electronic toys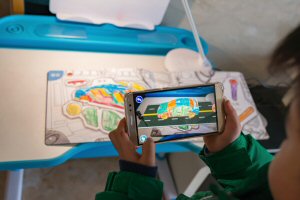 High-tech electronic toys have become increasingly popular in recent years. Interactive, electronic toys with relatively high technology content have emerged as mainstream items. Another growth area is educational toys inspiring children's imagination and creativity and enhancing their in-hand coordination skills. Toys that combine learning and fun are well received by children and parents alike.

E-sports games have witnessed rapid growth on the Chinese mainland in recent years and their development has fuelled the growth of the electronic toy market. E-sports games are played using electronic devices, such as computers and video game consoles. E-sports games typically emphasise players trying to outwit rivals through move and countermove. Figures released by market research company, Newzoo, show that total revenues of the top 25 games distributors around the world reached US$94.1 billion in 2017, with four of them being Chinese companies, namely Tencent, NetEase, Perfect World, and 37Games. Among the market leaders worldwide, Tencent ranked first with a revenue of US$18.1 billion and a growth rate of 51%, accounting for 15% of total global games market revenues. The company also maintained its position as the largest in the sector for five consecutive years.

According to Euromonitor data, children under six are the main consumers of traditional toys and games, accounting for about 48% of retail sales. Parents tend to buy educational toys so that their children can prepare for school as they play. Due to the popularity of electronic games, the percentage of children aged seven to 19 playing with traditional toys and games has dropped from 41.5% in 2016 to 39% in 2017.
Plush toys
Plush toys in novel and unique designs have been much sought after in the past few years, especially popular TV and animation characters. The latest trend in this sector of the toy market niche is integrating electronic toys with plush toys, while plush toys that also double as household ornaments have also gained favour among many households.
Educational toys
Educational toys and toys that can help children learn are most preferred by parents, especially for parents of children aged four to six. Of the JD.com list of most popular toys sold online in the first quarter of 2018, eight of the top 10 items were educational toys. For example, the fact that Lego City Mobile Command Centre took the top slot indicates that educational toys are immensely popular with both parents and children.
Animation and related spin-offs
According to research by Intelligence Research Group, the animation spin-off market in China topped RMB45 billion in 2016, with animation toys accounting for the lion's share. Toy-animation crossover is gradually developing as a profitable business model, with Legend of Qin and Boonie Bears being among the more popular products. To date, the five Boonie Bears films have made RMB1.912 billion in total box office revenue, with sales of licensed animation products reaching RMB2.5 billion. However, most companies still focus on the production of animation characters from the US and Japan such as Doraemon and Chibi Maruko Chan. Animation lovers aged 18-35, who have considerable spending power and are willing to spend on animation toys, are major buyers in the niche.

Toys for adult recreation and entertainment

According to a market survey, the production, design and sales of toys in China mainly targets children, accounting for 99% of the industry, while the toys for adults market is almost negligible. By contrast, in the US, over 40% of toys are specially designed and made for adults. In Japan, toys for adults have a market share of over 65%. Among Japanese adults aged 18 or above, at least 84% have their own toys.

The biggest difference in toys for adults is the greater emphasis on training thought, memory, resourcefulness and co-ordination, as well as developing personal character. Some consumers of toys for adults said they now have the financial means to buy toys that they could not afford when they were young, with the toys acting as a kind of compensation. According to the China Toy Association, toys for adults have a potential market value of about RMB20 billion.
Market Competition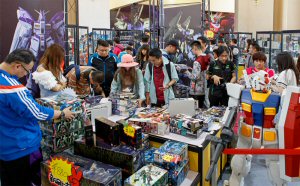 China is a major toy producer. An estimated 80% of all toys produced worldwide are made on the mainland. The primary toy production and export bases are Guangdong, Jiangsu, Shanghai, Shandong, Zhejiang and Fujian. Among these six, Guangdong is the leader, with manufacturing centred around Shenzhen, Dongguan, Guangzhou, Shantou's Chenghai, and Foshan.

The bulk of toy exports are produced OEM for foreign brands. Although China has for many years occupied an important position in toy production, market pressures are increasing. As production costs on the mainland continue to rise many toy companies opted to relocate production lines to other Asian markets, such as India or Vietnam, where labour wages are lower.

Competition in the Chinese toy market is intensifying. The high-end of the market is dominated by foreign enterprises, while local brands are the mainstay in medium- to low-end segments. Practically all international toy giants have established factories on the mainland or collaborated with local manufacturers for production. Most of the major global toy makers have also made inroads into the mainland market by appointing sales agents or setting up their own marketing operations. Examples include Mattel and Hasbro of the US and Japan's SEGA.

In light of factors like declining external demand, escalating production costs and changes in the renminbi exchange rate, Chinese toy exporters are coming under tremendous pressure. Many enterprises are increasingly looking to the domestic market for business opportunities. In recent years, many brands have proactively set up sales channels to tap the local market, among which are international brand names such as Disney and Mattel and local brands like Auldey and Goodbaby. Foreign and Sino-foreign joint venture products make up the lion's share of the domestic toy market.

Competition is keen in the traditional toy market, with few brands commanding significant market share. Alongside famous international brands like Lego and Mattel, which are perennial favourites, domestic brands such as LDCX of Guangzhou and GA Creatives are growing in competitive strength. They mainly seek to attract consumers in second- and third-tier cities, competing on price through diversified sales channels.

In terms of pricing, there is a huge gap between locally made toys and international brands. As such, locally made toys still maintain a strong edge in the medium- to low-end market segments and practically monopolise sales channels such as the wholesale market and independent retailers.

While OEM production remains dominant in China's toy industry, changes are taking place. Some Chinese toy makers are paying more attention to R&D, while a number of key enterprises with their own proprietary IPR and brand names have emerged, such as Auldey, Lanmao, Goodbaby, Dove and Huawei. In the Pearl River Delta region, toy enterprises have also embarked on transformation and are gradually shifting operations up the value chain, increasing efforts in sales and marketing and product development.
Sales Channels
Traditional sales channels for toys include major shopping centres offering mainly mid- to high-end, international brand-name toys; supermarkets and hypermarkets which are important for medium-to-low priced toys; and wholesale markets. Specialty stores and franchise chains such as Toys "R" Us, Edutainment, Leyou and Lijiababy have been expanding in recent years and have become a major toy-buying channel for parents. New sales channels, including online shops, have also flourished. A survey conducted by HKTDC finds that many parents purchase toys online. Their main shopping channels include the websites/apps of domestic mother-and-baby stores/shopping malls (24%), cross-border e-commerce websites (8%), and WeChat commerce (7%).

Toy suppliers have found their way into the fast developing e-commerce platforms in recent years. Major online shopping channels include Tmall, Taobao, JD and Yihaodian. According to Tmall, a number of toy brands, such as Hasbro, Barbie, Toys "R" Us and Bandai, have gained a foothold in baby.tmall.com. Meanwhile, e-commerce platforms act as an effective channel for foreign brands to tap into the Chinese market.

There are two main ways foreign brands break into the Chinese market – by appointing agents or by making a direct entry into the retail sector. The products offered by foreign toy makers often have high technology content, such as electronic toys, educational toys and game consoles, posing a clear challenge to the traditional toy market.
For more China market opportunities, please visit: http://research.hktdc.com