24 July 2018
Global Optical Firms Zoom In On China's Huge Market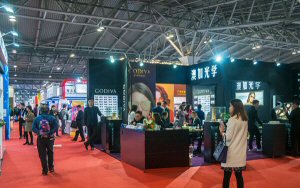 The China International Optics Fair is a huge event. And understandably so. Not only does China produce more glasses than any other country, it is also – potentially – the largest market for manufacturers of corrective eyewear in the world.

With a myopia rate of about 50%, China is well above the global average of just 30%, with the situation only set to deteriorate. According to a 2014 survey, jointly conducted by the Ministry of Health and the Ministry of Education, it is now an ever-more common phenomenon among schoolchildren. Indeed, among 15-year-olds, the incidence is now said to be as high as 85%.

It is the size of the market and the potential rewards that draw companies from across the world to the show and, in many cases, keeps bringing them back. One stalwart of the event is UK-based Cerium, with the company having taken the 18,000km round trip to Shanghai every year since 2014.

Assessing the importance of the event, James Sangster, the company's Managing Director, said: "This show is aimed primarily at Chinese consumers and attendance seems to grow every year. Indeed, this year, we have met with far more potential customers than we have at any comparable event.
"We also find that the market is still quite old-fashioned here in many ways. In particular, Chinese consumers still seem keen to engage with vendors on a face-to-face basis, which also gives them the chance to 'try before they buy'. By contrast, in many other markets, our online channels are our most direct link to would-be purchasers."

Based in Kent, southeast England, the company is a specialist manufacturer of contact lenses and related accessories. With a 40-year heritage in the eyewear sector, it is also a well-established supplier to many of the UK's high-street optician chains.
The Fair, considered preeminent among Asia's many optical events, has been traditionally well-supported by sponsors across Asia, including the Hong Kong Trade Development Council (HKTDC). This year, the already impressive sponsor roster was joined by two South Korean bodies – the Optical Industry Support Centre and the Optometric Association. For many, this was seen as a clear sign that the country's optical industry has high hopes for the mainland market.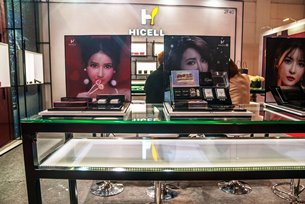 Pretty much confirming this, Claire Byun, Overseas Sales Manager for Hicell, a Seoul-headquartered contact-lens manufacturer, said: "Right from the beginning, we considered China as our primary market, with the original Hicell brand specially created with mainland consumers in mind. In 2015, when we wanted to move into new markets, we launched Vocol as a more upmarket product, with a branding more in line with its higher price point.

"When we launched, we were lucky enough to be able to capitalise on the Asia-wide popularity of K Pop, something that certainly helped us to get established in China. Despite having now been in business for 17 years, this is the first time we have attended this particular event. Previously, we participated in a similar show in Beijing, which seemed to have a higher footfall but a far lower quality of buyers."
Founded in 2001, Hicell primarily focuses on the cosmetic eyewear market. Among its most in-demand products are a range of coloured contact lenses designed to make the wearer's eyes look bigger.
Rather more familiar with the event was another South Korean business – CMA Global, a Daegu-based supplier of optical accessories. A veteran of five previous events and confessing to be impressed by the 2018 turnout, Sales Manager Sue Cai said: "There are definitely more manufacturers at the show this year. As they represent our core market, that equates to more opportunities for us. I also think there's a more even – 50:50 – split between overseas and domestic manufacturers this time around."

Already a supplier to more than 200 companies, including such big names as Nikon, Seiko and Hoya, CMA has recently added T-shirt pouches to its product portfolio. Handy for holding sunglasses or phones, the pouches have proved to be a hit in South Korea, with the company having already produced bespoke editions in association with a number of the bigger domestic businesses, most notably LG, the Seoul-based electronics giant.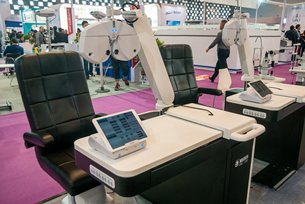 Despite the presence of the Brits, the South Koreans and representatives of nearly 100 other nations, Chinese optical manufacturers still managed to dominate the event, with a good showing for all the mainland's key spectacle production centres – Dongguan, Shenzhen, Xiamen, Wenzhou and Danyang. Despite the vast number of Chinese companies jostling for attention, a few genuinely managed to stand out, including Zhejiang-based Taizhou Linhai Duqiao.

Established in 2007, the company sells under the LOSU brand both domestically and internationally, while also having achieved good results by selling through Alibaba over the past five years.
While there was a vast number of mainland glasses manufacturers in situ, the number was almost matched by the size of the country's accessories and diagnostic contingents. One of the most noteworthy operators in the latter sector was Chongqing-based Yeasn, a specialist operator in the lens-calibration market.

Commenting on both the growth of the event and the particular focus of his own business, Sales Manager Wang Zhilun said: "This show grows every year and continues to become ever-more international. In terms of scale, exhibitor numbers, scope and the potential for deal making, it is clearly the most important event of its kind in China, which is why we chose it as the ideal launch platform for our digital refractor optical evaluation system."

The 2018 China International Optics Fair took place from 5-7 March at the Shanghai World Expo site. The event attracted more than 69,000 trade and consumer attendees.
For more China market opportunities, please visit: http://research.hktdc.com