13 Aug 2018
Holiday Hotspots Woo Mainland Tourists at Shanghai Travel Show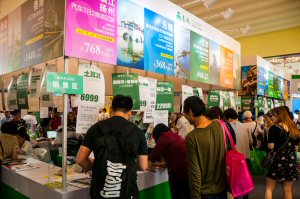 With Chinese mainland tourists the largest and most profitable group for global travel firms, this year's Shanghai World Travel Fair hosted delegations from Sri Lanka, Japan, Norway and beyond – all intent on securing their share of overseas renminbi spend.

Mainland tourism has boomed in the past decade, particularly in international travel. Mainland tourists made 130 million trips overseas last year, an increase of 7% on 2016, according to leading online travel agency Ctrip. It was no surprise, then, that many exhibitors from across the world came to the 15th Shanghai World Travel Fair.

Mainland overseas expenditure was about US$115 billion in 2017, making it one of the largest markets in the world, but the amount spent on shopping in the first quarter of last year dropped substantially. This shift indicates a significant trend – holidaymakers would seem to be spending more money on activities and less on acquiring goods overseas.

This was clearly something not lost on Japan, one of the top destinations for Chinese tourists for many years now. In line with this, Japan hosted one of the fair's largest delegations, with its stands filling two entire exhibition halls. The country's SenYou Travel was there to promote its new "Chika guesthouse" concept, which was launched last year. Each of the company's 10 Kyoto properties, together with a further six scheduled to open in Tokyo and Hokkaido this year, combine traditional Japanese Zen aesthetics with the latest top-of-the-range high-tech fittings, such as air purifiers, projectors and speakers.

SenYou's Vice President Nick Yang noted that the domestic Japanese market accounts for about half its guests but most of the remainder come from Asia.

Explaining why his company chose to attend a mainland travel fair for the first time, Mr Yang said: "China is the biggest potential market for us, particularly visitors from Shanghai, where Japan is popular, both for its food and shopping. We have been getting a lot of interest from potential Chinese customers, despite our relatively high prices."

Hoshino Resorts, one of the largest luxury resort chains in Japan with more than 30 properties, was at the show to promote its locations in Hokkaido. Highlighting the Japanese prefecture's activities-focused attractions, Albert Yuudai Itoh, Hoshino's Assistant Director of Marketing and Sales, said: "We have three hotels in two locations in Hokkaido that are ideal for skiing and leisure. Our focus is on high-quality dining, which is very important to Chinese tourists, and our resorts are marketed as family destinations."

Quality was a consistent theme among the fair's exhibitors, many of which targeted the top end of the mainland market. EliTrips, which uses the tagline "Exclusive for elites", was initially named Xpats Travel when established eight years ago by a Spanish entrepreneur to aim at foreigners living on the mainland. Today, however, it targets wealthy mainlanders looking for exclusive experiences.

Noting the opportunities from the mainland's changing demographics, EliTrips' Marketing Assistant, Iman Coban, said: "As the Chinese mainland's middle class grows, elite travel is becoming more appealing and affordable to them. We offer packages with luxury hotels, business-class flights and a range of exclusive experiences."

Also adapting to mainland travellers' changing wealth and priorities was FlexEvent, a Swiss company founded three years ago, which offers corporate retreats and team-building events. Explaining the company's new Swiss Relaxing Tours concept launched this year, Co-director Alexandre Borgeau said: "The Chinese usually travel fast and in a stressful way, so we wanted to offer them something different that provides a more relaxing experience, capitalising on Switzerland's scenery and culture.

"We got the idea from a Chinese customer who was attending another of our events, and believed it had great potential. So, we now have three tours on offer – two centred on Lake Geneva and central Switzerland running for 10 days, plus a mountain skiing tour of seven days."
Visa-on-arrival Appeal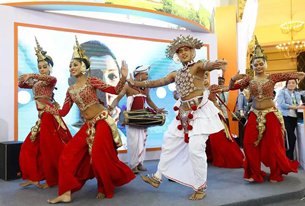 With only about 10% of the mainland population holding passports, there is clearly plenty of room for growth. Many countries now view the mainland as one of the most important markets for their tourism industries and are steadily introducing visa-on-arrival services to help attract more visitors.

Sri Lanka, for instance, has enjoyed increasingly good relations with the mainland in recent years and had a big showing at the Shanghai event with its Tourism Promotion Bureau. This saw it working with Sri Lankan Airlines and several tour operators, with promotional music and even dance shows to catch visitors' attention.

Randima Madhavi, a Junior Manager at the Bureau, had high hopes for the visa-on-arrival policy boosting visitor numbers from the mainland even further, saying: "The Chinese mainland has been our second-largest market for about five years. An important development for us is that mainland visitors can now get a visa on arrival in Sri Lanka.

"The Bureau has been coming to the show for about 10 years and also attends events in Beijing and Guangzhou. Our dance performances do attract people to our stands, where we are mainly promoting our beaches and pristine environment."
Call of the Wild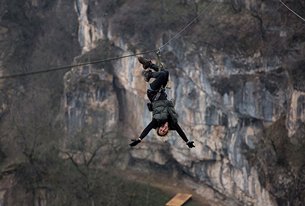 Armenia has also introduced a new visa scheme for mainland visitors, with high hopes of attracting larger numbers. Varditer Harutyunyan, Chief Executive of ABIC, an agency specialising in tours to the country, said: "From last year, it became much easier for Chinese mainland people to visit Armenia when visa on arrival was introduced. Armenia has a very long history with many historical and cultural sites of interest to see.

"There are longstanding links between Armenia and the mainland: back in the heyday of the old Silk Road Armenians were, for a period of time, the only foreigners allowed to enter the mainland."

One foreigner who spent time on the mainland somewhat more recently is Canadian Peter Larocque, who founded Compass Safari three years ago after learning putonghua during a stint in Beijing. The company, one of a number at the fair offering special-interest and experience-based trips, organises safari packages to the main national parks in Tanzania, including the Serengeti.

Outlining his company's strategy for attracting visitors from the mainland, Mr Larocque said: "We're already in the North American market and are now trying to expand into China. We've already established an office in Shenzhen and we offer a range of safaris in the mid-to-luxury price range. We've already visited a travel show in Beijing and, so far, we're also getting a lot of interest at this event."

Norwegian Sami Adventure is a family-run company that also targets the adventure-market segment, albeit in a cooler climate, with its back-to-nature experiences in northern Norway. Visitors can stay in its "aurora domes" accommodation, view the northern lights, experience reindeer sledding and ice fishing, and visit the indigenous Sami people of Northern Scandinavia.

Eva Holzl, from Sami Adventure's Marketing Department, said the company was focusing on the Asian market and was at the fair to connect with local agencies. Holzl reported great success, saying: "We already offer tours with Chinese speakers. From 2015 to 2017, there was a 240% increase in our bookings from the Asian market, hence our attendance at this show."

The 2018 Shanghai World Travel Fair took place from 25-27 May at the Shanghai Exhibition Centre.
For more China market opportunities, please visit: http://research.hktdc.com