29 Aug 2018
China Eco-Expo Sees Smart Ideas Recycled as Commercial Propositions
With the mainland environmental sector firmly focused on promoting recycling and boosting consumer awareness of green issues, it was no surprise that both issues loomed large at the recent China Guangzhou International Environmental Protection Industry Expo. In particular, the emphasis was on how to treat waste products and on building consumer awareness of the different waste categories and the optimum route to recycling each one of them.

Keen to make this process as simple as possible for time-restricted consumers, Foshan City Landscape Environmental Protection Technology had on offer several different ranges of smart recycling bins, with its Phillip Island Collection Boxes proving to be the biggest hit with show-goers. The range comprises individual and easily distinguishable boxes for textiles, Styrofoam, plastic bottles, glass, small home electrical appliances, ferrous products, newspapers and books, wrapping paper, tainted paper and hazardous waste.

To maximise consumer safety, the hazardous-waste receptacle, the only one to have potentially harmful contents, is in a striking red colour, while all the other containers are in less alarming shades of blue. Centre-mounted among the boxes is an electronic display, complete with a QR code and IC card reader.

Explaining the role of the range's electronic components, Wu Qilong, a Senior Technician with the company, said: "The electronics are all tied into an incentive scheme, which offers gifts and cash to those consumers who behave in the most environmentally friendly way. Basically, it weighs each category of trash deposited and then allocates reward points accordingly.

"Directly connected to waste transportation companies and treatment plants via the Internet-of-Things, the system automatically notifies them when the bins are full, triggering a prompt collection. At the same time, it also constantly measures the internal temperature in each box, sounding an alarm should the level of heat exceed previously set parameters. There is also an ozone generator inside each box, designed to rapidly and effectively eliminate any unpleasant odours.

"For those customers looking to embellish their green credentials still further, there is the option of replacing the external power supply connection with a series of solar panels. In the sunnier regions, this should more than suffice to keep the system running."

Composting rather than collection formed the basis of the alternative recycling solution on offer from Jiangsu Jingshi Environmental Protection Technology, with the company keen to highlight the benefits of its food-waste processor. Introducing the unit, General Manager Jing Hongyu said: "The main selling point of our processor is that its use creates no secondary pollutants in the air, water or the soil.

"Through the utilisation of microbial technology, it reduces the weight of any food waste by more than 75%, while compressing its volume by up to 98%. Following the completion of the process, suitable composting material can be extracted, which can then be used as a base fertiliser in vegetable gardens or flower beds."
Technological Innovation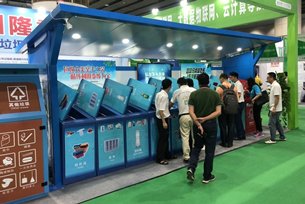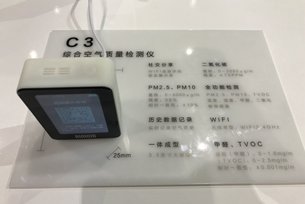 Given the focus on the environmental protection sector and the government funding available to tackle many of China's pollution problems, it was no surprise that many companies had invested heavily in the development of green technology. This saw a wide range of innovative products debuting at the show, including monitoring / detection systems, pollution treatment technology and environmentally friendly power-generation products.

On the monitoring / detection front, Beijing Yeetc was keen to promote its proprietary range of mini air-quality sensors and a number of complementary smart products. Among the items making their first appearance at the event were the company's C2 wearable air-quality sensor, its B5-Plus smog and formaldehyde sensor and its C3 PM2.5 laser dust sensor.

Outlining the particular benefits of its C3 range, Sales Director Shi Huihuang said: "At the moment, these are among our best-selling items. Smartphone-connectable, they can detect the level of airborne PM2.5 and PM10 particles, as well as the volume of the total volatile organic compounds [TVOC], while simultaneously providing data on temperature, humidity and the presence of formaldehyde. Essentially, they can instantly assess air quality and prompt users to wear face masks when required.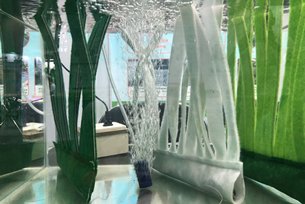 "When we first set up, we specialised in supplying detection sensors to manufacturers of air purification systems. As mainland consumers became more and more concerned about air quality, we started to produce sensors suitable for use by the general public. Smaller and eminently portable, these have proved to be hugely popular among mainland consumers, especially in the north of the country."

A very different approach to green innovation came courtesy of GZ Bellway Environment Protection Technology and its pioneering moves to tackle the problem of water pollution. Explaining just what was so different about the company's approach, Product Manager Li Anjun said: "Basically, through the use of specially structured textile fibres, we've created a range of biological ribbons that can incubate a highly active microbial community. The collective metabolism of these microorganisms then effectively degrades any pollutants in the waste water.

"With an active life of up to 10 years in the right conditions, the ribbons are suitable for use in a number of environments, including ecological farming and river pollution control areas. On top of that, they are simple to use, require very little oversight and have little or no maintenance / operational costs."

Similarly robust was the wind turbine exhibited on the stand of Heng Chi (Nanjing). Featuring integral formation design and protected by an anti-UV plastic shell, it is guaranteed to withstand the worst that any marine environment can throw at it for at least five years.
Hazardous-Waste Solutions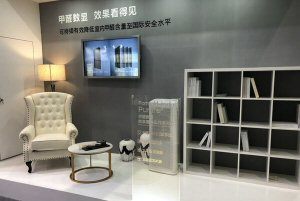 Among the many exhibitors offering hazardous-waste treatment solutions was Shenzhen V-Green Technology. Summarising the company's mission statement, Deputy General Manager Liu Zhiyang said: "Our focus is very much on reducing the volume of hazardous substances in the environment and lessening their negative impact, while extracting any reusable elements."

In line with this, this year the company had particularly high hopes for its acid-etching liquid electrolysis system. It is said to be efficient and easy to operate with an extremely effective cycling technique and a high-level of copper recovery.

Majoring as much on its low electricity usage as on its effectiveness when it comes to the elimination of harmful gases was the new catalytic combustion system that dominated proceedings on the Zhongshan Geyuan Protection Equipment stand. Optimised for use in the chemical workshops of a range of industries – including the paint, print, electromechanical engineering, home electrical appliances and shoemaking sectors – it combines a precious metal catalyst combustion chamber with a series of honeycomb ceramic carriers to remove possibly toxic elements from the local environment.

The 2018 Guangzhou International Environmental Protection Industry Expo took place from 26-28 June at Guangzhou's China Import and Export Fair Complex.
For more China market opportunities, please visit: http://research.hktdc.com