5 Sept 2018
Wind Power Set to Oust Nuclear in Taiwan by 2025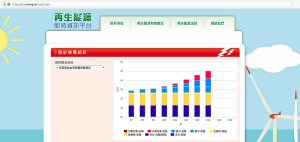 Back in 2016, Taiwan first began seriously focusing on offshore wind-power generation, with the aim of ending the territory's reliance on nuclear power by 2025. Now, after a two-year period of consultation and shortlisting, it has both completed its onward development strategy and identified its preferred suppliers, with the initiative expected to roll out over the next two years.

In many ways, harnessing offshore wind power is an obvious move for Taiwan. Around its coast, wind speeds of up to seven metres per second are recorded throughout the year, with the outer seas off Changhua, to the west of the territory, said to be among the best sites in the world for offshore wind farms. In combination with its solar, hydro, geothermal and biomass energy sources, such farms would be expected to provide 20% of the territory's overall power needs by 2025, enabling its nuclear-power generation facilities to be officially pensioned off.

According to local authorities, thermal sources (coal, gas and oil) provided 86% of Taiwan's power in 2017. Nuclear energy accounted for 8.3% and renewables just 4.5%, with a mere 0.6% derived directly from wind power.

This is set to change dramatically in the run-up to 2025. In August 2016, it was anticipated that, within seven years, the territory would have an installed wind-power generation capacity of 4.2 gigawatts (expressed in the familiar domestic unit, 4.2 million kilowatts), with onshore turbines providing 1.2GW and offshore turbines a further 3GW. At the time, the existing onshore capacity was 682 megawatts (projected to rise to 800MW by 2020), while the installed offshore capacity was zero (projected to rise to 520MW by 2020).

A subsequent rethink in October 2017 saw the projected total for 2025 raised to 5.5GW. Of this, 3.5GW will be provided on a contract basis at an agreed feed-in tariff rate, while the remaining 2GW will be allocated to the lowest-bidding supplier via an auction system.

In a bid to accelerate the growth of its off-shore wind-power capacity – a must given that the number of onshore sites is already approaching saturation point – Taiwan has looked to actively woo overseas contractors, especially those with cutting-edge technology and advanced systems integration experience. To this end, it has looked to foster joint ventures between the global leaders in the sector and local operators. All such potential suppliers would then be expected to embrace a three-step development model – demonstration of potential, initial exploitation and, finally, full-scale production.
Pilot Turbines
Ushering in a preliminary stage in 2012, local authorities, via the Offshore Wind Power Demonstration Incentive Programme, offered to pay 50% of the installation costs and up to NT$250 million (US$8.12 million) in subsidies to the three companies chosen to develop these pilot turbines by the 2020 initial deadline. In the end, the three successful bidders – all Taiwan-based – were Swancor Industrial, Taiwan Power Company (TPC) and Fuhai Wind Farm Corp.

As the project developed, Swancor completed work on its first two turbines in 2017, with its wind-farm sites subsequently passing the required environmental impact assessment. TPC was awarded the contract to develop the Changhua offshore wind-power demonstration project in February 2018, with Belgium's Jan de Nui Group and Japan's Hitachi signing a deal worth NT$24.99 billion (US$812 million) to manufacture and install the required turbines. The project is now expected to come online in late 2020. Following controversy over local fishing rights and a failed environmental impact assessment, Fuhai dropped out of the programme in January this year.

It was the second-stage tender, however, that attracted the real interest of overseas developers. In 2015, 36 potential wind-farm sites were identified with 22 subsequent proposals then subjected to environmental impact assessments and 19, eventually, given the go-ahead. In January this year, local authorities announced the proposed capacity and operational requirements for the planned offshore sites. This resulted in nine developers submitting bids for 18 sites, representing a proposed total installed capacity of about 10.6GW.

Following the completion of the second stage of the tender process in April, a shortlist of seven developers and 11 offshore sites was announced. Ultimately, this was whittled down to two operators – Swancor and Germany's wpd. The allocated capacity amounted to 738MW, with grid connection scheduled to be completed by 2021.

In a further round, where localisation was part of the criteria, the allocated capacity was 3,098MW, with the projects required to be grid-connected by 2025 at the latest. The winners here were Ørsted, wpd, Copenhagen Infrastructure Partners (CIP), China Steel Corporation (CSC), TPC and Northland Power Inc (NPI).

According to local authorities, the tenders had a combined capacity of 3.836GW, considerably above the initially targeted 3.5GW level. Three overseas developers – wpd, Ørsted and CIP – secured the largest share, perhaps reflecting the particular interest in the Taiwanese market on the part of European operators. Among the local contenders, TPC and CSC emerged as the major winners overall.

In total, 12 bids were submitted as part of the second-stage competitive price tender. Of these, two proved successful – NPI/Yushan and Ørsted – with both being granted extended grid capacity. Across four sites, the two developers have been allocated a total capacity of 1.66GW, with grid connection scheduled to be completed by 2025.

Of particular note is the impact that the highly competitive nature of the tendering had on the final pricing structure. As a result, the winning contractors will only receive between NT$2.22 (7.21 US cents) and NT$2.55 per kilowatt hour, with the specified range falling far below the original expectations of both local authorities and many within the industry. Significantly, the price is less than half of this year's officially stipulated feed-in rate for offshore wind power and even lower than Taiwan's current average electricity tariff (NT$2.60/kWh).

For the wholescale development in the third stage of the overall process, the chosen sites will be those in closest accordance with the designated environmental impact assessment requirements. Once operational, the approved sites will gradually extend operations from the shallow water areas into deeper waters.
For more China market opportunities, please visit: http://research.hktdc.com