6 Sept 2018
Home-Grown Success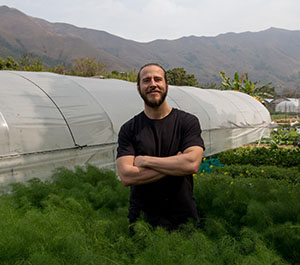 When Hong Kong restaurateur Todd Darling wanted to eat – and serve – more locally grown produce, he found few options in a city that imports about 90% of the food consumed.

So in mid-2010, Mr Darling set up Homegrown Foods, which sources organic produce from around Hong Kong and distributes it to restaurants and homes.

He became a pioneer of the "locavore" movement, which follows the principle of eating only locally grown or produced food. "Local food has better flavour than when it's air-freighted, has a minimal carbon footprint, supports local farmers and is better value for money for businesses and consumers," said Mr Darling, who runs five restaurants in three cities – Linguini Fini in Hong Kong, Manila and Hanoi, as well as Posto Pubblico and Stone Nullah Tavern in Hong Kong.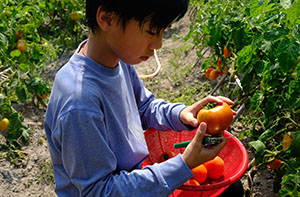 As he worked with restaurants to promote local organic produce, awareness spread, and today, more locally grown food is reaching more consumers. "Beyond typical local produce like dragon fruit and leafy greens, you can now get locally grown figs, pineapples, lemons and cheddar cauliflower," he said.
Fresh Daily
The snowball effect also spawned new businesses, such as JouSun.com (jou sun, Cantonese for "good morning"), established in 2015 as an online farmer's market that connects growers and producers directly with their customers.

The goal at the outset for Jou Sun's co-founders Jessica Lam (Managing Partner), Chris Li (Technology Partner) and Hinz Pak (Design Partner) was to reduce food mileage and optimise its nutritional value, with time savings for the end consumer. Customers would place orders online and the start-up would source their items from local producers and home-deliver.

A "harvest-on-demand" model introduced in 2017 took the partners' locavore principles further by addressing the issue of food wastage. "About 30% of food grown today is wasted," Ms Lam explained. "Our way of reducing that is to let farmers see customers' orders via mobile app, so that they only harvest what has been ordered.

"Our delivery vans collect the vegetables and fresh produce and deliver same-day harvests from traceable farms to customers' doorsteps in less than 12 hours."
Know Your Farmer
Jou Sun's mobile platform also gives transparency around food provenance.
"Customers can see who grows their food, and under what method – such as conventional or organic farming," Ms Lam explained.

Since introducing this enhanced mobile functionality, Jou Sun's sales have grown more than 400%. Its distribution model is also expanding.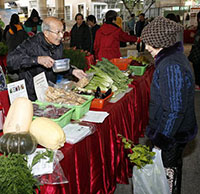 "In the beginning, Jou Sun was purely a consumer brand," Ms Lam said. "However, we have recently been approached by businesses such as restaurants and supermarkets asking us to help them source local and sustainable farm produce.

"This new demand is extremely exciting for us, not only because of the huge market potential, but also because of the beneficial diversification that it provides to our ecosystem," she continued.

"As you can imagine, the demand patterns of businesses are more predictable and stable than retail consumers. As a result, we can aggregate supply from various businesses and broker crop-planning and contract farming projects.
Currently, our B2B business is less than 5% of our sales mix, and we plan to grow that 10 times in the next 12 months."
Booming Business
The burgeoning locavore movement in Hong Kong has certainly helped Jou Sun's business.
"Yes absolutely – not only at the consumer level, but also from businesses," Ms Lam said.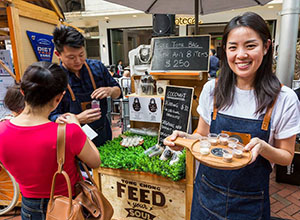 "Especially given issues of food fraud and food security, we certainly believe Hongkongers nowadays are more conscious about what they eat and where to purchase trustworthy products.

"Ultimately, our goal is to remove as many layers of middlemen from the food journey as possible to achieve zero inventory and spoilage. This way we can also reduce the city's carbon footprint and raise the awareness of local agriculture to achieve a sustainable and efficient food system for Hong Kong."

For those who like to browse for themselves, weekend markets supporting local farmers are held in a number of locations across Hong Kong. These include the Mei Foo Farm Fest held each Sunday (which includes farm workshops and green activities, as well as produce on sale), and the seasonal Tong Chong Street Market in Quarry Bay, selling locally grown organic produce from Hong Kong Organic Resource Centre-certified farms.

Related Links
Home Grown Foods
Jou Sun