20 Sept 2018
Bay Area Wows Start-up Express Winners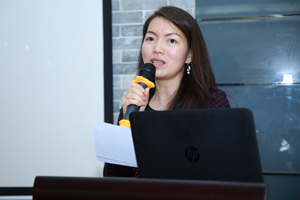 With the Central Government set to release its "Development Plan for the Guangdong-Hong Kong-Macau Bay Area", the Hong Kong Trade Development Council (HKTDC) organised a study mission to Shenzhen and Dongguan in late August, giving the 10 "Start-up Express" winners a chance to understand more about the start-up ecosystem and development opportunities in the Bay Area.

The delegation visited several successful start-ups during the trip, including Tencent; Orbbec Technology Ltd; DJI; IngDan (Shenzhen) Co, Ltd and Guangdong Unipoe IOT Technology Co, Ltd. Through corporate communications and business-matching activities, some start-ups have found potential investors and partners.

The study mission visited Shenzhen, Nanshan and Dongguan.

In the annual government work report in March, Premier Li Keqiang said: "To promote deeper collaboration between the Chinese mainland, Hong Kong and Macau, the state is actively working on the development plan for the Guangdong-Hong Kong-Macau Bay Area. It aims to unleash the unique advantages of Hong Kong and Macau, which have an important role in opening the country up and increasing national economic growth." Many companies are excited by the new business opportunities this national strategy will bring to the Bay Area.

Mandy Ng, Regional Director of Southern China for the HKTDC, said the Council has 13 offices on the mainland which have been helping companies explore business opportunities and seek partners. "Each city in the Bay Area has its own strengths. For example, Shenzhen focuses on innovative technologies, Dongguan is good at smart production; Hong Kong could leverage these cities' strengths and align itself with them. And these could help Hong Kong address our weaknesses. Arranging the elite Hong Kong start-ups' delegation to visit Shenzhen and Dongguan can accelerate business exchanges and cooperation."

She believes Shenzhen and Hong Kong start-ups can work together on technology development and skills transfer, bringing in international technology and start-up related financial services. Dongguan, as one of the major production centres in the Bay Area, could collaborate with Hong Kong start-ups and assist them with production services and supporting industries, such as industrial design and contemporary logistics. These could help promote business transformation. "The study mission provides Hong Kong start-ups with the opportunity to learn more about developing businesses in the Bay Area in person and meet with potential local investors and business partners."
Supporting Start-up Development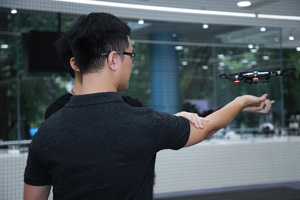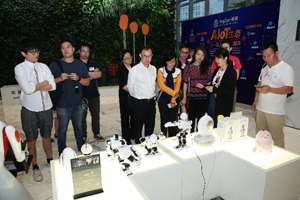 The study mission visited several successful firms including Tencent, Orbbec, DJI, IngDan, and Guangdong Unipoe. Participants heard the firms' experience in expanding their business to foreign markets, especially how they grew from start-ups into big corporations and how they passed through "bottlenecks".

Orbbec Vice-President Chen Zhi described how the firm developed and became a "unicorn" (start-up that reaches a value of US$1 billion or more within a decade without listing) in just five years.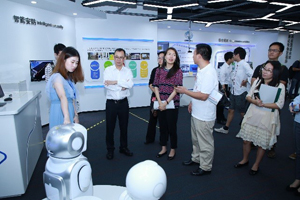 Mr Chen said the firm focuses on inventing, producing and selling 3D visuals and artificial intelligence technology. More than 1,000 companies around the world use Orbbec technology, including 500 mainland and overseas robotics companies, and 10 Fortune Global 500 members such as Hewlett Packard and Alipay. "Start-ups need technology and funding the most. Apart from inventing, we value the relationships with investors and business partners. When we first launched, we kept participating in exhibitions to build networks. We also collaborate with other companies for different products."

Mr Chen is from Singapore and decided to move to Shenzhen since the city draws in innovative hardware enterprises. With the company's headquarters in Shenzhen and branches in Shanghai and the United States, he also plans to employ more Hong Kong technology talents.

Similarly, Jack Lu, General Manager of Guangdong Unipoe, said actively participating in exhibitions is a fast-track for promoting the company. Established in 2014, Guangdong Unipoe specialises in Power over Ethernet (PoE) technology and is a global supplier of Internet of Things (IoT) and transmission products and solution services. Customers come from all over the world including Europe, Asia, North America and Australia.

Mr Lu said: "We have joined the Hong Kong Electronics Fair (Spring Edition) in April organised by HKTDC. The fair provided us with the opportunities to meet with different buyers and potential partners from different countries and districts, and build new IoT projects in different markets." He said his company set up its headquarters in Dongguan because of its comprehensive computer and electronic-products supply chain, which makes production much more convenient.
Shenzhen Welcomes Hong Kong Start-ups
Chen Ying, Deputy Director for the Division of Policies and Regulation of the Science, Technology and Innovation Commission of the Shenzhen Municipality, laid out several supporting policies the government provided for start-ups, including the coming Nanshan Entrepreneurs Stars Competition. She encouraged Hong Kong start-ups to make good use of the geographical advantage of Hong Kong and Shenzhen, and utilise the resources provided by Shenzhen's government.

She explained: "Starting a business in Shenzhen begins with three steps – look for a space, raise funds and create products. Start-ups [are welcome to] learn more about the related funding and incubation programmes available here, such as in Nanshan, where many co-working spaces congregate." She recommended that start-ups that want to develop on the mainland follow the public WeChat account of the government which carries up to date information on funding and resources.
Mainland Investors Favour Hong Kong Start-ups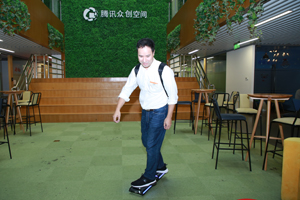 The mission programme included visits to co-working spaces, such as Tencent WeStart (Shenzhen), Shenzhen-Hong Kong Youth Innovation and Entrepreneur Hub, Songshanhu Exhibition Hall and the Entrepreneur Club of Guangda We Valley (ECG), gave the companies an understanding of the local innovation ecosystem. At the Youth Innovation and Entrepreneur Hub and Tencent WeStart, the start-ups pitched their business ideas and met venture capitalists, mentors and potential investors.

The HKTDC also arranged sharing sessions for start-ups, mainland investors and Hong Kong companies with mainland business experience. Ondy Ma, General Manager of Koofy Development Limited, said investors from Dongguan are interested in his electronic scooters and they will talk further about the financial issues later in Hong Kong. He also received an invitation from a Dongguan co-working space and they would meet and discuss the resources and funding programmes available in the co-working space.

Rain Lee, CEO of RainsOptics Limited, also drew an appreciative response from mainland investors; she is currently discussing funding issues with three mainland companies. "The whole (trip) allowed us to visit many prominent institutes, get to know more about the innovation and entrepreneurship ecosystem while exchanging insights with seniors and investors. It was a valuable chance for us."

Yinsheng Zhong, Chief Technical Officer of 3DK Tech Limited, said the company sells hardware equipment. The firm said it is usually hard for hardware-related start-ups to attract investors in the early stages. "Meeting with different company representatives in these three days, we received insights on developing a company, which leads us to reflect on our future directions." He also said the enterprise is willing to use the high-tech supply chain in Shenzhen and set up a branch there. It is now exploring and considering picking a co-working space from among those they visited.
Nanshan Hi-Tech Incubator
During the mission, the HKTDC signed a collaborative memorandum with Shenzhen Nanshan Hi-Tech Incubator, a step towards strengthening cooperation in innovation and incubation. HKTDC and Shenzhen Nanshan Hi-Tech Incubator will boost start-up development, expansion into global markets, strengthening study missions in innovation fields and organising seminars, sharing activities, research reports and exchanges in Hong Kong and Shenzhen.

Shenzhen Nanshan Hi-Tech Incubator will participate in the Startup zones at the HKTDC's major trade fairs. It will also arrange seminars to promote the Nanshan innovation and enterprises platform and encourage start-up exchange and cooperation.
Related Links
HKTDC Entrepreneur Day
HKTDC SmartBiz Expo
HKTDC SME Start-up Portal