9 Oct 2018
'In Style' Showcase Draws Interest in Vietnam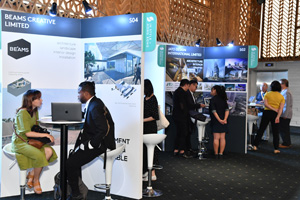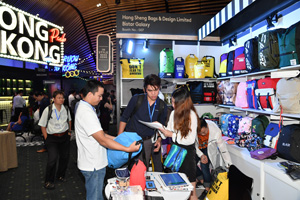 Rapidly growing Vietnam now means much more to Hong Kong than being the home of pho, a destination for long-weekend breaks and a low-cost production base.

A team of Hong Kong delegates learned just how much the city and Vietnam had to offer each other during the Hong Kong Trade Development Council's "In Style • Hong Kong" promotion in Ho Chi Minh City. Drawing 2,900 participants, the event showcased the potential of Hong Kong's services and products for Vietnam and offered Vietnamese officials and business leaders a chance to discuss potential trade and investment opportunities with their Hong Kong peers.

Vietnam is Hong Kong's largest export market among Association of Southeast Asian Nations (ASEAN) members and sixth-largest export market globally, taking in US$10.2 billion worth of exports from the city in 2017. Vietnam was also Hong Kong's 10th largest trading partner in 2017 and the first seven months of 2018. Last year, trade volume between Vietnam and Hong Kong amounted to US$18.11 billion, an 11.7% increase year-on-year. Key areas of Hong Kong-Vietnam cooperation include manufacturing, logistics, food and seafood processing, hotels and hospitality.
Win-win Results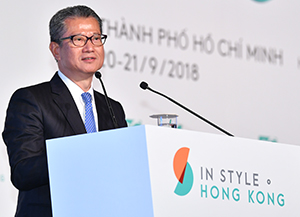 The two-day event opened with a symposium on Thursday, 20 Sept, which examined how closer collaboration between Vietnam and Hong Kong could generate win-win results for companies from Vietnam and Hong Kong, particularly in global business expansion.

Hong Kong Special Administrative Region Financial Secretary Paul Chan pointed out at the symposium opening that over the past five years merchandise trade between Hong Kong and Vietnam had grown, on average, almost 10% a year.

Mr Chan was sure business cooperation would grow following the signing of the Free Trade Agreement and the related Investment Agreement in November last year between Hong Kong and the 10 ASEAN member states. He said Hong Kong will be ready to act on these agreements once they go into effect on 1 Jan 2019, and was sure Vietnam would do the same.

"The two agreements send a clear and compelling message to the world about our common aspiration – to expand trade and investment throughout the Asian region," Mr Chan said.

"For Hong Kong, as for ASEAN – and that very much includes Vietnam – the agreements will bring legal certainty and, of course, much better market access in trade and investment. And that can only boost business opportunities, enhancing trade and investment flow between our economies and the businesses that drive them."

Mr Chan pointed out that Hong Kong's strong links with the world and the Chinese mainland made the city a natural connection partner.

"We are the world's leading financial centre in Asia, and we ranked number one in five of the past nine years in terms of funds raised through initial public offerings. We are also a platform for different high value-added services, supported by highly skilled professionals. We have unparalleled knowledge of the mainland market, and deep economic connections with the mainland and the rest of the world."
Bay Area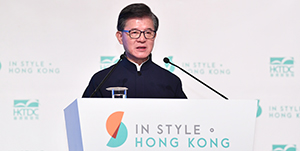 He told the symposium that the Guangdong-Hong Kong-Macau Bay Area – which links the city with its fellow Special Administrative Region, Macau, and nine mainland cities in the Pearl River Delta – creates a region with a combined population of 69 million and a collective gross domestic product (GDP) worth US$1.5 trillion, comparable to that of Korea.
"The world-class financial services of Hong Kong, the vibrant tech sector in Shenzhen and the advanced manufacturing bases in the other cities in the area enable the Greater Bay Area to have the combined advantages of the New York bay area and the San Francisco Bay Area," Mr Chan said. "The Greater Bay Area will certainly have all it takes to become an international innovation and technology hub."
HKTDC Chairman Vincent HS Lo told the symposium he was impressed by Vietnam's progress.
"Continuous economic and social reforms have transformed this country to become one of the fastest-growing economies in the world, with a young, educated population and a rising middle-class," he said.
"Even as the world is facing strong headwinds, your [Vietnam's] economy remains resilient, growing over 6% last year and over 7% in the first half of this year. Your progress in sustainable infrastructure development and structural reform is also an example to many nations," Mr Lo said.
"Such enviable progress is the result of wise governance and underlying strengths that are mobilised by an active, positive community. It is no wonder that Vietnam is regarded as a bright spot in the global economic picture."
He said many risks loom – from protectionism in global trade to geopolitical tensions, from fluctuating markets to disruptive technology. "All these factors may cast a shadow on growth if we are not prepared.
"One way of being prepared is to collaborate with partners to open up new channels for resources and markets, to attract not only investment, but also expertise and new partners," Mr Lo said.
He pointed out Hong Kong has a large pool of international talent who have experience with projects, transactions and providing professional advice.
"And of course, as a global financial centre, Hong Kong is an ideal platform to attract investment capital and expand your business," Mr Lo said.
Joint Financing Venture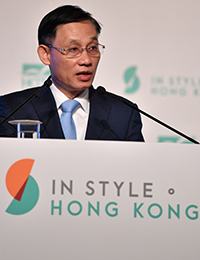 "Just last month [August], a Vietnamese bank (Saigon Joint Stock Commercial Bank) and three banks from Hong Kong (Hang Seng Bank Limited, Chong Hing Bank Limited and The Bank of East Asia Limited) signed a cooperation agreement on providing syndicated credit financing for a local company here [in Vietnam].

"The agreement opens up new opportunities for cooperation, development and experience-sharing among the banks in diversifying their services as they cater to evolving markets." The agreement also illustrated how Hong Kong and Vietnam could build up their partnership, he said.

"That is why we have chosen to hold our large promotion here in Vietnam. Highlighting Hong Kong's vibrant business advantages and creativity, this promotion showcases Hong Kong's best to your community and creates opportunities for businesses.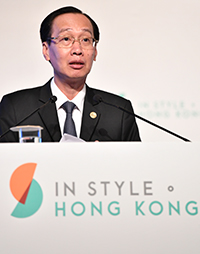 "We are delighted to bring together government and business leaders from Vietnam and Hong Kong for a day of exchange and business exploration," Mr Lo said.

Le Hoai-trung, Deputy Minister of Foreign Affairs of Vietnam, told the event: "'In Style • Hong Kong" 2018 attracts Hong Kong and Vietnam businesses participants. This is the vivid evidence that we both attach great focus on economic cooperation between Hong Kong and Vietnam."

Le Thanh-liem, Vice Chairman of the People's Committee of Ho Chi Minh City, remarked: "I believe that with the 'In Style • Hong Kong" event, we will not only know more about Hong Kong's prestigious, quality products and brands, but we will also have opportunities to enhance trade connectivity and promote and create a platform for collaborative development, not only on the economic side but also in other aspects such as culture and society."
Strength in Services
Thematic sessions at "In Style• Hong Kong" highlighted opportunities in cross-border e-commerce and discussed how Hong Kong's strengths in logistics services, as well as creative design, branding strategy and licensing solutions, can help Vietnamese enterprises upgrade their business in Asia.

To meet growing demand from Vietnamese companies, a Business Support Zone was set up where 11 Hong Kong services providers from various fields – including design and branding, accounting, logistics, information technology, architecture and management consultancy – delivered free on-site business consultation services to participants from Vietnam and other ASEAN countries.

The two-day "In Style • Hong Kong Expo" (20-21 Sept) connected importers, distributors, retailers, e-tailers, mail-order houses, department stores and specialised shops in Vietnam and neighbouring ASEAN countries with Hong Kong companies. Product zones included Activewear and Fashion, Gourmet and Delicacies, Fashion Accessories, Premium Houseware, Gifts and Toys, Fine Jewellery, Electronics, and Watches and Clocks.
Related Link
In Style • Hong Kong